How to view your recent transactions with Apple Pay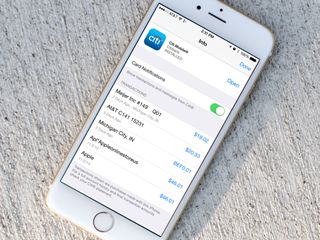 Apple Pay doesn't just make it easy to purchase items in-store and online, but also to keep track of your purchases. You can view recent transactions in Passbook, and, depending on whether or not your credit card and bank support it, a longer transactional history in Settings. Here's how!
How to view recent Apple Pay transactions with Passbook
Launch the Passbook app on your iPhone or iPad that you use Apple Pay with.
Tap on the card you'd like to view recent transactions for.
Any recent transactions should appear directly underneath the card.
Tap the Info button in the bottom right corner of any card to view more transactions.
The area beneath Passbook cards seems to only show transactions from the last 24 hours. If you haven't made a transaction in the last 24 hours, it shows the last transaction you made.
How to view detailed Apple Pay transactions with Settings
You can view a more detailed transaction history in Settings, if your credit card and bank support it. (If not, it will be blank.)
Launch the Settings app on your iPhone or iPad that you use Apple Pay with.
Tap on Passbook & Apple Pay.
Tap on the card you'd like to view a transaction history for.
You should see current transactions in the main view if your cardholder supports it.
If your bank as a stand-alone iOS app as well, you may also be able to tap on the Open button next to the app name in order to view complete account details, make payments, and more.
iMore senior editor from 2011 to 2015.
You can get passbook on an iPad? Why did I get this iPhone 6 Plus I should just carry an iPad. Sent from the iMore App

The iPad does not have the ability to use tap-and-pay transactions. You can use Apple Pay on an iPad but ONLY for online purchases, not at Walgreens checkout.

Passbook gave a a minor panic at the gas station, as as soon as I swiped my card (no NFC) I received a push notification that my card had been charged $100. After talking to Amex, I found this is a typical practice in US gas stations - to charge your card a set amount immediately, and then reconcile it to the correct amount a day or two later. Not all gas stations do it, and many of them do lesser amounts, but for those that do place holds, the corrected amount never shows up in Passbook. Irritating, but not really Apple's or Amex's fault. Google search result showing hi widespread it is:
https://www.google.com/search?q=gas+station+hold+100&ie=UTF-8&oe=UTF-8&h... Sent from the iMore App

This will be fun to use going forward, just to see how much we're able to use Apple Pay. But for keeping an eye on my money I always regularly look at my checking account online, watching how much money we have left for the month and to see if there are any transactions that look suspicious. It will be interesting to see how an Apple Pay transaction looks on my online banking ledger.

On Chase they label Apple Pay transactions as "blink" transactions. American Express labels it as "AplPay" at the beginning of the transaction name. Each bank does it different it seems. Sent from the iMore App

I love using my Amex card with it. It is great to get a notification in passbook for every authorization on the card, plastic or otherwise. Sent from the iMore App

Walgreens, Subway, and even McDonalds has gotten more of my business than they otherwise would have since ApplePay, works great. Sent from the iMore App

Does anyone know how to view these recent transactions and receive notifications on the Apple Watch? I just used Apple Pay with the watch for the first time, and I didn't get a notification (like I do on my iPhone) that the transaction went through, nor do I see the recent actitivity anywhere in Passbook (on the Watch or iPhone) or iPhone or Watch Settings.

Did you ever get an answer to this? I too used it on my watch for the first time yesterday and haven't got any notifications anywhere other than my bank account showing the correct amount due to debit.

Nope, and haven't seen it work as expected yet. I once bought something on the watch, and then returned it not remembering that I had and didn't have the watch on me, so I had some trouble (the random CC# Apple supplies is different on each device) iPhone is always on me no matter what, so now I default to Pay with iPhone
Thank you for signing up to iMore. You will receive a verification email shortly.
There was a problem. Please refresh the page and try again.