How to view your Facebook activity log with Facebook for iOS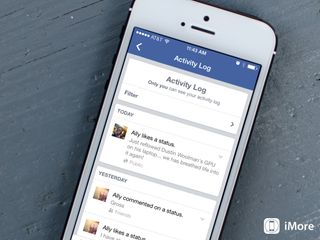 Facebook has an activity log feature that allows you to view everything you've commented on, liked, uploaded, posted, and so on. It's a feature that only you can see but it's a handy one. You can access your activity log from the Facebook for iPhone and iPad app in just a few taps. Here's how:
Launch the Facebook app from the Home screen of your iPhone or iPad.
In the bottom menu, tap on More.
Now tap on your name at the top in order to go to your profile.
In the section with all the blocks containing your info (Friends, About, etc), scroll to the left all the way to the end.
Now tap on Activity Log.
That's all there is to it. You can now view your activity log which includes all your activity on Facebook. You can even filter it to only show certain types of posts or events if you'd like.
iMore senior editor from 2011 to 2015.
I still don't use Facebook. It seems like it'd add more to my plate. Is it possible to effectively use Facebook "casually". I've stopped using Twitter for the [most part] same reason. Sent from the iMore App

Oh, this does sound like a very helpful feature to this app! Sent from the iMore App

So helpful, I thought I could only do it from the desktop version! Thanks! Sent from the iMore App

I believe that the user interface for the Facebook app has changed and these instructions may not be accurate any longer. In the latest interface, there is a link to your activity log directly under your cover and profile photo on your profile in the iOS app.

My facebook app is completely updated. I assure you these are current instructions. Did you read it? That's exactly what i said to do?

Then, perhaps, there are different interfaces for different accounts. I did indeed read your post and that was the obvious impetus behind my response. On my app, when I go to my profile, I don't need to scroll the submenu of icons (in fact, scrolling right to left will enable the swipe gesture bringing in the chat list). Instead, there is a direct link, centered between "Update Info" and "More..." buttons, underneath my cover photo and profile pic. Screenshot below if you're curious. http://pic.twitter.com/lOVx0JyAns

Thank you! I had no idea you could do this! Sent from the iMore App

So that's where it is. Thanks for this great tip! I wonder why they had to make it so tricky to find. They could've just put it in as one of the options under the 'More' menu. Sent from the iMore App

Not a user of Facebook , but I'm sure this will benefit someone. Sent from the iMore App

A lot of the features on the mobile app are too hidden. Such as unfollow post. Sent from the iMore App

A little more hidden, but still appreciated that we can get to it from within the app. Sent from the iMore App
Get the best of iMore in in your inbox, every day!
Thank you for signing up to iMore. You will receive a verification email shortly.
There was a problem. Please refresh the page and try again.