How to view your purchased apps from the Mac App Store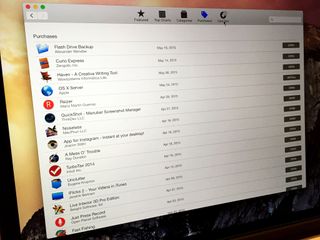 If you want to view the apps currently installed on your Mac, you can always open your Applications folder or Launchpad. But what about apps you purchased at one point but deleted, or apps you bought on another Mac? The Mac App Store gives you an easy and convenient way to look at all the apps you've already downloaded, as well as view apps you've deleted or ones you purchased on another Mac.
Over time your Mac App Store Purchases list is going to get pretty cluttered, because it'll list every single app you've ever downloaded or purchased with that Apple ID. If you find the Purchased list too cluttered, it's possible to selectively hide your purchases.
How to view your purchased apps from the Mac App Store
Open the Mac App Store.
Click on the Purchases tab. All of the apps you've purchased or downloaded using the Apple ID you're signed in with will appear in this list. The Mac App Store organizes that list by the date the app was purchased. The most recent apps you bought will appear at the top.
All apps you currently have installed will show an Open button. If you've deleted apps you purchased, or if you are using a different Mac than the one you purchased the app from, the button will say Install instead.
Apple, I find your lack of sorting tools disturbing. There aren't any. There also is no search tool acting on the purchases list. It doesn't show how many apps I have purchased and it takes absolutely forever to list them all. The difference between purchased and installed used to be clearly visible in colour, but with the Yosemite greyness psychosis Apple is currently in, you actually have to start reading the buttons, which all happen to be the same size. Apple is dropping their ball in a serious way here. I do hope the new operating systems will focus entirely on returning to solid performance and unparalleled interface design. Both are sadly lacking at the moment.
Thank you for signing up to iMore. You will receive a verification email shortly.
There was a problem. Please refresh the page and try again.