Steve Jobs Pitches the iPad to BBC's Dragons Den [Friday fun video]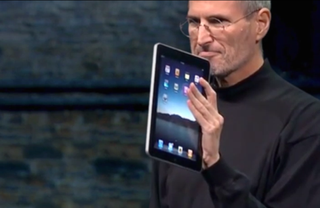 What would it have been like if Steve Jobs had pitched the iPad to The Dragons on BBC's Dragons Den?
The sketch was seen as part of the BBC's 2010 Unwrapped with Miranda Hart - a comical review on some of the big stories of 2010.
See the video after the break!
Get the best of iMore in in your inbox, every day!
Writer for iMore, YouTube Vlogger, and Host for [TEChBrits]
Totally hated the "See the video after the break!" but the click was worth it

Good video. Jobs could probably buy all three out, several times over, with the metaphorical loose change in his pocket, though.

well we know one thing, the dragons suck and simply don't know jack!- since steve made a bazillion dollars on it lol and has taken over the market as a whole.

It's funny they dissed the ipad before they got to see what it did. Then when it took off i bet they felt like idiots and they probably bought ipads themselves lol.

Do you people not get that it is a joke?

Great editing to get this to happen!

lmao i missed something haha but they made it look so real haha. That was great.

This was great editing. I love watching the show so this was just brilliant.

Lol It's funny because I consider the iPad a success, with even more room to grow.

I think the funniest part is the readers of this site who thought it was real. Duh.

Funny.. but the best part is how dumb they all look by passing on something like the iPad. For that reason I give it only two stars. Had they picked something like Ping or ... well thats about all Apple has that seems like it could fail so yea... maybe Microsoft should have been in there instead.

BTW: Hung Well... I think they got it, you didn't... fail
Thank you for signing up to iMore. You will receive a verification email shortly.
There was a problem. Please refresh the page and try again.