iCloud in iOS 11 FAQ: Everything you need to know!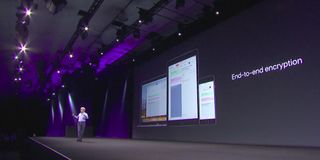 The biggest difference is the new Files app, which completely replaces iOS 10's iCloud Drive app. But you'll also be able to share iCloud storage with your family, sync a lot more data types, and even get help setting up a new device.
Does the new Files app replace iCloud Drive?
It's true, in iOS 11, the iCloud Drive app is completely gone. In its place is the brand-new Files app, which shows all your files stored in iCloud, as well as third-party cloud services Box, Dropbox, Microsoft OneDrive, Baidu, Adobe Creative Cloud, and Google Drive.
In the new Files app, your iCloud Drive is listed as a location, and then all the files inside are just as you left them, with folder structures intact. The app has list and folder views, and lets you sort by name, date, size, and tags.
If for whatever reason, you're really not ready to give up iCloud Drive, no iOS 11 for you. You can't even reinstall it from the App Store without downgrading to iOS 10 first.
Any changes to iCloud Sharing?
When you share iCloud Drive files from the Files app with your contacts, they'll be able to view or edit them, or even collaborate. iOS 11 and macOS High Sierra will both feature this consolidated iCloud Sharing, and it's not limited to Pages, Numbers, and Keynote.
Presumably developers will be able to support this in their own apps too, so you can share and collaborate on all kinds of projects.
Will I finally be able to share iCloud data with my family?
Your days of buying everyone in the house their own iCloud data plan (and having to guess how much each person should get!) are over.
For starters, Apple is making it rain with gigabytes, increasing the $9.99/month tier of iCloud storage from 1TB to 2TB. (The other tiers are unchanged: 5GB for free, 50GB for $0.99, and 200GB for $2.99.)
And yes, now you can share that data with your family, with up to six people using one storage plan for backups, files, and photos. Presumably, each family member's files are only available to that person, unlike, say, Family Sharing of iTunes, iBooks, and App Store content.
The 200GB and 2TB plans are eligible for sharing, not the smaller ones. Family Sharing for data launches with iOS 11 and macOS High Sierra this fall, but you can get the 2TB plan now.
iMessage syncing
iOS 11 will be able to sync your iMessage data over iCloud, which means that messages you read and delete on one device don't still linger on the others. When you sign in on a new device, your old messages will show up automatically, and the growing archive will be automatically offloaded to iCloud leaving just your most recent ones on the device itself, which should help keep your backups smaller.
This is big. I've wanted to "start fresh" with a clean install of iOS before, instead of restoring to a backup, only to reconsider when faced with the prospect of years of old conversations going poof. And of course, the messages are encrypted end to end.
Can iCloud sync data from more apps now?
When you open up the Settings app, tap your Apple ID at the top of the page, and then tap iCloud, you'll notice toggle switches that sync a few new data types — Health, Siri, Weather, and Maps.
First is the Health app—it's off by default since Health data is so private. Also off by default is Siri data syncing over iCloud. Since you probably use Siri on more than one device, this setting should help Siri's machine learning get a more complete picture of you.
If you let iCloud sync data from the Weather app, when you add new cities to the Weather app on one device, they'll show up on all your devices. Finally, there's a switch to sync data in the Maps app. I hope this goes beyond just showing you locations you searched for on other devices, but that it also means Maps will be better at offering directions to places on my calendar or in my email, even if I've never searched for them in Maps before.
How does iCloud help with Automatic Setup?
Apple wants to save you some time when you get a new device running iOS 11. With the Automatic Setup feature, you can just point the new device's camera at one of your older trusted devices—iOS or Mac.
The new device will scan an animated code displayed on the older device's screen, just like the code that pops up on an Apple Watch when you're pairing it to an iPhone. That securely transfers your iCloud Keychain, and a lot of your settings and preferences.
This will be especially handy if it lets you start fresh without restoring from a backup, but still quickly get your settings just the way you like them. You'll be prompted to use, or skip, this feature when setting up a new device.
What about other App Store settings, including Offload Unused Apps?
When you tap your Apple ID at the top of the Settings app, you'll also see a menu for iTunes & App Stores. This has a couple of new options. One is a switch to prevent apps from begging you to rate them.
The other is "Offload Unused Apps," which will automatically delete apps you haven't used in a while, while keeping the app's data. That way, if you decide to reinstall the app, your data will be replaced, ready to greet you when you open it again.
Of course, if the app is no longer in the App Store, you're out of luck. The safer bet is to offload apps individually, which you can now do from the redesigned storage management screen in Settings > General > iPhone storage.
That pesky teaser slide of extra features, did it have any that are still mostly unexplained?
You know it did, my friend. "iCloud family Apple Music integration" is one, which could mean just an easier way to manage a family Apple Music plan from your iCloud settings, or perhaps a better way to listen to family members' playlists. (After all, Apple Music is getting social features in iOS 11, but there's no reason you'd need to be in a family group to use them.)
Another tease is "iCloud remote backup," which hopefully means you can back up any iCloud device from one location, like the Settings app or iCloud.com.
Neither seems to be live in the developer beta so far. Oh, and then there's the trash-everywhere feature...
Trash everywhere?!
Yes, iOS 11 will also sport a unified iCloud Drive trash, which could wind up saving your bacon someday, who knows. You're welcome.
Master your iPhone in minutes
iMore offers spot-on advice and guidance from our team of experts, with decades of Apple device experience to lean on. Learn more with iMore!
Susie is a tech-obsessed writer and mom, and former Executive Editor of Macworld and Mac|Life. Follow her on Twitter @sfsooz.