iCloud Photo Sharing: The ultimate guide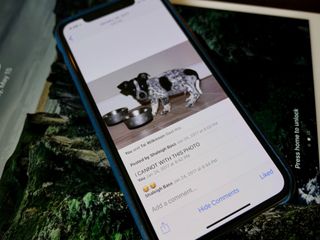 Apple's iCloud service includes iCloud Photo Sharing, which lets you share images and video with friends, family, and colleagues on an iPhone, iPad, Mac, PC, or Apple TV. While technically considered part of iCloud Photo Library, iCloud Photo Sharing exists outside of the service: You don't have to use iCloud Photo Library to share your images, and shared albums don't count toward your iCloud storage.
Best of all, creating shared albums is simpler than uploading images to Facebook or Instagram, and safer, too: Your images and video stay private between your group, and you can take the album down at any time. If you want to reach a wider range of people, you can even create a public iCloud.com website to host your images for anyone with the link to view them.
Here's everything you need to know about Apple's photo-sharing service.
How to set up iCloud Photo Sharing on your iPhone, iPad, Mac, and PC
iCloud Photo Sharing lets you create shared albums that your friends, family, and co-workers can access, comment upon, and even add their own images and video.
But before you get started creating albums for your friends, sharing videos, and leaving comments and likes, you need to enable iCloud Photo Sharing. Here's how to turn it on and get everything set up.
How to view and create shared photo albums on your iPhone, iPad, Mac, or PC
You can use the Photos app on iPhone, iPad, or Mac (or a PC) to add images to a shared album that your friends and family can then access, comment on, and even add their own contributions to the set.
Once you've set up iCloud Photo Sharing, here's how you can create, view, and edit shared photo albums on your iPhone, iPad, Mac, or PC.
How to like, comment, and add subscribers to shared photo albums on your iPhone, iPad, Mac, or PC
Making or subscribing to a shared photo album on iCloud is just the beginning: Once you're part of a shared album with your friends, family, or co-workers, you can add comments, like photos, invite more pals into the fray, and more.
If you want the social media experience without having to plaster your images across the internet, iCloud offers some great tools for it. Here's how you can like your friends' images, add new people to an existing shared album, and add comment threads to photos and video.
How to share photos with Family Sharing and iCloud
Apple's iCloud service offers a fantastic feature for family groups called Family Sharing: It lets you share storage space, purchase accounts, Apple Music subscriptions, and more between multiple iCloud users — including managed accounts for younger children.
Family Sharing also integrates with Apple's free iCloud Photo Sharing feature to provide your family with a secure shared album where you can share images and video. Each family member has their own separate iCloud Photo Library or Photo Stream library, but the Family album allows them a space to store communal photos, images, and video.
Here's how to use iCloud Photo Sharing in tandem with Family Sharing to access the Family album on your iPhone, iPad, or Mac.
How to share photos with Family Sharing and iCloud
Questions?
Let us know in the comments.
Updated May 2018: Revamped to reflect iCloud Photo Sharing as of iOS 11.3.
○ Should you use it?
○ iCloud Photo Library and Photo Stream: What's the difference?
○ Which storage plan should you choose?
○ How to use it on iPhone and iPad
○ How to use it on your Mac or PC
○ How to access it on the web
○ How to view images while offline
○ How to use Family Sharing with iCloud
○ How to free up storage space on your iPhone
○ How to transfer photos from your Mac or PC
○ How to recover deleted images and video
○ How to back up iCloud Photo Library
○ Troubleshooting iCloud Photo Library

Get the best of iMore in your inbox, every day!
Serenity was formerly the Managing Editor at iMore, and now works for Apple. She's been talking, writing about, and tinkering with Apple products since she was old enough to double-click. In her spare time, she sketches, sings, and in her secret superhero life, plays roller derby. Follow her on Twitter @settern.
When I enabled photo stream on my iPhone 5s, what happens to the photos I delete to save space on my device??

http://www.vinewits.com
its amazing photo sharing site.u can easly do it

I do not understand how to share a Photo folder on my IOS devices. I have categorized years of photos in folders on Photo and would like to be able to see these on my iPhone and iPad.

I've done photo sharing but I'm curious, when you share are the photos full resolution or a crappier version?

This is one of the hidden gems of Apple that not too many users take advantage of. I use icloud photo sharing instead of icloud photo library and love it. It takes time and organization but once you have a system going then you will really see its value. I love that you can store 15 mins of video per photo. I just hope that Apple doesnt decide to say "Ok we are bored with this now and we will be shutting it down not because our customers don't like it but because Jony Ive just doesnt like it anymore"

I don't like that shared albums are in a different structure from separate from non-shared albums. This means my folder and album organization/structure get fragmented - which means it isn't organized.

Thanks for this very clear, easy to follow information. I have an organizing question. I just started using photo sharing on an iPad and a Mac device. I have a number of folders on a similar topic. Can I create a folder with sub folders. For example: a folder called Italy with sub folders for Rome, Umbria and Sicily?