VR on the Mac: Everything you need to know!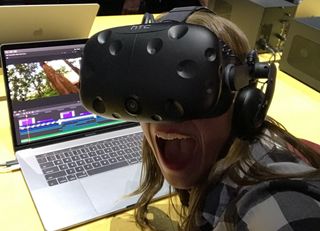 (Image credit: iMore)
Developers and enthusiasts alike will soon be able to explore Virtual Reality right from the Mac, which is great news for everyone. If you're new to what options are available with VR, or you're curious what the differences will be between VR on a Mac and VR elsewhere, this FAQ will walk you through the basics.
Why didn't VR work on the Mac before? What changed?
Virtual Reality is a combination of multiple technologies, but the big thing which pulls them all together is the VR headset. There are several available to purchase today, but in order to provide a quality visual experience inside the headset, there are certain hardware and software requirements which must be met. The two biggest requirements, a high-end graphics card and support from particular gaming engines, had not previously been met by Apple.
At WWDC, Apple announced support for eGPU enclosures, so bigger graphics cards can be added to MacBooks without compromising the historically quiet experience from these computers. In addition, the first iMac Pro to be released later this year will have internal hardware capable of supporting VR headsets with no additional hardware.
Apple has also announced support from Unity, Unreal Engine, and SteamVR. These three critical software components ensure a significant majority of VR apps and games currently enjoyed elsewhere will be supported on the Mac.
What is an eGPU enclosure?
For this purpose, it's a box designed to sit alongside your computer and hold large desktop-class graphics cards. This enclosure is connected to your Mac over Thunderbolt 3 and allows your Mac to use that graphics card as though it were installed in your computer. With support from this more capable graphics card, your Mac will have enough graphics power to drive a VR headset.
Currently, Apple is offering a $599 bundle to developers with an enclosure made by Sonnet and an AMD Radeon RX 580 graphics card, but when macOS High Sierra is available this fall, there will be multiple graphics cards and enclosures for consumers to choose between for this setup.
What else does my Mac need to handle VR?
There are currently no minimum system requirements available specifically for the Mac, but HTC lists this as the minimum system requirements for Windows PCs.
Processor: Intel Core i5-4590 or AMD FX 8350
Graphics card: NVIDIA GTX 970 or AMD Radeon R9 290
RAM: 4GB
Apple started using the Intel Core i5-4590 in the iMac starting with the 27-inch 5K model released in Mid 2015 and the MacBook Pro started using this model or greater in the Early 2015 models. This means if you have something newer than a Mid-2015 iMac or MacBook, you have the processor needed to run VR applications. As long as you also have 4GB of RAM, you will meet the minimum requirements when you add an eGPU enclosure with your graphics card of choice.
Which VR headsets are supported?
The only VR headset on display and in demos at WWDC right now is the HTC Vive. This headset is powered by the SteamVR platform, which was announced as part of the VR for Mac support package and offers the most complete VR experience for users at the moment.
That having been said, SteamVR supports multiple VR headsets, so it's likely we will see additional headsets supported before the Fall.
How do I get started?
Developers can head to Apple's support documentation right now for information on how to get started with VR for the Mac and Metal 2. According to Epic Games, Unreal Engine will be available in preview form starting in September and officially released for High Sierra in October.
If you are not a developer, the best thing for you to do right now is wait for the official release of macOS High Sierra. If you want to get ready for VR in your home or office, check out the Ultimate Guide to HTC Vive from our friends at VR Heads to get yourself fully prepared for VR on your Mac!
Master your iPhone in minutes
iMore offers spot-on advice and guidance from our team of experts, with decades of Apple device experience to lean on. Learn more with iMore!
Russell is a Contributing Editor at iMore. He's a passionate futurist whose trusty iPad mini is never far from reach. You can usually find him chasing the next tech trend, much to the pain of his wallet. Reach out on Twitter!