iMore Editors' Choice: Wavii, Delivery Status touch, Street Fighter X Tekken, and more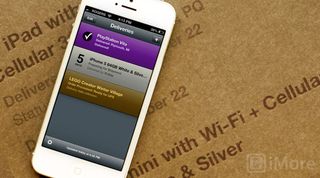 Every week, the editors and writers at iMore carefully select some of our favorite, most useful, most extraordinary apps, accessories, gadgets, and websites. This week's selections include package delivery tracker, a Twitter client for iPhone, a news aggregator, a fighting game, and an app that helps you keep track of your Holiday wish list.
While I'm a hardcore Tweetbot fan, I still tend to get bored using the same Twitter client day in and day out. It's just how I've always been when it comes to Twitter. My trusty standby has been Twittelator Neue for quite a while now. It's got one of the most gorgeous interfaces that I've ever seen in a Twitter client. Not only that, it isn't your standard timeline and highlighting, it's got a style all of its own.
Whether you are actively looking for a new Twitter client or just want to switch things up for a change, Twittelator Neue should definitely be on your list to check out.
Wavii is a news aggregation app that came about last year, but it received an big update earlier this week, and if you haven't taken a look at it before, now is a good time. Wavii feeds you articles based on a combination of stories you have liked in the past, topics and people you have decided to follow, as well as your friends that are also using the service. Previously, Wavii required a Facebook account to use, but as of the 2.0 update, it now allows for signup via Twitter as well as email registration. Wavii is a free download.
Over a month ago I ordered an iPad mini + LTE from Apple. This week it finally shipped. Immediately I went to Delivery Status touch, chose Apple, entered my order ID and email address, and now tracking that package is only ever a few taps away.
Good looking, functional, but not fussy, Delivery Status touch is a utility for me in the best sense of the word. It gets things done without getting in the way. I don't order a lot any more (would that I lived in a country with Amazon Prime, or, you know, decent Amazon service of any kind…), but when I do, as soon as it ships, it's out of my inbox, off my mind, and in Delivery Status touch.
Street Fighter X Tekken Mobile - Chris Parsons
For fighting game fans, the mashup of franchises is always fun to see. Recently, I've dug into Street Fighter X Tekken considering it's on sale for $.99 and was pleasantly surprised with the game. It's your typical button masher but it's graphically done well and offers some great ways to play. You can have 2-on-2 tag battles and even go online to play against others who are matched with your skill. With recent updates that added new characters and improvements to how the game controls are handled, it's a pretty great time waster. I must warn though, there is no iPhone 5 support as of yet.
Christmas is right around the corner which means you may be hearing the "what do you want for Christmas?" question from your friends and family. If you're like me, the only things you can think of off the top of your head are ridiculously expensive items that you wouldn't dare ask for as a gift. I Want Wish List is an app to help you keep track of all the different items that you want and share with whoever you want.
For parents, this is an awesome app to have your kids download on their iPhone or iPod touch because they'll have a lot of fun adding stuff to their list and then you can keep their list with you wherever you go.
If you aren't the type to give a list to your family and friends, I Want Wish List is also great for keeping private. I always forget the different little things that I want, so I Want Wish List is great for me to reference when I may have a little extra money to spend (like with gift cards I might get for Christmas).
Your choice?
Now that we've chosen our favorites for the week, we want to hear yours! Did you pick up a killer app, accessory, or game this week? Let us know in the comments below!
Master your iPhone in minutes
iMore offers spot-on advice and guidance from our team of experts, with decades of Apple device experience to lean on. Learn more with iMore!
Former app and photography editor at iMore, Leanna has since moved on to other endeavors. Mother, wife, mathamagician, even though she no longer writes for iMore you can still follow her on Twitter @llofte.