iMore Editors' Choice for October 14, 2012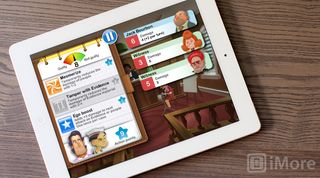 Every week, the editors at iMore carefully select some of our favorite, most useful, most extraordinary apps, accessories, gadgets, and websites. This week's selections include video player for jailbroken iPads, a classic board game, a lawyer game, and an ADN client.
XBMC for iPad - Chris
One of the things that I really hate about the iPad or any iOS devices is the restrictions placed on video playback formats. The iPad can handle playback of lots of different video formats however Apple will not support them for whatever reason and it drives me mad!
Thankfully if you have a jailbroken device you can take off those Apple hand cuffs and start to unleash the power that the iPad has when it comes to video playback. I store all of my vast collection of TV shows and Movies on my dedicated NAS box which then streams the content around the home over my network. The files are mostly stored in AVI or MKV formats and these are just not Apple friendly formats.
This is where XBMC come into the picture. XBMC is an open source project derived from the original XBOX games console. It is a front end to your media and with a little bit of setting up it can grab meta data for all of your movies and TV shows and present them in a fantastic way. Cover art, movie synopsis etc etc all there on your iPad screen ready for you to peruse and select. Now the best part, when you click on a movie or show, it plays it, no matter if the file is an MKV, AVI or MP4 file or something else, it just works. Streaming from my NAS is a wonderful experience and the one and only reason I will not give up my jailbreak on my iPad.
XBMC is just phenomenal!
If you have a jailbroken iPhone, iPad or iPod touch, you can grab XBMC from Cydia or follow the guide below:-
Ticket to Ride is an oldie but goodie. I've had this game installed on my iPad for a couple years now and went a long time without playing it. It somewhat recently received an update that included a new Legendary Asia Map, so I got hooked again. In the past few weeks, Ticket to Ride has become my goto I-need-a-minute-to-relax game.
For those who are not familiar with the classic strategy board game Ticket to Ride (I wasn't until I purchased the iPad version), the goal is to create paths with your train cars in a way that completes the routes indicated on the cards you collect. Longer, more difficult routes are worth more points and if you collect routes that you don't complete, you loose those points instead. You have to gather train cards in order to place your train cars and compete with other players for routes. It's fun, challenging, strategic, and makes you think.
Devil's Attorney is a brand new lawyer game that revolves around a skeezy lawyer in the 70s called Max McMann. With twists logic and befuddling charisma, he dismantles lawsuits against shady characters, earns a profit, and decks out his apartment in the gaudiest things you could imagine. The game has a cartoony, colorful art style, and excellent voice acting that fully conveys McMann's sleaze and depravity. The game mechanics are also solid. Every round in the court room, action points are spent on abilities like "Reverse Psychology" to reduce the credibility of evidence, lawyers, and witnesses. Home decor enhances materialism, decadence and vanity scores to unlock new abilities.
Devil's Attorney is a lot of fun, and I guarantee that you'll get at least a few chuckles out of playing it.
Last week I chose Netbot as my pick of the week, another ADN client. Even though Netbot is just as good as it's big brother, Tweetbot, I found myself easily confusing the two and forgetting which service I was actually posting to. While Tweetbot is a very good app, I think Netbot should have gotten an interface all its own.
While looking at the best App.net apps for iPhone, I came across Felix. The interface is gorgeous, it's well laid out, and push notifications work great. Netbot is still lacking push service as well. Not only does Felix has just as good of an interface as Netbot but it's got its own identity on my iPhone and I can easily keep the two services separate. Felix has honestly been a breath of fresh air and I actually enjoy using the client, maybe even more than I like Tweetbot.
If you're already on App.net, make sure you check out Felix. You won't regret it.
Your choice?
Now that we've chosen our favorites for the week, we want to hear yours! Did you pick up a killer app, accessory, or game this week? Let us know in the comments below!
Master your iPhone in minutes
iMore offers spot-on advice and guidance from our team of experts, with decades of Apple device experience to lean on. Learn more with iMore!
Former app and photography editor at iMore, Leanna has since moved on to other endeavors. Mother, wife, mathamagician, even though she no longer writes for iMore you can still follow her on Twitter @llofte.