iMore Editors' Choice for October 27, 2012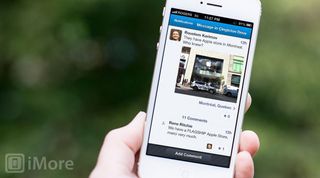 Every week, the editors at iMore carefully select some of our favorite, most useful, most extraordinary apps, accessories, gadgets, and websites. This week's selections include an image upload service, a zombie game, a private social network for teams and families, a game featuring a classic cartoon character, a popular Xbox game that's been ported to the iPad, and an app filled with interesting, useless facts.
When it comes to choosing an image upload service, I've always been a huge fan of Droplr. Not only do they have an iOS app for iPhone, iPad, and iPod touch, but a ton of apps support it including many Twitter apps. This means that all the images you upload to Twitter will be saved to your Droplr account. This is great for times when you need to access a picture, video, or other file to share that you know you'd previously uploaded.
Hopping into the Droplr app allows you to view all your drops as well as grab the link to any of them or send them via message, e-mail, etc. I use the service a lot on my Mac just for simplicity's sake. I can drag any image or file to the Droplr icon in my task bar and it'll spit out a link that I can share.
When you start an account, you'll get 1GB of storage space for free which is plenty for most users, especially if you don't have an issue going through and clearing out old files you don't need anymore (which you can also do from the iOS app). If you need more space you can upgrade to a Pro account for $39.99 a year and that'll get you 100GB of space.
Zombies is a straightforward dual-stick bash-em-up game with an absolutely thumping soundtrack (http://bignic.bandcamp.com/album/zombies-soundtrack). Players have to dash through workplace-themed levels, blasting through hordes of zombies with a variety of weapons to find an exit. If you can, rescue fellow co-workers from a grisly fate along the way. Think of it as Office Space with the undead, the punchline being that middle management was always a bunch of brainless drones anyway. The animation in the game is much better than the stylish pixel art would have you believe, plus just about everything has some degree of destructibility. The look might seem a bit derivative of Superbrothers: Sword and Sworcery, but putting it all into the modern office setting with plenty of zombies to thwak keeps the style very fresh. The dialog and story are cute and quirky, even if the voice acting leaves a little to be desired.
Right now Zombies is only available for iPhone, but I've been testing out a Universal version that's due to launch publicly soon.
Glassboard comes from Brent Simmons, who previously created NetNewsWire and MarsEdit. Once again, Brent is taking an internet problem still in search of a better solution and offering just that. In this case, it's private networking. Others have tried this, but almost universally they've stayed bound to the web or for other reasons their mobile clients, frankly, have sucked. Glassboard was born to mobile.
Available for both iOS and Android, and as a website if you really have to, it lets anyone create boards, share them with office teams large and small, conference groups, family, and friends, and quickly, easily share comments, pictures, and otherwise stay in immediate contact. It's fast, it's fluid, and for what it does, it's fantastic.
It's also free, though there's a pro version available with additional features (and more to come).
Now we just need a desktop client so I never have to open the website again.
He-Man - The Most Powerful Game in The Universe - Chris Parsons
He-Man is back and this time, it's actually something done with the IP that is great! He-Man - The Most Powerful Game in The Universe is a humorously animated side scroller that features 27 levels of gaming across the He-Man world of Eternia. You'll take on Skeletor, Beast Man and other as well, team up with Orco, Man at Arms all in an effort to defend the secrets of Castle Grayskull. The controls are a little hard to get used to but overall, once you get the hang of them.. you'll have the power! For any fan of the franchise, this is an awesome buy. If you're new to He-Man, it's still an awesome buy and one that you can get into rather easily, without knowing the He-Man background.
Bastion was first released on the Xbox Live Arcade in 2011, and is now available for the iPad. It is one of the better games I've played on any platform. With a beautiful, vibrant art style, solid gameplay and a great soundtrack, Bastion stands out amongst other App Store offerings. Bastion uses a both gameplay and a voiceover to tell its story, and the voiceover reacts dynamically to player decisions. The controls can be changed between tapping your character's destination to a more traditional, joystick-style setup. With a variety of weapons and items, you can customize your gameplay experience and special abilities. It's a lot of fun just to play around with the different special actions to see what you prefer. These various elements come together to give the you a great gaming experience. If you enjoy action-adventure games, it really doesn't get much better than Bastion.
Weird But True is an iPhone and iPad app that is actually targeted for kids, but it's even cool for adults. It's simply an app filled with random facts. For example, did you know that the world's biggest flower can grow wider than a car tire? Or that there are about a billion bacteria in your mouth right now? This is the type of valuable information you'll learn with Weird But True. Any child old enough to read will think it's hilarious and even grown adults will find some of the facts to be unusual and surprising.
Your choice?
Now that we've chosen our favorites for the week, we want to hear yours! Did you pick up a killer app, accessory, or game this week? Let us know in the comments below!
Master your iPhone in minutes
iMore offers spot-on advice and guidance from our team of experts, with decades of Apple device experience to lean on. Learn more with iMore!
Former app and photography editor at iMore, Leanna has since moved on to other endeavors. Mother, wife, mathamagician, even though she no longer writes for iMore you can still follow her on Twitter @llofte.