iMore Editors' Choice: Photolettering, Slacker Radio, PWN, and more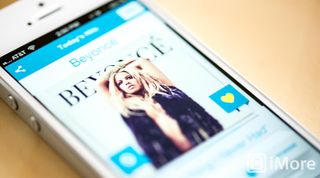 Every week, the editors and writers at iMore carefully select some of our favorite, most useful, most extraordinary apps, accessories, gadgets, and websites. This week's selections include an app that tracks your sleep, an app that displays updates from your social networks, a few games, an app for History geeks, a fun photo apps, and a music streaming service.
Sleep is the most important thing you can give your body and it is also one of the most popular areas that people have trouble a with. Having knowledge of how well you are sleeping can be invaluable so you can see what effect alcohol has on your sleeping and much more.
To get this information, I use an app called Sleep Cycle alarm clock, its main purpose is to monitor your sleep so it can wake you up during light sleep so you awake relaxed and in a good mood. I don't use the alarm part of the app but instead solely use it to monitor my nights sleep.
All you need to do is put your iPhone under your sheet next to your pillow and it will sense your movements during the night and tell you how long you were asleep for and how deep that sleep was too. The app needs at least 5 consecutive days of data to be able to tell you how good your sleep is and then you can also start comparing different sleep patterns on different nights. Because of this app, I can see how drinking alcohol severely reduces the quality of my sleep and the length too. Little things like this can help you make good life choices.
I you want to use it as an alarm, you pick a a 30 minute period when you want to wake up. The app monitors your sleep patterns during that 30 minutes and wakes you gently when it thinks you are ready to wake. Quite clever but not something that I want to use.
$0.99 – [Download Now](https://itunes.apple.com/us/app/sleep-time?at=10l3Vy&ct=UUimUdUnU17772 -alarm-clock-sleep/id498360026?mt=8&at=10l3Vy&ct=d_im)
Sometimes I don't want to keep opening apps in order to stay current with my social networks. Staying up to date requires jumping between apps several times per day. To make sure I keep on top of everything without constantly moving between apps, I use Screenfeeder. Screenfeeder puts all of your social feeds in one place and shows you new items as they come in, one at a time. While Screenfeeder limits you primarily to reading your feed, you can interact a little with different items. For instance, you can retweet and mark tweets as favorites or like posts from Facebook and Instagram. Screenfeeder keeps your screen on while in the app so it's best to use it while your device is plugged in.
Screenfeeder is universal, offered for free, and allows you follow one of your feeds for free, with an option to buy access to each successive service for $0.99 each, or all services for $3.99.
I have to admit, although I've been playing this game for quite some time now I initially discovered it on BlackBerry. Not that that's a bad thing by any means, just rather interesting all things considered. Wacky Rapids comes to us via Paw Print Games with the goal of course being fairly simple. Get your racer down the river as fast as you can to both come in first place and score the largest amount of points. That may sound easy but given the obstacles and different levels you'll face its gets harder as the game goes on. Wacky Rapids is an accelerometer based game so there will be plenty of twisting and turning your device in order to keep your racer on the right track. Overall, it's a pretty fun game that's enjoyable for all ages plus, it's available as a free download. With over 120 missions to complete, it'll keep you busy.
## PWN - Simon Sage
When I was a kid, my dad assumed that because I spent all of my time playing video games, I could have a future in programming. If I was more industrious and less insolent, that might have panned out, but at least now I can pretend I'm a bad-ass hacker in this new competitive puzzle game called PWN. Players battle over nodes, which are computers embodied by little cubes connected in a network which is visible as a 3D mesh. Players can only hack into one node at a time, and it takes a few seconds to capture it. You can only capture nodes connected to ones you already control, and if nodes ever become separated from the rest of your network, they become vulnerable to attack. Players use a variety of special defensive and offensive abilities to control the whole network, and pick hacker characters that have certain bonuses when using those abilities. Every character has their own single-player campaign, or you can go up against a buddy in a multiplayer match over Bluetooth. If you've got a soft spot for the mid-90s movie Hackers, definitely check this one out.
I am a huge History Channel nerd and if I'm not watching my regular shows, I've always got a learning channel or home improvement channel on. When I came across the History Here app, I was slightly intrigued. It basically shows you all the historical areas and attractions in your vicinity. I was past intrigued when I realized there are lots of things in my immediate area that I never even knew about.
History Here will use your current location to find things around you that are of historical importance. Some of these are attractions or museums while others are parks or geographical locations. Whether you're into history or not, it's worth taking a look. Never hurts to learn something new!
Photolettering - Rene Ritchie
John Gruber of Daring Fireball linked to Photolettering yesterday and I've been playing around with it ever since. The gist is this: take or open photos, neaten them up the way you like, then add House Industries fonts and Photo-Lettering alphabets to take them to the next level, and share away.
There's an art to layering finely crafted lettering onto eye popping photography that makes the end result far more than the sum of its parts. It's something high end posters, postcards, and book covers have done for years. And now, thanks to Photolettering, you can do it simply and easily right on your iPhone.
Photolettering is free with a few fonts, additional fonts are available via in-app purchase. They're $0.99 each or $9.99 for all of them. Check it out and let me know if you have as much fun with it as I'm having.
This week, I started working out at a gym today and since I don't have a single song stored on my iPhone and must have music to work out, I turned to Slacker Radio. I've had a membership with Slacker for a long time now and the interface on the iPhone (and web) recently received a nice makeover. There are other similar services out there, but I've always been happy with Slacker.
Your choice?
Now that we've chosen our favorites for the week, we want to hear yours! Did you pick up a killer app, accessory, or game this week? Let us know in the comments below!
Get the best of iMore in your inbox, every day!
Former app and photography editor at iMore, Leanna has since moved on to other endeavors. Mother, wife, mathamagician, even though she no longer writes for iMore you can still follow her on Twitter @llofte.
PWN and Slacker speak to me. With all the #anonymous crap going on, PWN will make me feel cool. Slacker on the other hand will be a Pandora replacement for me. I tried Spotify, but it is so horrible on iOS compared to Android, so that's out. I look forward trying Slacker as a nice alternative. Thanks for the post.

I haven't been as happy with Slacker since the update. I seem to have a lot more "loading" and "buffering". :(

I'll have to get the sleep cycle app when I get paid

I don't use any of these apps myself but know many that do and they love them.

Well i've always used pandora, but at work i have no cell coverage so I would say that the podcast app, as bad as it is has saved my life the past few months. I have trouble with it but just manually update it in the mornings before i leave and it seems to work for now. I've been looking into others but haven't taken the plunge since I haven't had the time to try anything as of late. (lots of OT at work) but the podcast app would have to be my pick this week since my work week went from 40 to 60 in the past few weeks and I really have started to listen to a lot of shows (almost all mobile nation shows!). The browsing and search abillity has helped find some new material as well. So thats my pick this week, hopefully changing it this weekend though to a new one!

All of these are interesting, not sure I would ever use any of these.

I've actually been preferring Spotify to Slacker since that app's own UI overhaul (and since it has some music that Slacker doesn't), but I still use Slacker quite a bit since Spotify has no radio functionality with Sonos. I also use Pandora a lot, but Slacker usually gets used since Pandora only allows six skips per hour, even if you pay for Pandora One.

I use both Pandora and Slacker. Best of both worlds. They seem to complement each other, playing songs that the other one doesn't. That's my experience anyways.

Personally, I'm a sucker for the classic Plants vs Zombies.

One of my all time favorites ever made. :)

I'm not crazy about Slackers new UI seems like its far too much Windows Phone inspiration. Blah.

Caching stations on Slacker for only $3.99 a month when you have a data cap is pretty great.

Pandora was my go-to app for years, but last summer it seemed to get too repetitive and the ad frequency increased. Jumped ship to Slacker and never looked back. Didn't really care for the new UI update, but I'm getting used to it. After all, it's about the content, not the interface.