iMore Editors' Choice: Tokens, Riven, Ruzzle, and more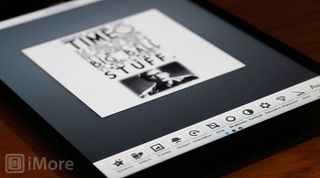 Every week, the editors and writers at iMore carefully select some of our favorite, most useful, most extraordinary apps, accessories, gadgets, and websites. This week's selections include a Lightning cable accessory, an app that let's you dive into space exploration, a few games, a photo editor, and a Mac app for Apple developer account holders.
Lightning to 30-pin Adapter - Chris Oldroyd
This week I have chosen an accessory for my car that has made me really happy. I have an aux in 3.5mm connection in my car and I previously had a Kensington Liquid Aux system that plugged into the bottom of my iPhone 4S via a 30 pin connector and then split the audio out into a 3.5mm connection that plugged into my car's aux in. It was a very neat solution and only needed one connection to be made on the bottom of my iPhone 4S.
When I upgraded to the iPhone 5 I lost that ability due to the Lightning connector so I bought a Tunecast Bluetooth system that connected into my 3.5mm car aux in and then connected to my iPhone 5 via Bluetooth. This worked great for a while but jwhen it is connected alongside a Bluetooth car phone kit it became unreliable and severely degraded the quality of voice calls on phone calls.
Thankfully I found that Apple does a Lightning to 30-pin Adapter, I am sure I read that it didn't support audio out but I gave it a try anyway. I plugged it in and my iPhone 5 and the Kensington system and it charges and plays music just like it used to do, the adapter works perfectly. If you have a system that used uses the 30 pin connector, give this a try, hopefully it will work as well for you too; although it is rather expensive!
Spaced is all about, as you would guess, space. The UI is simple and straight-forward, letting you easily navigate within and between sections. Gathering news from NASA and Universe Today, Spaced keeps you up to date on all the latest in astronomy and space exploration. The app also has sections for images from NASA, as well as videos, upcoming missions, and live video feeds from NASA. Finally, you can peruse the news archive and save articles for later reading. If you're interested in the latest news, photos, and even weather from space, this is an essential app for your collection. Spaced is a universal app available for $1.99.
There are a plethora of word games for iPhone available in the App Store. While Letterpress remains my favorite, Ruzzle comes in a close second since it's quick and easy to play.
Game play is easy and you can either challenge friends or play against a random opponent. You will be shown a 4 by 4 grid containing letters. You'll have two minutes to make as many words as you can with those letters. The only catch is that they have to be connected. Simply dragging your finger across them will connect them to form words. If it's valid, it'll add it to your word count.
Ruzzle is available for free but it ad supported. If you'd like to remove ads, you can do so as an additional $2.99 in-app purchase.
If you're digging through the app store looking for a good photo editor, it can become quite confusing as there is plenty to choose from. A little known secret about them all though is that a lot of the available ones are actually powered by Aviary, which offers up their photo editing services to developers. With that in mind, rather than digging through multiple apps and testing which ones work the best, I find it better to go right to the source. Aviary Photo Editor is a stand alone app that offers all the photo editing options an average user may need, plus some extras that might suit power users just fine. The basic app is free but there is multiple add-ons available for purchase as well should you find you need more. Personally, for my use the basic app itself is more than enough, give it a go and see how you like it.
Riven - Simon Sage
Fire up the nostalgia engine. The sequel to PC puzzle classic, Myst, is now available on the iPad. Riven whisks players to a strange, beautiful, and rapidly-deteriorating world to rescue someone that had been wrongfully trapped there. Players tap their way through a series of gorgeously-rendered scenes and chew through some wickedly difficult challenges. I never finished the game when I first got it back in '97, but now may be my chance to finally get through the whole thing. Grab it now while the introductory price lasts!
Tokens - Rene Ritchie
Tokens for Mac, by Oisin Prendiville and Padraig Kennedy, takes a complicated, fairly onerous task and makes it almost enjoyable. I'm talking about generating and distributing App Store promo codes. Sure, iTunes Connect can spit them out, but after that, Apple considers them your problem.
With Tokens, you log straight into your Apple developer account (authentication is handled via Keychain on your Mac, so no one gets your credentials who shouldn't have them) and then helps you generate just the promo codes you need, when you need them. What's more, you can identify where they're going, neatly package them up in an automagic URL so they're a breeze to redeem, and then keep track of which ones have been used and which are still pending.
Tokens is free to use for one app, and a mere $29 for multiple apps. Pay for it either way, it's well worth the money, and encouraging great developer tools is good for everyone's collective karma.
Your choice?
Now that we've chosen our favorites for the week, we want to hear yours! Did you pick up a killer app, accessory, or game this week? Let us know in the comments below!
Get more iMore in your inbox!
Our news, reviews, opinions, and easy to follow guides can turn any iPhone owner into an Apple aficionado
Former app and photography editor at iMore, Leanna has since moved on to other endeavors. Mother, wife, mathamagician, even though she no longer writes for iMore you can still follow her on Twitter @llofte.