iMore Editors' Choice: Uber, Little Inferno, Jot mini, and more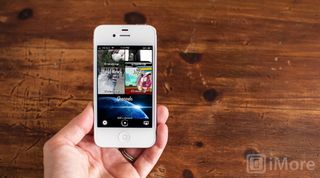 Every week, the editors and writers at iMore carefully select some of our favorite, most useful, most extraordinary apps, accessories, gadgets, and websites. This week's selections include a stylus, a service that will make it easier than ever to call a taxi or car, an app that will tell you everything you need to know about your favorite brands by simply taking a photo of their logo, a news app that speaks to you, a fiery hot game, and a nutrition app.
Little Inferno - Simon Sage
Little Inferno brings the simple joy of lighting things on fire to your iPad. This more-than-slightly-off-kilter game has players toss various objects into a Little Inferno Entertainment Fireplace to earn Tomorrow Bucks. Tomorrow Bucks are spent on ordering new objects from catalogs, which, when burned up in certain combinations, award Tomorrow Stamps. Tomorrow Stamps can speed up the delivery of new objects, while achieving a certain number of combinations will unlock new catalogs.
Every object you can order has a high amount of visual polish a reacts realistically to being light on fire and moved around, right down to sound effects, physics, and the way it crumbles under a blaze. Little Inferno was made by the same crazy people that made World of Goo happen, so pick this one up if you're looking for something out of the norm.
As part of my quest to become paper free I decided it was about time to start using my iPad to take hand written notes at meetings etc. I currently own a Pogo Sketch stylus and to be honest it's like having a marshmallow on a cocktail stick. I needed something more accurate and more like a pen.
I did some research and decided to pick up a Jot mini stylus and I am so glad that I did. The Jot started life as a Kickstarter project and is known as the stylus with the small clear disc on the end but the feel of an actual ball point pen. Well I can tell you one thing, it is absolutely superb. It is highly accurate and feels just like you are using a real pen and I can't praise it highly enough.
The Jot mini is simply a cut down version of the Jot Pro stylus and it may not be the best choice if you have bi hands. For me it is perfect and if you are in the market for a stylus, you would be mad not to get one of these!
$21.99 - Buy now
BizVizz is one of those apps that doesn't have any real world application but does provide a lot of interesting information. The main concept behind it is that you can scan any company logo by taking a photo of it, BizVizz will then spit out all kinds of information on that company from their tax rates to campaign contributions they've made.
While it's not something that everyone will want to know, for those who are interested about their favorite brands, how much they make, what political parties they've been affiliated or contributed to, and more - it's definitely an interesting find.
BizVizz may be intriguing to iPhone users that have strong political affiliations or the ones that care about who they are buying from and what they're doing with the money they put in their pockets. I've been scanning random logos for a few days now and have found BizVizz to be very enlightening in some cases.
Sometimes I wish Siri would bring me information at certain points in my day, telling me about news items while I do other things. That's exactly what Winston does. Winston is an app that speaks to you, reading out news, weather, and your social feeds. There are a number of channels to to choose from as news sources, with politics, technology, and gaming just a few examples. You can also allow Winston access to your Twitter and Facebook feeds so that he can read them out to you. When you enter the app, tap the Briefing section at the top of your screen to get a rundown of the news since you last opened the app, along with the time and weather.
Winston isn't perfect. Pronunciation can be an issue, and when parsing social feeds for relevant information, Winston sometimes fixates on a single word that is strange out of context. But though it's still definitely a work in progress, Winston is still solid enough to use for quick information updates. Winston is currently free on the App Store.
Uber - Rene Ritchie
I don't have the Uber car service here in Montreal yet, but they sure do have it in San Francisco and I made use of it several times while at Macworld|iWorld 2013.
Here's how it used to work: I'd leave a restaurant or party, walk for blocks looking for an ATM, make sure I was secure while getting money, walk a bunch more blocks looking for a taxi, and then finally, maybe, get a ride, then fumble for cash and change and stumble off.
Here's how it works with Uber: Leave a restaurant or party, tap a button, get told a car is 2 to 4 minutes away, watch the car approach on a map, get a call to make sure it finds me, get in, go, get out, get on with my life.
It feels like a luxury, but when you need a car to take you some place, it also feels like a necessity.
The app is free, the rides get billed to your credit card.
Healthy Diet & Grocery Food Scanner by ShopWell - Leanna Lofte
Nutrition Week at iMore and Mobile Nations Fitness Month is coming to a close, so this week I went on a hunt for an app that promotes healthy eating and stumbled upon this app that tells you if your groceries are good for your diet. It's called Healthy Diet & Grocery Food Scanner by ShopWell and here's how it works:
After you sign up with an account, or login with Facebook, you go through a series of menus to tell ShopWell what your diet goals are, what foods you value, which ones you want to avoid, and which ones you're allergic to. Once you've completed the setup, you simply scan the barcodes of food in the grocery store or your cupboards and ShopWell will tell you if it's a good match for your needs and why, and color-coded nutrition facts and ingredients.
If you're trying to be a little more health-conscious with what you eat, ShopWell is a great app to help you with that endeavor.
Searchpath - Rene Ritchie (Bonus!)
Noted developer Manton Reece has just released a new web service called Searchpath. It's a fast, easy, elegant way to add search to a website. Results are returned in a fancy popover interface, which not only keeps people on your page, but keeps your page visible to them around the popover. It comes in the form of a JavaScript snippet, gives stats, and doubles as a handy site backup.
There's a free demo, and if you like it, you can get the whole service for $8 a month.
Your choice?
Now that we've chosen our favorites for the week, we want to hear yours! Did you pick up a killer app, accessory, or game this week? Let us know in the comments below!
Get more iMore in your inbox!
Our news, reviews, opinions, and easy to follow guides can turn any iPhone owner into an Apple aficionado
Former app and photography editor at iMore, Leanna has since moved on to other endeavors. Mother, wife, mathamagician, even though she no longer writes for iMore you can still follow her on Twitter @llofte.