iMore Picks of the Week for March 10, 2012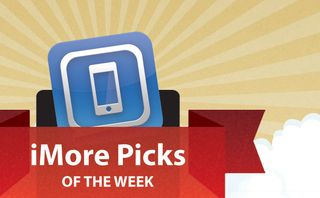 Every week the editors at iMore carefully select some of our favorite, most useful, most extraordinary apps, accessories, gadgets, and websites. This weeks selections includes a musical game, a jailbreak tweak, an accessory and app to accept credit card payments, a music identifier, a news readers, and a photo editor.
To see what we picked, and to tell us your pick, follow on after the break!
Remember the old game show "Name that tune?" Remember how if they told you enough about the song, you could guess it in a single note? Well what if you only had a single note and no background information? What if that tune came from your own iTunes library?
Guess Your Songs is a great new game that you can play on your iPhone, iPad, Facebook, or directly through www.guessyoursongs.com. It uses your iTunes library, and plays you a snippet of a song. It could be a single note, it could be 10 notes - depends on the song - whatever fits into the two seconds you get to listen. Oh, and it's not the beginning of the song, either. This can be a challenge.
Once you listen to your two seconds of music, you get three choices. Guess Your Songs will display the album art (if you have it), and give you three song titles. All you have to do is tap the correct song. This can sometimes be tricky. For instance, I played one round, where I got two seconds of silence. When I looked at my choices, two were classical pieces, and the third had a lengthy bridge with spots that were so quiet they could have been silence. Very difficult to make that call!
The more eclectic your collection, the easier it is to guess correctly. If you have a large collection of music from the same genre, it could prove very challenging!
So challenge yourself to see how well you know your own music collection, and give this a try!
Zeppelin (jailbreak) - @JorjLim
Zeppelin is a very simple jailbreak tweak that allows you to change your carrier icon. Instead of reading "O2" or "AT&T" you can actually customise it to show the actual logo of the company, or even something completely different like the batman symbol, the Apple logo, or even the logo of your favourite sporting team.
When you initially download it it comes with some basic icons; from popular sci-fi series, video games as well as popular brands. However there are endless numbers of bonus packs to download in the Cydia store for free. (It even has their own category in Cydia)
If you want to really have simplicity, you can even set it to "none" to have nothing there at all.
One of the good things about this tweak is that you don't even have to respring when you change an icon, so you can switch between them on the fly without having to worry respringing your phone.
You can download this fun little tweak from Cydia for free.
Square Register for iPad - @iMuggle
I've been using Square as the main method for taking credit card payments for PXLFIX since last summer. I love the ease of use, idiot proof interface, and low fees. As much as I've always enjoyed being able to take a credit card wherever I was, whether in the office or on a consult, I've felt like Square could add a bit more customization.
Square Register is exactly what I'd been wanting to see them do. I can now have a beautiful virtual shelf showing all our services and repairs, I can favorite certain items that get used more than others, and add photos for each item. I also like the fact that I can choose whether or not an item is taxable. In the state where my business is located, we don't yet have to charge tax on labor so we have to break that out on invoices. Square makes it easier than ever. Just toggle tax on or off for any individual item.
I've been playing around with Square Register since it came out and I have to say that it's one of the best options for small businesses that don't want to be anchored to one point of sale or commit to several monthly fees. You can sign up for Square for free and receive a reader for free as well. Square Register is also a free download via the App Store.
I'm a News junkie - I always have been. First thing in the morning - after I read my emails and check tweets from the night, i fire up two or three news apps to see what's going on in the world. I have vacillated between my iPad and iPhone - but usually turn to the iPad for one app - USA Today. AFter checking the front page of the New York Times, this has been my go to app.
Now, USA Today has been updated for the iPhone and it is awesome. They did a complete redesign of the iPhone app; the sections are in big, bold colorful letters on the left hand side. In each "category" you can choose from lots of options. Being a sports nut, I really appreciate the ability to see Top Stories, Scores and each sporting league right there for easy perusal.
I also like that the settings menu is built into the app. I can manage my alerts, choose display options and get support via email or twitter. There is even a handy weather widget on the front page that can be set to multiple locations. All in all, this is a great upgrade and has made this my new "go to" news app when I am just looking for quick stories - not in depth analysis.
I'm getting old. My memory for the names of songs and tunes I like is no longer as good as it once used to be. For example, watching the iPad announcement I sat there wondering what the name of the song they played while showing off the new stores was pretty much for hours, even though I knew I had heard it before. I gave up though, and headed off to the app store to find an app that would know instantly. I found Shazam, played a few seconds of the song, Shazam sent it to the cloud and immediately gave me the answer I was looking for -- We are young by Fun featuring Janelle Monae. Shazam is free and available in the app store, right now.
iPhoto for iPhone and iPad - @llofte
One of the announcements during Apple's iPad event was iPhoto for iPhone and Mac. When rumors first started surfacing about this, I'll admit that I wasn't too thrilled because I've never been a fan of iPhoto for Mac. I'm happy to report that I'm actually very impressed with iPhoto for iPhone and iPad.
I don't want to repeat myself, so please take a look at my full review.
What? Stop looking at me like that. It had to be done! The new iPad packs an ridiculous amount of technology into a sleek, sexy package for an unbelievably low price. It's such a design, engineering, and logistical achievement that I'm guessing Apple's competitors likely went into collective apoplexy after watching the event on Wednesday and are probably still on pure oxygen.
2048x1536 Retina display pixels in a 9.7-inch display is crazy. It's more than your 1080p television at a tiny fraction of the size. 4G LTE networking is fantastic for those with coverage, and the Apple A5X chipset looks to be quad-core graphical monster. It's even got a 5mp version of the iPhone 4S' fantastic iSight camera built in.
And it's almost the same size as the iPad 2, and the same price. If you haven't gotten a tablet yet, it's a great time to start. If you have an original iPad, it's a great time to upgrade. If you have an iPad 2, it's a good upgrade provided one or more of the features fixes a real problem you've been having.
I'll be lining up to get the fully loaded version on launch day, but if you haven't made up your mind yet, we've got everything you need to help you decide right here:
Tell us your pick!
Those were our picks, iMore Nation, so now it's your turn! Tell us your pick of the week below. Give us the name of your favorite app, site, or accessory, and tell us why it made your life more productive, more informed, more entertaining, or just plain more fun. Jump into the comments and let us know your pick of the week!
Get the best of iMore in your inbox, every day!
Former app and photography editor at iMore, Leanna has since moved on to other endeavors. Mother, wife, mathamagician, even though she no longer writes for iMore you can still follow her on Twitter @llofte.
Really loving the new USA Today app. Beautiful, and simple. I also love that the in-story ads automatically hide the moment you start scrolling. I wish all apps did that.

Tunein radio is awesome especially the pro version with record, week cal is the best calendar with great week view, templates for easy inputs on the fly, fast syncing with loads of flexible settings ; colour splash and big lens for photo editing easy to use making my photos look better

Trip Photos - Tag, Search N Share. a photo organizer app attracts me more...
http://itunes.apple.com/us/app/trip-photos-tag-search-n-share/id49556075...

@Gmazo1 if you're a news hound like me, my fav apps include: Washington Post Social Reader, Press Display and Feedly for my news fix. :)

Yes, download carcked ebooks, easy find free ebook book cost. reading , I Kindle instead iPad. iBookStore iPad unmature moment. many users complaining look screen iPad reading over hour, eyes very tired backlight. See article here:Hope helps .

I think a visualized display can be better then only a simple text, if stuff are defined in images one can easily be familiar with these.