iMore show 667: I Will Survive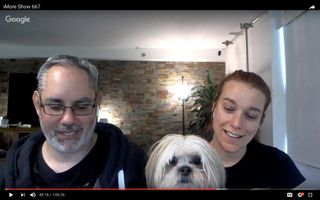 Rene Ritchie, Georgia Dow, Lory Gil, and an adorable little Ewok/dog have plenty of news to share from the Appleverse! Apple found enough money in their couch cushions to buy the majority of Intel's smartphone modem business. Additionally, The ECG functionality of Apple Watch is now available to users in Canada, and Apple Card may launch in August.
Paving the way for new phones, iOS 12.4 brings a direct device data migration feature. And rumors continue to percolate about a 16-inch MacBook Pro with scissor keyboard switches.
Listen now
Watch now
Show notes
Apple Card may launch in the first half of August
Sponsors
Wix Creation without limits. Visit wix.com/podcast and get 10% Off Your Wix Premium Plan — enter the code WIXPROMO at checkout.
Rhone

(opens in new tab)

: Rhone, the premier men's performance lifestyle brand, is designed for men who appreciate quality, comfortable clothing that fits how they live, work, and sweat. Go to rhone.com/imore

(opens in new tab)

and use offer code IMORE for 20% off your first purchase!
Hosts
Be part of the show!
Send in your comments, questions, feedback, or follow-up to:
Jim Metzendorf has been using Macs since 1994. He is a podcaster, freelance audio/video editor, and author of 'The Professional's Guide to Audio Podcast Production'. Jim also teaches audio production at a college in Cleveland, Ohio. Follow him on Twitter: @jmetzendorf
Thank you for signing up to iMore. You will receive a verification email shortly.
There was a problem. Please refresh the page and try again.