iMore Show 700: Character Development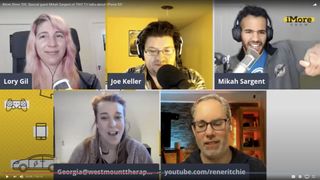 (Image credit: iMore show)
Special guest Mikah Sargent of TWiT.TV joins us this week to talk about iPhone SE! We also drool over the new Magic Keyboard for iPad Pro and check out the alleged design of iPhone 12 Pro Max.
Finally, we say farewell to Rene as a co-host of iMore show. He's gone indie with his own YouTube channel and podcast. But fear not, true believers! He'll be back as a guest from time to time. And, of course, you can catch his videos several times a week. Thank you so much, Rene. We all love you!
Listen now
Watch now
Links
Sponsors
Thrifter.com: All the best deals from Amazon, Best Buy, and more, fussily curated and constantly updated.
Hosts
Be part of the show!
Send in your comments, questions, feedback, or follow-up to:
Jim Metzendorf has been using Macs since 1994. He is a podcaster, freelance audio/video editor, and author of 'The Professional's Guide to Audio Podcast Production'. Jim also teaches audio production at a college in Cleveland, Ohio. Follow him on Twitter: @jmetzendorf
Thank you for signing up to iMore. You will receive a verification email shortly.
There was a problem. Please refresh the page and try again.