iMore Show 718: Taste the Sweetness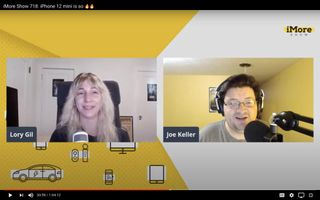 (Image credit: iMore)
A new batch of rumors has come to light regarding the iPhone 12 series of devices — we might see an iPhone 12 mini!
Although we have to wait a little longer for new iPhones, we might see Apple Watch 6 VERY soon, along with a rumored iPad Air 4. Other possible devices to be announced this fall include the long-awaited AirTags and AirPods Studio.
Listen now
Watch now
Links
Sponsors
Roman: Welcome to Roman, a digital health clinic for men. Go to GetRoman.com/imore today. If approved, you'll get $15 off your first order of ED treatment.
Hosts
Be part of the show!
Send in your comments, questions, feedback, or follow-up to:
Jim Metzendorf has been using Macs since 1994. He is a podcaster, freelance audio/video editor, and author of 'The Professional's Guide to Audio Podcast Production'. Jim also teaches audio production at a college in Cleveland, Ohio. Follow him on Twitter: @jmetzendorf
Thank you for signing up to iMore. You will receive a verification email shortly.
There was a problem. Please refresh the page and try again.