New iPad vs MacBook Air: Which should you buy? [iMore TV]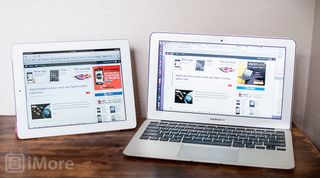 Should you get the new iPad or MacBook Air, or more properly, who should get an iPad and who would do better with a MacBook Air? That was the topic of our very first iMore TV show almost 18 months -- and two full iPad generations! -- ago, and it's one we return to now following the launch of the latest, greatest 3rd generation iPad!
The MacBook Air hasn't changed much (it did get a backlit keyboard, however) but the iPad has come a long, long way in terms of display, power, and connectivity. The MacBook Air now has OS X Lion and the iPad iOS 5. While the Mac has been made took look more like the iPad, the iPad hasn't been made to work more like the Mac.
Is it fair to compare? One is a traditional laptop, albeit the best small laptop in the business, and the other is the first breakthrough tablet device. The MacBook Air is still twice the price of the iPad as well. Yet if we stop thinking in terms of product and start thinking in terms of solution, both are ultraportables that will appeal to those who want to be highly mobile. If you already have a desktop or large laptop at home or work, the MacBook Air and iPad could both be contenders for your tertiary device. If you have no computer and are looking to get something just for the internet and light productivity, both could be a great introductory machine.
Once again it's keyboard vs multitouch, storage vs battery life, and which one might be best for you, for your kids, for your parents, or just for your inner geek.
So if you've been trying to decide between an iPad and a MacBook Air check out our very latest iMore TV and we'll try to help you make the best choice possible!
Get the best of iMore in your inbox, every day!
Senior Editor at iMore and a practicing therapist specializing in stress and anxiety. She speaks everywhere from conferences to corporations, co-host of Vector and Isometric podcasts, follow her on Twitter @Georgia_Dow and check out her series at anxiety-videos.com.
I would vote for sell every other computer you have and get both, but assuming that is not an option, I think I would choose the iPad. It has gotten good enough that I can comfortably do audio and photo editing on it, and I find the battery life and wireless internet aceess very compelling advantages.

Santa and the Easter Bunny have to get together with the Tooth Fairy to set the date.However, if you look good in blue, just hold your btearh for it. Was this answer helpful?

My iMac is in the shop getting it's motherboard replaced. I'm starting to think I should have got an Air. :-/

I have the new iPad and wife has the MBA. All is well in our household.

I had this same issue, but ended up going with the New Ipad and a MBP. I have been really happy with my choice so far. I use my Iphone 4S and New Ipad mainly on the go and the MBP for home use.

I dont see the comparison. Yes they are both small but a computer is much more useful than a iPad. Its 2 completely different devices that serve different purposes. Really depends on what you need it for. Realistically the iPad compliments a computer.

But one thing there are still some programs in terms of installing it that you can't put on an ipad

Georgia is a babe. There I said it.

Yes, she is smokin' hot!
And married?

Yep, she's married. Her husband makes the videos. :)

Why damn? All is fair in love and war.

Aha. We wondered who did all of Georgia's videos (and assumed it was hubby!)

I was asking myself this same question a few months ago. I ended up getting a MBA. What made my decision easy was that I have an iPhone. I don't understand why people pay $500+ for a device that does less than your iPhone can do but just has a bigger screen. For a couple hundred more dollars (depending on what iPad you were looking to get), you can get a MBA that does way more than the iPad could dream of doing. In terms of weight, the MBA is less than 1 pound heavier (depending on the model) and has a bigger screen. If you own an iPhone I would recommend getting an MBA over an iPad.

I love this argument; the iPad is just an oversized iPod or iPhone that is less useful. Well, the MBA is a smaller less useful laptop in comparison to a MBP! Why not spend a couple hundred more on a MBP with a disc drive, faster processor and more storage? I have an MBP, iPhone and iPad and I guarantee you there is a huge difference between an iPhone and an iPad. Try reading a book on an iPhone and compare that to an iPad. Try playing Infinity Blade on an iPad vs an iPhone. Developers have done an amazing job of making iPad-centric apps that truly make use of the larger screen compared to the iPhone apps). I would argue a large bulk of iPad owners have an iPhone as well.
Comparing an iPad to any Mac is like comparing a truck to a car. They serve different needs; if you need a Mac, you won't be happy with an iPad. However, if you have a PC/Mac, you will be very happy with an iPad and you will find your PC/Mac will collect a lot of dust; just my opinion.

Agree, the air is nice, but just a couple hundred more for the MBP. If you just want a keyboard, get the iPad, and any decent Bluetooth keyboard. I use the Zagg with no problems. The air with the larger screen, is just to expensive. I would get the pro.

It's only couple of hundred dollars more if you're referring to the MB Pro 13" in which case I would rather get the MB Air 13". It is lighter, much sleeker looking plus it feels so much faster and it has a higher screen resolution to boot.

People keep comparing iPad to an Iphone because they both do the same thing. With the exception of the iPhone making phone calls....they both run the exact same apps. During the time that I tested an iPad for work, I didn't find any app that was available on the iPad that wasn't available on the iPhone. The bigger screen is a plus but that doesn't change the fact that it functions the exact same way as an iPhone.
The functions of a MBA and a MBP are different. For starters, the MBP comes with 2 video cards which allows you to run games and programs that the MBA doesn't. MBP comes with an optical drive. MBP can actually be a desktop replacement for those people that run programs that require a lot of resoources.
You actually gain functionality for the added cost of the MBP. With the iPad, you only get a bigger screen and less functionality. In the end it is a personal preference whether you think the bigger screen is worth it. For me it wasn't. I can read stuff on my iPhone just fine and the MBA is just as portable as the iPad. If I didn't have an iPhone I would have gotten an iPad but I just couldn't justify spending $500+ for a device that does the same stuff my iPhone can do.

Apparently you haven't spent much time with an iPad. Yes, the iPad and iPhone have similar apps but good developers have made them quite different. Take a look at Scorecenter, WSJ or MLB at Bat and compare the two versions. Also, I don't believe the iPhone has an A5X processor, LTE or a 1GB RAM. I at one point was like you and wondered why get an iPad if I have an iPhone. After I did, trust me, the applications make these two very different devices.

Thank you Jon for your review on April 13. I have an I phone and Mac book Pro, and was starting to doubt my new IPad purchase, but your comments have made a lot of sense to me!

I was really on the fence about this. I already have an iMac desktop as well as an iPhone4 so I was trying to decide which mobile device (other than the phone) would be most suitable. Was initially leaning toward an iPad but the above is swaying me toward a laptop now. Thanks.

I have an iPad 2, 11" MBA, iMac and just got an iPhone. The iPad is for renting movies and importing photos and videos from my Nikon D5100. It's perfect for a field display. I then delete the ones I don't like and when I get home I import the photos and videos into the iMac through Aperture and back up with Time Machine. I intend to use the MBA to sync with my iPhone. I can reformat my videos in iTunes for the iPhone, plus all my CD music is on my MBA. It's hard to say which one I don't need. The iMac holds everything and everyone in the family gets to use it. The MBA holds just my movies and music and only I use it. After I start using the iPhone I wonder which I'll use less. Probably none of the above. What else will they come out with I can't live without. Well I never watch TV now.

It really depends upon your own personal needs. Speaking for myself if I have a bluetooth keyboard and an airprint enabled printer the ipad could serve as my main computer so I would go that route.

Thanks for the giveaway. My name is Kenneth and I am a colelge student who is in need of an iPad 3. I need an iPad 3 for school notes, assignments, and projects. I also want to use the iPad 3 to make YouTube videos and be part of the YouTube family. Hope I Win!

The truck-car analogy is so apt. For my heavy duty work needs the Air is essential. But for much of my work and the entirety of my leisure time the iPad is miles better.

I hate having too many things around to care about, I hate having to charge too many devices before I go to bed, and I hate having to spend that extra dollar every year just to keep up with the upgrades. Each the Macbook Air, the iPad and the iPhone does a specific task better than the other. However, as much as I want to get them all, I think I'll keep it down to what's necessary which is a phone and a laptop, thus a Macbook Air and an iPhone.

It this a joke?
You guys really have no need for either if you even ask the question
IPad has no real productivity use at all ... Do you really just write email and browse the Internet? Is that all??

If creating and presenting Keynote presentations, managing PDF, Excel, PP, Numbers, Word and Pages files is all you use an iPad for.........yes, no productivity use at all.

Nobody says you CANT do productivity apps on the iPad.
If you want to do 1/10th as much 1/10th as well, it's perfect.

Andy Ihnakto, technology writer for the Chicago Sun Times, uses the IPad as his primary full time computer.

You started off great and held on for a nice long run.....however you fell back to old habits in the last 2 minutes. Keep it up. Try harder. Speak clearly and don't hesitate with filler words.
You know who....

ha! tipb tv lol you should definetly do iMore TV more often this is the first one in several months

I have both the MBPS and iPad2 I don't think either is a wrong choice. For typing if you get a Bluetooth keyboard (which are really cheap now) apps like pages, quick office etc can handle the argument for those who say blogging or typing papers can't be done on an iPad. I guess it's more of a matter of what you have first. I have the iPad 1,2 since the first came out and then got the 2. I just recently got my first ever MBP and I find myself using my iPad less and less.

That is very fascinating, You are a very skilled blogger. I've joined your feed and stay up for in the hunt for extra of your magnificent post. Additionally, I've shared your site in my social networks

Two years ago, I was in Thailand with both a Macbook Air and an iPad (first gen). I dropped some wine in the Macbook. It just died and Apple refused to fix it for less than 900$. Fortunately, the iPad kept working (I'm a novelist). Back home, I threw away the Macbook and now travel with a brand new iPad and an Apple Bluetooth keyboard. Plus, the iPad 4G connects without wi-fi. I'm happy and don't worry about spilling liquids anymoe.

You actually make it appear so easy with your presentation however I find this topic to be really one thing which I believe I would never understand. It seems too complicated and very large for me. I am looking ahead in your next post, I will attempt to get the cling of it!

Useful information. Fortunate me I found your site by chance, and I am shocked why this coincidence did not happened in advance! I bookmarked it.

I just bought both!!! I love the 13" Air and the iPad and both are portable. You can do more on the Mac so base your decision on what you need. My friends say I'm turning into. a Apple fanboy Love it

It's perfect time to make a few plans for the future and it is time to be happy. I have learn this publish and if I may just I wish to recommend you some interesting things or advice. Maybe you could write next articles referring to this article. I want to learn even more things approximately it!

I enjoy you because of your whole work on this blog. Debby takes pulesare in going through internet research and it is easy to see why. I hear all concerning the compelling form you render informative strategies by means of this website and even strongly encourage contribution from other ones on that subject and our favorite daughter is in fact being taught a whole lot. Take pulesare in the remaining portion of the year. You are always performing a wonderful job.

Somebody essentially assist to make significantly posts I might state. This is the first time I frequented your website page and to this point? I surprised with the research you made to create this particular publish amazing. Wonderful process!

Is the train faster or the snow whiter?

Can i fart on everyone's face here that is arguing about this stupid subject again? Bunch of undeceive cooklamongers..

Thanks so much, Very helpful! Not sure which one I will choose, now the mini's coming out, but I can clearly see the difference thanks to your info. I will probably get the Air, but will hopefully have both eventually, since both are so great for so many different things.