New iPad vs MacBook Air: Which should you buy? [iMore TV]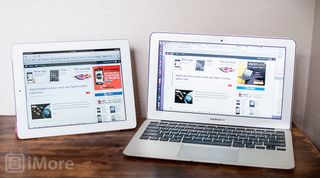 Should you get the new iPad or MacBook Air, or more properly, who should get an iPad and who would do better with a MacBook Air? That was the topic of our very first iMore TV show almost 18 months -- and two full iPad generations! -- ago, and it's one we return to now following the launch of the latest, greatest 3rd generation iPad!
The MacBook Air hasn't changed much (it did get a backlit keyboard, however) but the iPad has come a long, long way in terms of display, power, and connectivity. The MacBook Air now has OS X Lion and the iPad iOS 5. While the Mac has been made took look more like the iPad, the iPad hasn't been made to work more like the Mac.
Is it fair to compare? One is a traditional laptop, albeit the best small laptop in the business, and the other is the first breakthrough tablet device. The MacBook Air is still twice the price of the iPad as well. Yet if we stop thinking in terms of product and start thinking in terms of solution, both are ultraportables that will appeal to those who want to be highly mobile. If you already have a desktop or large laptop at home or work, the MacBook Air and iPad could both be contenders for your tertiary device. If you have no computer and are looking to get something just for the internet and light productivity, both could be a great introductory machine.
Once again it's keyboard vs multitouch, storage vs battery life, and which one might be best for you, for your kids, for your parents, or just for your inner geek.
So if you've been trying to decide between an iPad and a MacBook Air check out our very latest iMore TV and we'll try to help you make the best choice possible!
Master your iPhone in minutes
iMore offers spot-on advice and guidance from our team of experts, with decades of Apple device experience to lean on. Learn more with iMore!
Senior Editor at iMore and a practicing therapist specializing in stress and anxiety. She speaks everywhere from conferences to corporations, co-host of Vector and Isometric podcasts, follow her on Twitter @Georgia_Dow and check out her series at anxiety-videos.com.