Best of the rest: Golden trails 2, Passwordbox, ProPhotos, and more!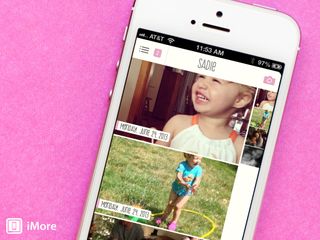 Every week we provide you guys with app reviews for iPhone, iPad, and Mac as well as give you the scoop on the hottest new and updated apps. No matter how much time we spend writing reviews or posting news on app updates, there's no denying that the App Store is a huge marketplace to dig through.
That's why we think these apps are worth mentioning even if we didn't have time to give them all full on reviews. This week we found a few weather apps, some children's apps for both parents and kids, some games for both Mac and iOS, and more.
Games
Must Keep Counting for iPhone and iPad
Must Keep Counting is a basic counting game where you'll need to tap on the tiles as fast as you can in order to count as high as you can. As you tap on a tile, it will be replaced by a different number. Count in order as high as you can while racing against the time. As you're tapping on tiles faster and faster, you'll gain more time but take too long and the timer starts counting down. When you get to zero, your game will end.
Must Keep Counting supports Game Center integration too so you can challenge and check out your friend's high scores.
If you're a fan of word games, Word Slide is an interesting twist on classic word creation games. You'll have to work against the clock in order to form words as fast as you can but there's a little catch, the letters move in turn making it more challenging.
You can either play solo or match up against friends in turns of three round games.
In Golden Trails 2, you'll play as Henry whose grandfather was accused of being a pirate. In order to save him you'll need to defeat bandits, find hidden items, and solve lots of puzzles. The graphics are also beautifully designed.
If you like casual RPG's that contain more puzzles and mini-games than they do hand to hand combat, Golden Trails 2 may be what you're looking for.
Productivity apps
PasswordBox for iPhone and iPad
Password Box is a password manager that can store all your account information and login information in one place. With a built-in browser you'll be able to tap once and log in to all your accounts that you've got stored. The interface is surprisingly clean and well laid out. If you don't need or want to pay for a more extensive solution such as 1Password, PasswordBox may be a nice compromise.
PasswordBox is a universal download for both iPhone and iPad.
Actions allows you to create actions straight on your iPad in order to control and work more seamlessly with your computer. All your actions can wirelessly sync between the two for a much better workflow. If you like integrating your iPad and appreciate touch screen controls over basic computer controls, Actions is worth checking out. Actions works with both Mac and PC.
There's no shortage of stock apps in the App Store but the quality of each one varies. Stocks for iPhone caught our attention because not only does it give you pretty detailed information, it's one of the best put together stock apps we've seen paired with a gorgeous interface. If you don't need a hardcore stock app that ties directly into your stock portfolios, Stocks makes a perfect app for just checking on things at a quick glance.
Task management apps run rampant in the App Store and choosing one can be a hard decision. I personally use a couple different ones for different reasons. Task Player aims to make task management less work and more fun. With custom alerts and a great interface, Task Player allows you to think of tasks like an album. Choose tracks to go with certain tasks and go.
The creators of Task Player think it's an ideal app for activities such as circuit training, Yoga, and timing dishes in the kitchen.
Photography apps
Modern Photo Editor for iPhone and iPad
If you can't get enough photo editing apps stock piled on your iPhone, Modern Photo Editor is another great one that's got a clean layout and lots of filter, edit, and sharing options. With lots of filters, adjustments, textures, and spot-editing options you'll be able to fully edit your photos and then share them to the social network of your choice including Instagram, Twitter, Facebook, email, and text message.
ProPhotos for iPhone and iPad
ProPhotos takes a new approach on how you view your photos. Instead of viewing them in a boring list, why not check out your best photos in different 3D shapes and slideshows? With six different views to choose from, you can view 3D models of your photos and expand on them as you'd like. ProPhotos also supports animations for transitions between photos.
Social apps
Socialblend combines all your social networks together in one feed including Facebook, Instagram, YouTube, and Twitter. The feed view is visually attractive and even lets you play YouTube videos native within the app. If you want to simply switching between apps in order to catch up on what your friends are posting, Socialblend is one of the best options we've found to be available.
Moment for Mac is a new way to share to Facebook directly from your Mac. Not only can you post status updates, you can also videos and photo galleries without ever having to log in to Facebook via a web browser. One of the coolest features is the ability to drag videos directly from Vimeo and YouTube right to Moment's status icon in order to upload them.
If anything, Moment is a super convenient way to share directly to Facebook without disrupting your workflow.
Kids and Education
First Years is one of the most gorgeous ways we've ever seen to document and chronicle your child's life. Not only are the different ways beautiful, tilting your iPhone into landscape mode will bring up a calendar you can tab through in order to easily access moments on certain dates.
If you're looking for a way to organize and store photos of your kids, First Years is a great option. The built-in camera also makes it an all-in-one app for the times you want to snap photos and instantly add them.
LittleLearner for iPhone and iPad
LittleLearner is a basic learning app for young children with an easy to use and navigate interface. It includes the ability to pull up letters and allow a child to trace over them with different colored crayons in order to learn the alphabet. There are several categories to choose from including numbers, letters, shapes, fruits, and music.
If you're looking for a discovery app to help your child discover the basics, LittleLearner is a great option.
Weather and Travel apps
Weathertron for iPhone and iPad
Instead of providing a detailed advanced forecast, Weathertron aims to make it easier to plan what you're doing right now by focusing on what today's weather will bring. With information such as whether it'll rain to cloud cover and more, Weathertron is not only beautiful, it can help you better plan your day around the weather that's currently happening and how it will develop over the course of the entire day.
There are lots of gorgeous weather apps available in the App Store and SimplyWeather has just made that decision even harder. WIth beautiful forecast and current condition screens to a well laid out list of information, SimplyWeather shows what you need to see beautifully.
SimplyWeather supports weather information for local weather, weekly forecasts, wind speed, humidity, visibility, and more. If you're looking for a replacement weather app, give SimplyWeather a look.
Travel Budget App for iPhone
If you're thinking about traveling, you'll probably want a good amount of travel apps on your iPhone before departure. If one of your goals is to budget yourself and be mindful of how much you're spending while you're done, Travel Budget App can do just that.
For business users, Travel Budget App makes a great way to track expenses since you can easily export them at the end of your trip to be sent or uploaded wherever you need them.
Your picks?
These are the apps we found to be notable throughout this past week but that doesn't mean we covered them all. If you found a new or updated app this past week that you think is worth mentioning, make sure you drop it in the comments below!
Get the best of iMore in your inbox, every day!
iMore senior editor from 2011 to 2015.