iMore Roundtable: Our favorite iPhone games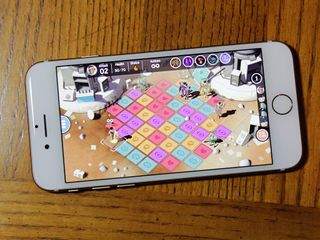 The iPhone, and smart phones in general, have completely changed the landscape of video games. Console gaming is not nearly as popular as mobile gaming, and in some cases, not nearly as financially lucrative. At iMore, we are always testing out (and sometimes falling in love with) mobile games. We had a chat about which games are our favorite, and that discussion was pretty animated. Here are our favorite iPhone games.
Joe: Mini Metro
Mini Metro is a perfect game for iOS. Whether I'm on my iPhone or iPad, this minimalist take on a planning game tasks you with designing custom metro rail lines for cities across the world. As new stops pop up, you can easily extend an existing line, or create a new one if its available. The interesting challenge in the game comes when you're trying to keep your system from being overwhelmed as more passengers flood each new stop. You can add multiple trains per line, cross under waterways using bridges, and plan the most efficient route to pick up the ever-increasing throng of passengers.
All of this is backed up by a soothing soundtrack, which definitely helps keep the stress down, while the dark mode will help you keep planning well into the night.
Mike T: TypeShift
I'll be honest: I hate mobile gaming. Touch controls annoy the hell out of me and I just feel like the screens is too small to do anything productive. I know I'm in the minority here, but if I'm doing something more than killing time, I want a big screen. That's why I love TypeShift. It's a minimalist word puzzle game that has you spelling multiple words from a jumble of letters. There is a center line where you spell out your words, and each letter space has a corresponding column of letters to use. The taptic feedback is satisfying and the increasing difficulty is challenging but not aggravatingly so. If you like word games, TypeShift should be on your iPhone or iPad.
Luke: Ticket To Earth
Bursting with color and full of adventure, Ticket to Earth is a strategy RPG you'll love! I can't recommend this game highly enough!
The story is littered the surprising plot twists, impactful characters, and a well-written narrative that will keep you invested in the rich world of New Providence and the people who populate the planet.
Beautifully designed graphics that blend the manga/comic book style artwork with brightly colored backgrounds and landscapes, make Ticket to Earth pop off the screen in a delightful burst of colors that never gets old.
Ticket to Earth has an original battle system that breathes new life into the strategy RPG genre. The Movement system offers an extremely deep and complex combat experience that never goes stale, as there is always new powers and abilities to acquire.
Bottom line, Ticket to Earth is an intelligent, fresh, and gorgeous game that is worth every cent of its $1.99 price tag.
Susie: Two Dots
This highly addictive puzzle game came out in 2014, but three years later I'm still obsessed with Two Dots. The developers faithfully update it all the time with new levels, challenges, and gameplay mechanics, too. Connecting the colored dots into squares and clearing each board is utterly soothing — until the game throws in fire, ice, and slime to mess me up. Although Two Dots is freemium, it has plenty of ways to earn power-ups without paying — which, ironically elevates my goodwill to the point where I find myself paying for extra lives from time to time anyhow. I'm hooked.
Mikah Sargent: SongPop 2
There's something so satisfying about being able to name a song or a musical artist within the first few seconds of hearing it … for me, anyway! That's why I love SongPop 2, an app I downloaded on a whim in order to test live streaming on iOS. After running my tests, the app achieved a very rare thing: It didn't get deleted from my phone!
SongPop 2 is a multiplayer game that connects you with other players around the world. It'll play a song and show you a list of song titles and artists. The goal is to guess the song in less time than your opponent. There are several song genres and the app gets updated frequently. The one annoyance? It's a free-to-play game through and through. It'll hit you with annoying "buy stuff from the shop" pop-ups when you launch it. If you can put up with those prompts, you've gotta give SongPop 2 a go. It's so much fun bobbing your head to songs whilst trying to beat out your opponents!
Lory: Disney Magic Kingdoms
I've been playing DMK since the first day it launched in March of 2016. When I first started playing, I figured I'd have some fun for a few months, but would tire of it once it started getting too hard to play without paying real cash to get anywhere. Guess what? That never happened. You can unlock your favorite Disney characters and play through dozens of tasks with each of them. You can build out your theme park with iconic Disneyland and California Adventure rides, plus a few originals that are unique to the game. Every few months, Gameloft launches a special event that unlocks new characters and rides, but they're only available for a limited time, so you have to play a lot to get everything before its too late. You can literally play through all of it without spending a dime. I'm not ashamed to admit that I've logged many hundreds of hours playing this game in the past year-and-a-half.
Cella: Chicken Scream
I'm not normally someone who does a ton of mobile gaming (the last mobile game I was super into was Kyle Jenner's... #pleasedontjudgeme) but when I first heard of Chicken Scream, I knew I had to download it.
Long story short, you scream like a maniac to make your chicken jump (or you could clap, but where's the fun in that?), and depending on your volume control you can either get the chicken to jump far or a very short distance.
This game may make you an obnoxious, screaming maniac, but you'll be laughing SO HARD when you play it!
Your gamer go-tos on iPhone?
Do you have a favorite mobile game? What is something on your iPhone that you play daily?
Get more iMore in your inbox!
Our news, reviews, opinions, and easy to follow guides can turn any iPhone owner into an Apple aficionado
Lory is a renaissance woman, writing news, reviews, and how-to guides for iMore. She also fancies herself a bit of a rock star in her town and spends too much time reading comic books. If she's not typing away at her keyboard, you can probably find her at Disneyland or watching Star Wars (or both).