iMore's favorite travel accessories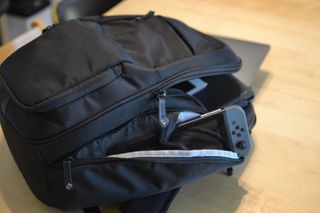 Whether we're on a hike in the mountains or rushing to the next panel at a convention, the iMore team is always on the go. We take our tech seriously, and we take a lot of it with us when we travel. We sat down to talk about the must-have gadgets in our travel bags (or the must-have travel bag itself). Here are our favorite travel accessories.
Mikah: Grid-It! by Cocoon
As opposed to one single product, the Grid-It! is actually an organization system that comes in multiple sizes and shapes. Grid-Its are sturdy, flat rectangles with elastic, rubberized straps that crisscross along their surface.
If you need a way to organize your gadgets, cords, toiletries, accessories, snacks, and more, Grid-It! is perfect for that! The straps will grab on and hold down anything you slide in and it's all easily accessible. When I travel I tend to keep a small Grid-It! in a small messenger bag I keep with me. I can unzip the bag, pull up the Grid-It! slightly and grab whatever it is I need at that moment — there's no digging around in the bottom of my bag for five minutes, trying to find the tiny lightning to headphone jack adapter. I also keep a larger Grid-It! in my luggage and fill it with any extra cables, toiletries, and random items I need (or think I need) when I travel. I should also note that I've had the small Grid-It! for about six years and the elastic is still going strong.
The best part about the Grid-It! system, to me, is that you needn't limit their use to travel. If you want to organize your junk drawer, toolbox, craft kit, diaper bag, etc., a Grid-It! can help. Check 'em out and let me know what you think! They cost less thank $20 so you're not out too much dough.
Serenity: Bose wireless QC35 headphones
I've waxed at length about my love for Bose's wireless QC35 headphones, which provide note-perfect over-ear noise cancellation, but it's when I'm traveling that they truly shine. Small enough to fold up into a small bag while still being comfortable in flight, the QC35s keep me grooving to my tunes without blowing out my eardrums. I've used them on planes and trains to save me from all manner of noises, including screaming babies, overtalkative row mates, and argumentative couples. At $350, the QC35s are with me everywhere I go.
Lory: Booq Shock Pro travel backpack
Anyone that knows me knows that I love compartments. I love a bag that has a different pocket for every single item. That's why I'd used the Handbag of Holding up until a few months ago when I discovered the Shock Pro. This little ditty has pockets around every corner and even pockets inside of pockets. There are padded pockets on the back for keeping your laptop safe and secure, pockets on the inside for keeping your tablet in place, pockets on the sides for holding your water bottle and keeping your wallet from getting lost. It's actually designed for photographers and has a special pocket at the bottom for your DSLR camera, for which you can buy a special CamShell, but that's where I stuff my sweater and extra warm weather accessories instead. It's an organizer's dream come true. You can get one in black for about $195.
Cella: Spigen Style Ring
I've obviously traveled with a mobile phone before, but it wasn't until last January that I had a chance to use a Spigen Style Ring: and let me tell you, things got a whole lot better!
Not only could I do things like clip my iPhone to my purse, belt, or keys if I needed to secure it quickly and still wanted to have fast access, but also using it on the plane to watch videos and prop up my phone was absolutely perfect. The Style Ring was great while traveling because I could just slide my iPhone onto my finger while pulled out my passport and boarding pass or snatching my luggage off the belt.
As a bonus, it made a sort of fidget-spinner out of my iPhone and helped ease my anxiety by letting me spin my phone around and around during take-off and landing. The Style Ring costs about $14 and comes in all the same colors the iPhone comes in.
Mike T: UE Wonderboom
The Ultimate Ears (UE) Wonderboom is a powerful little speaker with a fantastic low end, making it perfect for outdoor shindigs or taking it along hiking. It has a huge Bluetooth range and pairs incredibly easily. It also has a handy elastic strap, so you can secure it to a bag when you're out and about. The Wonderboom's battery life is wonderful and it's quite compact, so it travels well in the tightest of spaces. It costs about $80 and comes in a variety of colors.
Joe: Peak Design Everyday Messenger
Versatility is the name of the game with the Everyday Messenger from Peak Design. No matter what you're carrying, there's likely room for it in this bag, and though many of Peak Design's products, including this one, cater to photographers, you don't even have to own a camera to get the most out of this bag. It features a secure, yet easy-to-open latch system, with four catches, allowing the bag to expand whatever you might carry in it, whether be it clothes or a DSLR and a set of lenses. Removable and adjustable dividers can keep your equipment snug and protected, and with the right adjustments, can even create a shelf inside the main compartment.
The Everyday Messenger also has a host of pockets and pouches, to hold all of your devices and accessories. This is actually where the bag really shines for me because I love having spots on a bag where I can squirrel away as many tiny, helpful gadgets as I can fit. A section behind the main compartment is big enough to hold your laptop, with a secondary pouch to also hold up to a 10-inch tablet. The strap on the Everyday Messenger can be adjusted so that it can be carried as either a messenger or shoulder bag. It comes in charcoal, ash, or tan and costs around $250.
Susie: Bluelounge Casa
Bluelounge Casa (formerly called Nest) is a travel accessory I've had forever because it's totally universal. It's a great, inexpensive ($15!) iPad stand for home and travel. It fits perfectly on airplane tray tables. Once when I forgot mine, I had one shipped to me two-day from Amazon Prime to my brother's house so I would have it for the flight home, and now I'm so happy to have two.
Luke: Anchor PowerCore 10000
There is nothing I hate more than having my phone's battery die while I'm away from a power outlet. I use my phone for everything and when my phone is out of juice, it's entirely possible I am missing important communications from my friends, family, and even my boss. That's why, no matter where I go, I always have my battery bank with me.
The Anker PowerCore 10000 charges my iPhone 7 about three times (from 0%) before it's out of juice, giving me the ability to relax knowing I won't have to miss any important calls or messages. Plus, it gives me the ability to use my iPhone to do what I want. If I want to spend a couple hours walking around a new city playing Pokémon GO, I can!
It's small enough to fit into any decent-sized bag or purse and it can even slide into the back pocket of my jeans with ease; it was probably the best $50 I ever spent.
What's the travel gadget you can't live without?
Do you have a particular accessory that is always in your travel bag or a travel bag that you can't live without? Let us know in the comments. We're always looking for new swag.
Master your iPhone in minutes
iMore offers spot-on advice and guidance from our team of experts, with decades of Apple device experience to lean on. Learn more with iMore!
Lory is a renaissance woman, writing news, reviews, and how-to guides for iMore. She also fancies herself a bit of a rock star in her town and spends too much time reading comic books. If she's not typing away at her keyboard, you can probably find her at Disneyland or watching Star Wars (or both).