iMore's Ultimate Tech Tailgater's Guide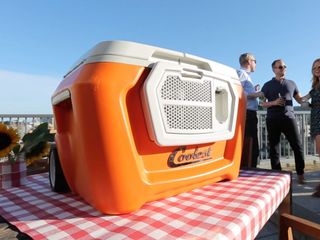 Picture pulling up to the stadium with gadgets designed for a good time like a WiFi grill, LED HDTV, gaming console, and smart cooler complete with all the essentials for a good time. Sounds dreamy, right? That's what we're after — the perfect pregame wishlist if you will. Let's dive in and tackle the selection!
Davy Crockett WiFi Grill
For grilling up some grub, this easily portable WiFi grill from Green Mountain Grills weighs only 57lbs and folds open to run on 12V or 120AC. It comes packed with all the basics like a meat probe, peaked lid for ribs or large game, grease tray, thermal sensor that keeps track of the grill's ambient temperature, and of course a digital WiFi controller that allows you monitor grilling temps on meat, or even set timers on your food via the free iPhone app. This smart little grill retails for about $399 if you can stick a fork in that.
More info at Green Mountain Grills
BESTEK 300W Dual 100V AC Power Inverter
If your vehicle doesn't already come loaded with a power inverter, then this is an affordable option that'll get the job done for a few of your gadgets. Featuring 2 AC outlets and 2 USB charging ports (2.1A and 1A) you can run a TV, speakers, or your electric grill while connected to the cigarette lighter port. It's lightweight and easy to carry, packing a 40amp fuse and cooling fan with overload and short circuit protection. You can even get it with a pair of 3.8ft battery clips for a different setup.
AmazonBasics Ultra-Thin HDTV Antenna
Pick up free HD channels from broadcast towers up to 50 miles away with this super-thin antenna that supports 1080p HD. As with most antennas, the quality of reception will depend on your surroundings and how far you are from the nearest towers. Included is an 18-foot coaxial cable for optimal flexibility to your TV. Channels including ABC, CBS, NBC, PBS, and FOX can be obtained — all without any subscription fees and straight to your parking lot pad. You can snag this antenna in a shorter or wider mile radius as well.
VIZIO 32-inch 1080p Smart LED HDTV
Yes, our dream tailgating setup includes a proper 32-inch LED HDTV — what of it? Maybe not everyone has the room for a TV, but with proper planning anything's possible, right? It's capable of 1080p full HD and over 2 million pixels, providing a perfect picture no matter what you're watching. As a smart TV, it comes preloaded with a bunch of apps including Netflix, Spotify, YouTube, Hulu Plus, Amazon Instant Video, and more. Hook it up to a WiFi hotspot and enjoy some Madden NFL 16 with your mates.
Gaming Consoles: Playstation 4 and XBOX One
The new Apple TV isn't here yet, sadly. But if you're going to do any kind of gaming while you party, you'll want a console to do it on. The PS4 is great choice, rocking an octa-core Jaguar CPU, 8GB of GDDR5 RAM, and AMD Radeon GPU. If you're going the XBOX One route, good on you. It'll keep up with whatever games you throw at it with its octa-core AMD CPU, 8GB of RAM, and a GPU that's clocked slightly faster than that of the PS4, but a bit behind on shaders. Aside from just gaming, they're both excellent media centers, too. Just don't forget to load up on controllers if your plan on letting anyone else in on the action.
Madden NFL 16
We're tossing Madden NFL 16 into our lineup as well for good measure. Get your friends or neighboring tailgaters together and dive into some head-to-head action. You can create the ultimate team of your favorite NFL players and even dictate the outcome of each play as the ball is in air. You can grab Madden NFL 16 for PS4, XBOX One, PS3, or XBOX 360.
Razer Leviathan Elite Gaming & Music Sound Bar
Having a compact and easily portable sound bar doesn't mean you have to sacrifice on the sound quality of your games and mobile playlists. The Razer Leviathan provides an impressive 5.1 channel surround sound experience that's paired with a bass-thumping subwoofer. It features a total power output of 30W, two 2.5-inch full range drivers, two .74-inch tweeters, and a 5.25-inch driver on the sub. You can pair your mobile devices to the sound bar using NFC, Bluetooth v4.0, or connect directly to your audio source using a 3.5mm cable or optical connection. Its design is unique and at only 19.7-inches in length, you won't have to fight to fit it in your car.
The Coolest Cooler
Sure, you could bring any old regular cooler with you to the game, but this is one that's designed to kick things up a notch. The Coolest Cooler's plethora of features include a high performance blender, Bluetooth speaker, LED lid light, cutting board, bottle opener, accessory deck, USB charger, and its rubberized wheels are built for easy portability. The company has come a long way since its initial Kickstarter campaign, succeeding far past their $50,000 goal. It may not be a YETI, but it's got a lot more to offer for its price.
Honda UE1000i Super Quiet Inverter Generator
Depending on how long you're claiming your party space, you can't go wrong with an easily portable generator. Keeping control of ridiculous dB's is Honda's EU1000i, a super-quiet, fuel efficient, 2K watt inverter generator that provides stable power for all your gadgets on site. It'll run anywhere from 3.8 to 8.3 hours on a single 0.6 gallon tank, depending on how much of your tech it's powering. The loudest this generator gets is an acceptable 59dBA, which will sit well with your fellow sports fans nearby.
Buy for $799 from Northern Tool
iDevices iGrill Mini
Whether you're slow cooking or just want to keep a close eye on meat temps, the iGrill Mini snaps magnetically to your grill and allows you monitor temperatures straight from your Android or iOS device up to 150-feet away. After downloading the free iGrill App, you can use preset temperature alarms, create your own, find recipes, share on your social networks, and more. The smart LED on the front of the iGrill Mini lights up when you're in range, indicating the cooking progress by color instead of having to check your phone while so close. For keeping track of more than one item on your grill, the newer iGrill2 sports two temperature probes with a very similar design.
What's your ultimate tailgating setup?
That's a wrap on our ultimate tech tailgater's guide! We'd love to hear what your ideal tailgating setup would be for this NFL season and many others to come in the comments below.
Master your iPhone in minutes
iMore offers spot-on advice and guidance from our team of experts, with decades of Apple device experience to lean on. Learn more with iMore!
Your friendly neighborhood accessories guru