iMovie vs Avid Studio: iPad video editing app shootout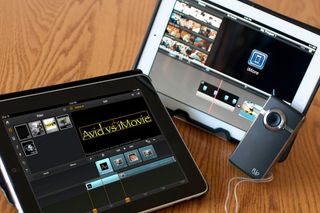 Apple and Avid have been battling it out on the big screen for years, but now they've brought the video editing battle to the iPad -- and the winner may not be who you think.
Avid Studio for iPad launched this week in the App Store, instantly becoming the first real competitor to Apple's iMovie video editing app. What makes this so interesting is that Avid was king of digital video editing in Hollywood for a long time, and then Apple came out with the far more affordable Final Cut Pro/ Final Cut Studio, and enticed a few big name directors to give their new software a try.
So is Avid getting a little payback here by bringing the video editing battle back to Apple's home turf? Most definitely, and as good as iMovie is -- some of the best mobile software we've seen to date -- Avid may be even better.
Similarities
Both iMove and Avid Studio can do the basics that you would expect from any video editor. You can insert videos, photos, and music, trim clips, add titles, and export to YouTube. Unfortunately for iMovie, this is where the similarities end.
Audio management
In iMovie, the only thing you can do with music is insert it as the background of your movie - your entire movie. It's impossible to take just a clip of the music to place where you wish - you're stuck with playing the whole song. In Avid Studio, you can trim your music clips and insert them anywhere in your movie. You can also layer up to 3 audio clips at a time.
Inserting photos and videos as picture-in-picture
One of the cool features Avid Studio provides is the ability to insert photos or video over the main movie in the timeline. Meaning, if you want to have a photo or video play in the middle of a movie clip, you can do so while still having the audio and elapsed time from the main movie playing in the background. This is one the features I most like about Avid Studio. The only thing you can do in iMovie is split up the clip and put a photo or movie clip in the middle. Avid's way -- which Apple does support on the desktop version of iMovie -- is more useful.
Video management
I was surprised when I learned that iMovie did not allow me to access videos that I imported onto my iPad with iTunes. The only videos accessible with iMovie are the ones in your camera roll or albums. What a huge disappointment. Avid provides just such access.
Titles and montages
Both iMovie and Avid Studio allow you to insert titles for you movie, but iMovie requires that you do it with one of their themes. There is not an option to insert a black slide with text like Avid Studio. This means that all text inserted in iMovie must be overlaid with part of your movie.
Avid Studio also comes preinstalled with fun montages to add to your videos. These are made up of anywhere between 1 and 4 photos and may be static images or mini video clips.
Conclusion
Avid Studio may be iMovie's newest competitor for video editing on the iPad, but it's not a fair competition. Avid Studio is the clear winner. iMovie doesn't offer any significant features that Avid does not, but Avid can do much more than iMovie. Since they both cost $4.99, it's almost a no-brainer. Right now, the only thing iMovie has going for it over Avid Studio is that iMovie is a universal app and also works on the iPhone.
With iPad 3 on the horizon, I hope Apple has a more feature-rich iMovie 2.0 up its sleeves to help show it off. Either way, I can't wait to try video editing on a 9.7-inch Retina display.
Get the best of iMore in in your inbox, every day!
Former app and photography editor at iMore, Leanna has since moved on to other endeavors. Mother, wife, mathamagician, even though she no longer writes for iMore you can still follow her on Twitter @llofte.
I gotta try Avid on on iPad now. Thanks Leanna!!
Ive been editing movies for years. Can't wait to try it out now.

I can't find it. Was it removed??

Nice, I was hoping someone would do one of these.

This is a fantastic comparison of these two apps, and Leanna's conclusions match with my personal experiences of making videos (so far) with iMovie.
One question: Can you place one video over another, the same way that you can do "picture-in-picture?" And example: you have one video showing a talking head with narrative, which you want to leave talking...but you want to superimpose a different video feed for a few moments. Can this be done?
The restriction of no movies on iMovie is frustrating, and doesn't make much sense...currently you have to convert a movie and import it into your Photo Roll to use it in iMovie for iPad. Most people don't look in their photo roll for their movies. So for that feature alone, Avid makes more sense.
Thanks again for the great comparison.

Yes! You can do picture-in-picture with two videos! I'll update the post to say that :)

Can you expand a little on insert editing please, im probably getting it wrong, but what i see is this, The insert editing seem a bit afterthought, it is by resizing the picture in picture effect, and it seems to only be possible to cover the full clip it is coverering from in to out,

I agree,Avid is the winner by far. The only thing that iMovie does that avid doesn't is save your videos in 1080p. Avid only has the option of 720p. Hopefully an update to the avid program will allow the option of 1080p.

Great comparison!
I wish iOS would just support AVCHD so I wouldn't have to convert the video files before getting them in to an app like iMovie or Avid Studio to edit them. It would make video editing from sources like a DSLR or dedicated video camera a lot easier.

AFAICT there's no way to record a audio commentary track with Avid. Also not universal, more expensive (after the one month special offer) and no 1080p. But overall I think Avid wins. Both show great promise and I can see why some people say that it's just three more years at the most until most people can do everything they need with a tablet, and do it well.

I say this and in fact I bang the drum loudliy about it!
Http://www.ipadalone.com

Thanks for the review! Hitting Buy Now, Avid FTW.

looks really good, I really like how it works and i will definitely buy it.

But you don't address the issue of whether, like iMovie, you can only use Avid Studio on the iPad 2.
Or the question of exporting finished products.

You can run Avid on the original iPad, but it crashes a lot and probably isn't worth the hassle.
I addressed where you can export your videos to with each app and the end of the video.

Nice article and good review.
I am intrigued by the iPad case in the photo. What case is on the white iPad (to the right)?

Don't forget you can also export your session from Studio on the iPad to the more powerful PC version for further editing. That's something iMovie can't do for some reason; sessions on your iPad are not compatible with the desktop version.

You can import iMovie iOS projects to the desktop version. I have done it and it works great.

Not true! Maybe you need to upgrade your iMovie app on your desktop & the app on your devices. Compatible work sessions were made available a few days after iMovie came to iOS-devices + since iLife '11 was released. Updates a REAL important!

Oh, and Avid rhymes with 'valid' rather than 'David'. ;-)

Having a killer video-editing app running on the iPad is surely a win-win for both Avid and Apple.
Even if Avid succeeds in porting it to Android (similar to Adobe Lightroom coming out on OS X first to compete with Aperture), the iPad holds such a commanding share of the 10" tablet market that they would still prioritize the iPad version.

Can you import videos form drop box ?

Buying this ASAP !!!!!!
I wish you can use it on iPhone !!!!!!

Disclaimer: I am the Product Manager and one of the designers for the Avid Studio App. I just want to say thanks for the great shoot out, and the constructive comments from all!

Hi - as an iPad 1 owner I'm v interested in knowing when the issues will be fixed as I bought Avid as soon as it came out but it really isn't usable at the moment... Thanks
Joe Houghton

Hey Tmorgan,
Why did I they restrict the export option to 720p? Is it limited by the API? Or is it just their decision. Some say the API restricts export to 720p, but iMovie and 1st Video both export to 1080p. So it's a little confusing as to whether is restricted by apple or not.
Conzza

Hi there! I'm a pro editor, and just got an iPad to see what is possible for editing on the tablet. I will certainly be giving the AVID app a try. In the upcoming version would you consider adding another video track? I like that you're already doing a number of multiple streams of video with your montage effects, but I'd love a second track of video with adjustable transparency. I'd really value a second track where I can import graphics with transparency built in already. That way I can bring in my own logos, watermark, lower thirds, etc. I can see a lot of pro vloggers really finding that crucial. Looking forward to exploring your app!

But is there a cheap version of Avid tools for OSX? Editing on an iPad seems like a chore compared to the faster speed of my Mac Pro.

Avid Studio is available only on Windows and iOS at this time.

That explains why I wasted 30 minutes trying to find the OSX version of something Avid.
This review was great though and answered my basic questions.
Thanks. Buying now.

Does Avid Studio for iPad support green screen effects? (It's easy to do in the desktop version of iMovie but it's missing from the iOS version of iMovie.) I realize that GOOD green screen work is hard to pull off - but even bad green screen can be a great effect when working with young students... It would be wonderful if we could do green screen while staying entirely within the iOS ecosystem. Thanks.

I, too, am looking for simple green screen capabilities on the iPad. Any suggestions?

I know there is an app called video effects free and the icon has 4 pictures on it in different colours, there is a green screen effect on there for free!

I just downloaded the app avid for my ipad 3 and I'm still trying to figure it out . I'm currently doing stop animation with my 12 year old and his Legos ,green screen would be awesome , does avid support green screen ? And if not can you recommend a good app ? Also I would like to be able to add some effects ( lazer blasts,explosions,ect ) to his already created projects that need something more.any suggestions would be appreciated.

This is a good article, but next time, maybe you should be a bit more thorough! Avid is actually better than iMovie & I'm a "die-hard" Apple-lover! The thing is, you left out the fact that iMovie only works with iPad 2! Since the "OG" iPad has no camera, iMovie is not compatible with its software functions. So, overall you're right, but you left out a crucial point that would make it clear that Avid's approach at the moment is well thought out & better!

Hi !
Is it possible to speed up or slow down video clips in these tools ? Any other that one can do it ?
Regards

u can use an app called time lapse to speed it up but not on iMovie app, no. you can on the computer though!

You already know thus considerably in relation to this subject, produced me in my view consider it from a lot of varied angles. Its like women and men are not involved unless it's one thing to accomplish with Lady gaga! Your personal stuffs outstanding. All the time care for it up!

imovie has no audio layering but there is a simple workaround to place audio tracks at a desired point in the timeline.
Insert an audio track as long or longer than the movie, it will be placed at the start of the movie
Select it and reduce its volume to zero,
go to the end of the selected track, and shorten it to the desired starting point of the next audio track. You've in effect placed an audio slug.
Select your next audio track/song and it will begin at the point where the 'slug' ends.
Voila!

I loved the video, thanks for making this, by watching your steps I learned a few things about
both apps.
I have a 16gb Wifi iPad2, and I bought iMovie and Avid. I like them both.
For the prices, 4.99 its not going to break the bank to buy both. Then whatever you need to do, boom you got it covered. Competition is nice.
Thank you for signing up to iMore. You will receive a verification email shortly.
There was a problem. Please refresh the page and try again.