Injustice players get free credits, Superman, Batman, Wonder Woman and whole DC cast get battered better than ever!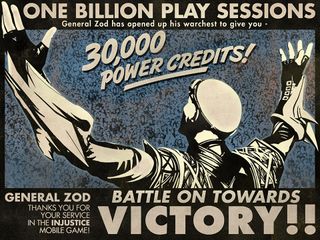 Injustice: Gods Among Us from Warner Bros. is one of the better mobile fighting games out there. Players get to take on the roles of numerous DC Comics superheroes like Superman, Green Arrow, and Wonder Woman and beat the tar out of enemy heroes and villains, all with simple and intuitive touch controls.
The mobile game's impressive lineup of characters, sharp graphics, and surprisingly fair free to play structure have made it quite a hit on iOS and Android. In fact, Warner Bros. announced today that Injustice has been played over one billion times across the two mobile platforms. To celebrate that milestone, all players who log in to the game from now until the weekend ends will receive 30,000 free credits. Great time to try Injustice and unlock a character or two, wouldn't you say?
Heroes, villains, and cards
On consoles, Injustice is a one-on-one fighting game that plays a lot like Mortal Kombat. The mobile version looks and plays a lot like its big screen counterpart, though the combat has been greatly simplified. Characters walk automatically, leaving the player free to tap and swipe to perform normal and super attacks.
The mobile version of Injustice doesn't feature a proper story mode through which to unlock characters. Instead, players simply take on numerous battles and earn credits. These credits can then be spent in the in-game store to unlock cards that represent new playable characters. Each character card can also be leveled up to make it more powerful.
If you don't want to grind your way towards unlocking the big heroes like Batman and the Joker, you can always choose to buy credits through In-App Purchase. With Warner Bros. giving away a bunch of credits this weekend, players can get a jump on the unlocking process without having to buy a thing.
The 30,000 free credits promotion lasts through Sunday, February 2nd.
Paul started writing about games in 2003 with his first strategy guide (Bomberman Land 2) for GameFAQs. He continued writing guides while earning his B.A. in Literature. When Windows Phone launched in late 2010, the Xbox integration lead our hero to jump on board the platform. He joined Windows Phone Central as Games Editor at the beginning of 2011, going on to review over 125 mobile Xbox titles over the years. He now leads Windows Central's Xbox One coverage, personally specializing in developer interviews, indie games, controllers and accessories, and Twitch broadcasts. Paul loves games on all platforms; he goes where the games are. Although very busy with console coverage, he sometimes contributes gaming articles to iMore and Android Central.
How is this redeemed ?? because I play usually at least 1 battle a day (including today) and I haven't received any promotional credits. Sent from the iMore App

Friendly tip to folks just starting out: Save up those credits for gold Wonder Woman. It can get you through almost the whole game alone. Sent from the iMore App

Thanks for a great review! Sent from the iMore App

I remember the first Plants vs Zombies game did a similar promotion.
Thanks for the heads up! Installing the game now...

Great, but how do I get the credits?

Been playing the game for awhile. Has positives and negatives. Played yesterday and today, no credits. Anyone else having this issue, and if so, did you get it resolved and how? Sent from the iMore App

The article doesn't mention it, but do you have to play on the console, as well as the mobile device to get the bonus? Sent from the iMore App

The game is super awesome love the graphics and the controls. The comic story arc itself is pretty great so if you play the game. Then you might like to check out the story arc too.

FYI, I logged in tonight and received the 30000 credit bonus....life is good! Sent from the iMore App
Get the best of iMore in in your inbox, every day!
Thank you for signing up to iMore. You will receive a verification email shortly.
There was a problem. Please refresh the page and try again.