Insta360 One early preview: fantastic, when it works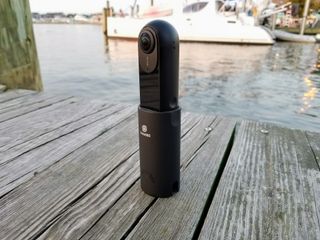 The folks at Insta360 have been doing some cool things when it comes to inexpensive 360-cameras that connect directly to your phone, but the next big thing from this company is a high quality Bluetooth-controlled camera that also connects directly to the iPhone when you need it. It's called the Insta360 One, and while I've been using the camera for about a week now the very early version of the hardware and software I have access to leaves me unable to offer up a full review just yet. Instead, here's a look at the experiences I've had so far.
Thin, sleek design
Unlike the Insta360 Air, this new camera has its own battery and is designed to be used without your phone. This works in two key ways, in your hand or with the remote app on your phone. Instead of designing the camera body to stand up on its own, the Insta360 One uses a separate stand to dock the camera into. This dock helps make the camera sturdy, and doubles as the case and in-hand grip for the camera. As nice as it may be to have a standalone camera that stands up without an accessory, it's never a great idea to be very far from a case for your 360-degree camera to keep the protruding lenses protected. At the base of the camera you'll find a standard camera screw, so the camera can be attached to standard tripods.
The lens placement on this camera is a little unusual. Instead of being right next to one another, the lenses are staggered slightly on the shaft of the camera. This design decision means the cameras aren't separated by quite as much plastic, like we see on the Samsung Gear 360, but it also means the sphere is off-center which could cause stitching issues.
This camera has a single button on it, but you do a lot with it. Tapping once powers the camera on and controls the shutter. Tapping twice activated Video, and tapping three times activates a special mode that can be programmed from within the app. There's no display on the camera, so you have to learn a series of blinking green, blue, and red lights to figure out what is happening. It's not too complicated, but you will need to spend the first couple of days with the manual close by.
Perhaps the most important feature of the hardware is the way you can dock into the bottom of the iPhone when you want to. This lets you take photos straight from the phone, but also allows for much faster data transfer when editing a bunch of photos or video. It's an amazingly convenient feature to have, but doesn't allow you to charge the camera with this connector. If you want to charge the camera, you'll need to use the included microUSB cable.
While this new camera isn't the most pocketable thing in the world, Insta360 scores lots of points for portability and functionality. The body is lightweight and feels sturdy, and the included case keeps the lenses safer than most other included cases. There's even a special tether in the box for a new feature Insta360 calls "bullet time" mode, which is nice. It's a complete thought, something Insta360 clearly thought about when assembling for its users.
Barely functional software and firmware
A 360-degree camera is only as good as its software, and in that area this particular camera still has a lot to prove. What I've been using for the last week has been pre-production software, and getting things set up was a challenge. Most of the written text was in Chinese until an update a couple of days ago, and on several occasions features that seemed clearly labeled didn't work as advertising. For example, I never once got the HDR photo option to work in the earlier version of the app. The option isn't even there in the most recent version.
The stitching pattern for a lot of the photos and videos captures have a slight line that can be clearly seen, but in many shots the stitch is slightly off center. The software has an option for stitch correction, which helps quite a bit, but it's an odd option to have to select instead of having enabled by default when images don't line up just right.
But the most egregious issues came with the most exciting feature the camera uses to set itself apart from the crowd. Insta360 calls it bullet time, and the promo to show you what it is capable of looks cool as hell.
After five failed attempts to get the video to correctly record this special mode, the last software update finally included the editing tools to make it work. When it did finally work, this is what I got.
All of this can be chalked up to unfinished software that really shouldn't have been sent out to people being asked to test the camera. There are plenty of things this camera does well in the user interface. This is the only camera I've used that makes streaming to more than just Facebook something you can simply do with a button press. You can stream to any RTMP server, and if you know how to set one of those up it's a nice feature to have. Streaming to Facebook is also dead simple, which is unsurprising given how well the previous cameras from Insta360 offer the same feature with ease.
Insta360 also includes an incredibly capable editor in the app for photos and video. Where most competing apps limit you to simple filters, Insta360's collection of tools is remarkably verbose. Right down to being able to edit slow motion phases in video or the ability to add a watermark in photos and videos, it's an impressive collection of tools. The only part that feels limiting is an inability to edit RAW photos when you choose to take them. Instead of an editor, you're provided with an error box inviting you to edit the photo on your computer instead.
While it's clearly unfinished software, this camera and its app show a lot of promise. Expect this section to be updated heavily if the app continues to get its act together.
Wait a bit before picking one of these up
Insta360 is planning to start shipping these cameras on September 5, and if everything about the software was fully baked it might be easy to say this $299 camera is one of the best you can buy today. After all, shooting video in 4K and grabbing sharp 24MP photos is awesome, but it's just not ready to use in its current form. Based on the previous examples with Insta360 cameras suggests this is going to quickly change, but for right now this camera is difficult to recommend.
If that changes, expect this recommendation to change.
Get more iMore in your inbox!
Our news, reviews, opinions, and easy to follow guides can turn any iPhone owner into an Apple aficionado
Russell is a Contributing Editor at iMore. He's a passionate futurist whose trusty iPad mini is never far from reach. You can usually find him chasing the next tech trend, much to the pain of his wallet. Reach out on Twitter!