Interactive toys that take iPad learning to the next level! 🚂🤓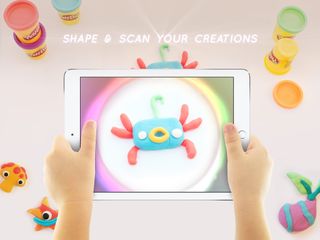 Every kid loves playing with an iPad, but not every kid is super jazzed about – cue dramatic music – learning while having fun.
DUN, DUN, DUUUUUUN.
Luckily for parents, teachers, grandparents, and babysitters everywhere, there are quite a few iPad accessories available for kids that aren't only a stupid amount of fun (seriously, you'll probably be playing with these when you have a chance), but also aim to build practical skills, language development, and so much more!
Here are a couple of the coolest interactive toys you can buy for your kid that'll take iPad learning to the next level!
Tiggly Learner Kit for iPad
If you have a little guy or gal between the ages of 2 and 8 and want a program that works with your iPad and teaches shapes, math, and language comprehension, then take a peek at the Tiggly Learner Kit for iPad.
Tiggly works through three award-winning learning systems called Tiggly Shapes, Tiggly Math, and Tiggly Words. With Shapes, you get four shape toys and four different apps that teach problem solving, shape recognition, and fine motor skills and creativity. With Math, you use five different math toys combined with three award-winning apps to teach numbers, addition, and counting.
If your kid is crazy about Sesame Street, then they'll love learning with Tiggly Words, which features the Alphabet Kitchen and three other fun apps to teach reading, digital storytelling, long and short vowel sounds, word building, and so much more!
All of the additional parts and pieces come with a convenient drawstring bag, so you don't have to worry about constantly losing things and playing cleanup (cue the Barney song…)
BOSEbuild Speaker Cube
If your kid is someone who likes to take things apart and put them back together or if you're both big music lovers and love dancing up a storm, then the BOSEbuild Speaker Cube might be the perfect interactive toy for you!
This build-it-yourself Bluetooth speaker allows kids to play and learn about magnets, sound, music, and motion. Using a simple app on your iPad, you can arrange and build your BOSEbuild Speaker Cube to experiment and get creative.
The box the product comes in can even be built into part of the speaker! So if you're looking to literally think outside of the box, then check out the BOSEbuild Speaker Cube and get buildin' today.
Osmo Genius Kit Game System for iPad
Artificial intelligence? Check! Educational but creative content? Check! Interactive and easy to use with the iPad? Double check!
The Osmo Genius Kit Game System for iPad is a completely revolutionary gaming accessory for your little one that explores science, math, art, and so much more in five incredibly fun games called Number, Tangram, Newton, Words, and Masterpiece (which you can also download for free in the App Store).
Tangram works by arranging wooden puzzle pieces into the shapes that are on screen, Newton works by using inventive objects around the house to guide falling balls into targeted zones on the screen, while Words uses spelling games to match phrases to pictures, and Masterpiece forces you to get creative with your drawing skills!
With the Osmo Genius Kit, you get the base for your iPad with a mirror and stand, number tiles, word tiles, and wooden tangram shapes, but if you wanted a little bit more out of your Osmo experience (or even want something that works with older children), then we recommend picking up the Osmo Coding Game Kit for iPad.
Wonder Workshop Dash Robot
Looking to teach your kid a little bit of code, but don't want to make it seem like the most boring-est thing ever? Then take a peek at the Wonder Workshop Dash Robot: a sidekick/pet/educational toy/best pal for your tot!
The little voice-controlled robot is designed as a coding tool, meaning it's been built with sensors and capabilities that allow it to dance around, move, light up, avoid obstacles, and make various sounds depending on how your kid programs it. Using the Wonder and Blocky apps, kids get access to over 600 different coding adventures and projects without any major instructions – the apps are designed to easily teach you how to program your Dash bot!
While this little robot is adorable and awesome, it is recommended for children ages 8 and up, so babies keep on movin'.
Play-Doh TOUCH Shape to Life Studio
If you're looking for an interactive toy for your iPad that'll have you asking your kid for a turn because it's SO. MUCH. FUN, then check out the Play-Doh TOUCH Shape to Life Studio.
What is the Play-Doh TOUCH Shape to Life Studio, exactly? Well, it's simple! Design your Play-Dog masterpiece, place it on the Shape to Life studio, scan it with your iPad, and watch your creation come to life! That's right: you turn your Play-Doh monster into an actual playable video game character, giving you complete control over its appendages, abilities, and how it moves about the digital world.
While not necessarily the most educational accessory for your iPad, building and getting creative with your child can strengthen art skills and even problem solving skills. Maybe next time you need to beat a level, design a critter with 4 arms instead of 9!
You can even use 3D Touch on your iPad to poke, squish, and stretch your creations. Now the real question is… what will you and your little one create?!
UBTECH Jimu Robot Meebot Kit
Have you ever dreamt of building your own robot and programming it to obey your every command? Well that's what the UBTECH Jimu Robot Meebot Kit is… except smaller, funner, and for your kids! (Side note: this robot won't heed your every beck and call; it'll just dance around a bit and look adorable).
With the Meebot Kit, you and your little one can design and program a robot that can easily be controlled with a free app on your iPad. You don't even need tools to assemble your Meebot! Simply connect parts and portions like a high-tech Lego to bring your UBTECH Jimu Robot Meebot Kit to life!
You can even pick up an additional Explorer kit, which lets your kid construct four different animal models – a parrot, t-rex, walrus, and penguin – but you don't need to stick to the regular mold. You can totally design your own type of creation and use the app to program it and have it move the way you want.
Edwin the Duck Learning Toy
Adorable, reliable, small, and your child's next best friend, Edwin the Duck Learning Toy may look like a classic bath-time rubber ducky, but he's actually a little interactive toy that lives in your child's hands and on your iPad!
Using Edwin, your tiny tot can play a plethora of games, engage in interactive stories, sing songs, and learn lessons about shapes, math, and other important skills. You can even use Edwin in the tub, as he's 100% waterproof, or use him to stream music via Bluetooth speakers to lull your little one to sleep with some comforting lullabies.
The only downside to Edwin the duck is that there isn't a ton of content out for him yet, so you may be playing through the same stories and games over and over again. However, if you've ever played with a little kid, you'll know that repetition isn't really a huge deal-breaker for them – maybe just your sanity.
What are your favorite educational toys to use with your iPad?
Is there an interactive educational toy that you and your little one love to use that we might have missed on our list? Let us know what it is in the comments below and we'll be sure to check it out!
Master your iPhone in minutes
iMore offers spot-on advice and guidance from our team of experts, with decades of Apple device experience to lean on. Learn more with iMore!
Cella writes for iMore on social and photography. She's a true crime enthusiast, bestselling horror author, lipstick collector, buzzkill, and Sicilian. Follow her on Twitter and Instagram: @hellorousseau