Interview with Apple's Kevin Lynch reveal more details on the Apple Watch project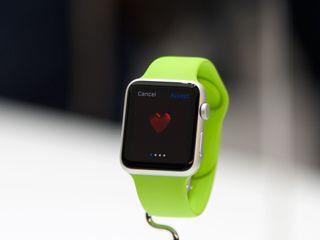 The article itself walks us through the birth of the Apple Watch project and how the idea was transformed into the resulting product that will launch later this month. Lynch was brought aboard to head up software development for Apple's new smartwatch, but when hired Lynch was completely in the dark as to what his responsibilities would be.
Apple not only changed the way we listen to music with the iPod, but the iPhone and iPad also mark times when Apple took product categories to the next level. The Apple Watch is believed to be that next game-changing product. Lynch talks about how Jony Ive, Apple's VP Design, tasked the iPod team to create a revolutionary device. This resulted in numerous experiments and ideas, some even utilizing click-wheels.
Instead of attempting to cram as much functionality into the smartwatch as possible – effectively rendering the smartphone useless – Apple opted to streamline tech usage. The idea behind the Apple Watch project was to introduce a product that would require only seconds of attention, allowing the wearer to focus on life in general.
Apple toyed with reworking iOS for the smaller wearable, but this idea was eventually dropped due to the user interface requiring uncomfortably long interactions.
This led to Apple removing features from the Apple Watch altogether, favoring efficiency over available functionality. Instead of physically interacting with the watch itself, the feature Short Look would be able to determine whether to mark a message as read or archive it for later reading by calculating how long you glanced at the device attached to your arm.
Every task on the wearable had to be completed within a set amount of time - just a few seconds. Minute details were also scrutinized, including different types of Taptic Engine feedback. Apple ran numerous prototypes by Ive, each to reveal different notifications to the wearer.
The team sampled sounds of various objects, everything from bell clappers and birds to lightsabers. They then began to turn recorded sounds into physical sensations. So – in some small way – lightsabers helped tune the Taptic Engine for notifications.
The Apple Watch is also the first product where the company is offering a variety of options for the consumer to customize their latest gadget. From the type of Apple Watch selected to the various bands and even screen sizes, there's plenty of room to make the watch reflect individual personalities, which was a major goal for the project to begin with.
Strongly recommended for you to read through the WIRED piece in full for more details and a sneak peek at various Apple Watch assets supplied by the company.
Source: WIRED
Get the best of iMore in in your inbox, every day!
A bit of a non-sequiter, but every time I read about the contributions Kevin Lynch is making at Apple, I think about John Gruber raging about Apple hiring him, calling Lynch a bozo, and once again, the warm embrace of schadenfreude envelops me.

John Gruber ain't God and is not always right. Bet he'd say the same.

Lynch did what he was paid to do at Adobe: Push Flash on mobile. Adobe turns like a sloth in mud. I've been told by Adobe employees that Adobe is 90% PR and 10% research. I believe it. Moving to Apple likely set him free. I'm sure Gruber is happy with the results.

Really great article. The attention to detail by these guys especially Ive is simply impressive. What an amazing industry to be involved in. I'm looking forward to getting two although will hold off to about June allow some of the bugs to be worked out. Apple rocks!!! Sent from the iMore App
Thank you for signing up to iMore. You will receive a verification email shortly.
There was a problem. Please refresh the page and try again.