iPad Air battery life: How to fix problems and get the most bang from your battery!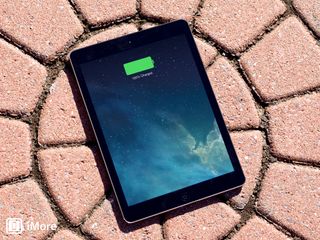 The iPad Air may be smaller and much thinner than any full-sized iPad before it, but Apple still promises the same great battery life. That translates into up to 10 hours of web surfing or video watching on Wi-Fi, 9 hours on cellular (if you have a cellular model), and a whopping 24-hours as a personal hotspot. In other words, a lot. In our early tests - we've only had the iPad Air for a few days so far - it's predictably living up to those levels. However, if your iPad Air isn't getting the battery life you expected, if it's not matching the levels you got with your preview device, or simply not working the way it should, here's how to fix it - and how to get the most out of it!
1. Test battery life on standby (put your iPad down)
As soon as you get a new iPad it's only natural not to want to put it down. It's a new toy, and there are a ton of new features to try out. If its your first iPad in particular, there's so much new to learn and discover, you can spend hours exploring the built-in app alone. iOS 7, with its fancy physics engine, is also just plain fun. And every time you knock the live wallpapers around, stare at the parallax scrolling, fling away multitasking cards or Safari tabs, spin the compass, or do any one of a hundred other funtastic things, the screen will be lit up, the radios will fire, and the battery will drain. Likewise, every app can multitask now, and while iOS is as smart as smart can be about managing how and when they all update, they're all updating.
The point is, it's almost impossible to realistically assess a change in battery life if you've also changed your usage pattern. In other words, if you're battery feels like it's only lasting half as long, the first step to fixing it is figuring out if you're using it twice as much first.
Before you do anything drastic, put your device down for a few minutes and then check the battery change. If there isn't a big change while in standby, you're probably okay and your battery life will return to normal when your usage returns to normal (after the novelty wears off). If your device continued to drain, and drain fast, even when you weren't using it, there's a problem. Also, if it feels unusually hot, even when you're not playing games, tethering, or doing some other high-power activity, there may be a problem as well.
2: Check for iOS 7 software problems
If, in general, your battery life is consistently short and you're basically just watching the indicator drain down before your eyes, here are some things to try, in order of how easy they are to do.
Quit power hungry apps. Double-click the Home Button to activate the multitasking car view, hold your finger down on power-hungry apps, and then fling them off the screen to close them - here's how to quit and kill apps in iOS 7. This is key for apps like VoIP (like Skype), streaming audio (like Pandora), or navigation (like TomTom). Anything running all the time will drain battery. That's how batteries work. Some apps can also fail to sleep properly when not in use. If quitting Facebook stops your battery drain, quit Facebook. After some experimentation you'll find occasional and chronic offenders alike.
Restart/reset your device. If you haven't rebooted in a while, give it a try. There could be a rogue process or something else doing what it shouldn't be doing, and a restart can often fix that. Here's how to reboot)
Power cycle. About once a month, and certainly if you think you're having problems, you should completely drain your iPad's battery -- drain it until it shuts down on its own -- and then charge it back up to full. That re-calibrates the battery indicator and you'll get a more realistic idea of what your levels are.
Check your cell signal. If you're using a cellular iPad in an area of weak signal, or at the edge of LTE or 3G support, your radio could be screaming away on full power just trying to stay on the network, or switching between connection types, and wasting a lot of power. Good LTE signal is more power efficient than good 3G signal (because the radio can fire up, do its job, and power down much, much quicker), but bad LTE signal is just as bad as bad 3G, which is terrible. If you're at the edge of LTE, switch to 3G. If you're almost off the grid, turn off the radio unless and until you need it. Then get back to world as fast as you can!
Go to the Apple Store. Sometimes you do get a lemon, or your iPad develops a real problem that only Apple can solve by either swapping it for another device or otherwise figuring out a fix.
3. Restore your iPad as new (not from backup)
The single biggest cause of battery life problems with iOS devices occurs when they are restored from backup - especially backups of other/older devices - and not set up as new devices. Whether it's cruft or corruption, bit rot or simply bad bits, a clean install as a new device -- incredible pain in the butt though it may be -- is usually the best fix for any battery life issues. This is the nuclear option. You will have to set up absolutely everything again, and you will lose all your saved data like game levels, but in most cases your battery life will be better than ever.
4. Turn off what you're not using
If your battery life is normal but you still find yourself needing extra power on some occasions, there are a few things you can do. Firstly plug in your device. At home, at work, in the car, there are plenty of opportunities to top up your battery. Otherwise, anything running on your iPad uses up the battery. So if you've tried everything else and it turns out you're just using your device more than the battery will allow for the length of time you need to use it, you'll need to make some hard choices. You'll need to stop using some of the features you don't really need in order to keep using the ones you do. The more you turn off, the longer your batter will last -- but of course the less you'll be able to do. It's a balancing act but one that can help you squeeze out a little extra juice when you really need it.
Turn off Background app and content refresh: Don't waste power downloading things when you don't explicitly need to. Settings, General, Background App Refresh shows you everything you can turn off. Also go to Settings, App Store and turn of automatic app and content downloads.
Turn off Location Services. Go to Settings, Privacy, Location Services, and turn off any app and system service you really don't need tracking or using your location. Including the new Frequent Locations tracker!
Turn off Push Notifications. Likewise, go to Settings, Notifications, and turn off any app you don't care to be alerted about.
Turn of Notification Center widgets. Stocks, and particularly weather in Notification Center seem to be causing our readers some battery grief. Since weather can be location-based now, the potential is there for more battery abuse.
Turn off Spotlight indexing. It will cramp your search style, but if you don't need the index process running right now, turn it off.
There are some old tricks you can try when you're in a jam as well, and the new Control Center makes it really easy to do many of these really quickly now!
Set Auto-Lock to 1 minute
Turn off any extra sounds, like keyboard clicks
Turn off the iPod EQ
Use headphones instead of the speaker if you have to listen to audio or music
Turn down the screen brightness
Turn off Bluetooth when not using it
Turn off Wi-Fi when not using it
Set all email, calendar, and contacts accounts to "Fetch" (turn off Push)
5. Airplane mode!
If you're really desperate, put your iPad into Airplane Mode and save the radios for when you need them.
How to get more help with your iPad Air battery life
Be sure to let us know how what you're seeing with your iPad Air battery life, and if any of these tips, or any other tips, help you improve it, make sure to tell us!
More iOS 7 tips and how-tos
Master your iPhone in minutes
iMore offers spot-on advice and guidance from our team of experts, with decades of Apple device experience to lean on. Learn more with iMore!
Senior Editor at iMore and a practicing therapist specializing in stress and anxiety. She speaks everywhere from conferences to corporations, co-host of Vector and Isometric podcasts, follow her on Twitter @Georgia_Dow and check out her series at anxiety-videos.com.