The iPad mini gets early teardown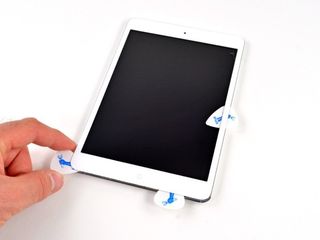 The iPad mini is no exception when it comes to getting torn down just to see how repairable it is compared to its larger siblings. iFixIt managed to get their hands on a unit a little earlier than the rest of us and took to tearing it down. It should come as no surprise that it didn't fare much better than other iPads and only earned a 2 out of 10 repairability score.
Much like its previous predecessors, the iPad mini's screen is held in with nothing but adhesive. While many of us may have been holding our breath and hoping that it would follow suit with the iPhone 5 display, it sadly does not. You'll still need a heat gun and some serious prying time to get the display off.
Once you've gotten the display freed, not only will you face even more adhesive, but super tiny screws that appear to be hidden pretty well. You'll need to make sure you remove all of them before pulling up any components.
After locating all the screws, iFixIt realized that mostly everything else was glued in.
When it comes to DIY repair, this probably doesn't mean much that we already didn't expect. A screen replacement will be possible for most experienced DIY'ers and repair shops considering the LCD is a separate component. Outside of that, it's probably something that many owners would rather not attempt.
Interestingly enough, the iPad mini's LCD is powered by a Samsung chip despite Apple supposedly ditching Samsung as a component supplier. Other internals include 512GB of RAM and an A5 processor.
There isn't any word on what Apple will charge for out of warranty or damaged iPad mini's just yet but I'd make an educated guess that it'll ring it right around the neighborhood of $179 plus tax. Apple typically charges half of the purchase price of a device to replace a damaged one. iPad 2 costs $249 to replace out of warranty and the initial cost was $500. The iPhone 5 replacement cost is $329 and the outright cost for the base model is $650 and so on. We can't be sure but that'd be our best guess for now.
Hit the link below to check out the full teardown complete with images.
Source: iFixIt
Get the best of iMore in in your inbox, every day!
iMore senior editor from 2011 to 2015.
"Other internals include 512GB of RAM and an A5 processor." And here, I would have been satisfied with 1GB of RAM, but alas, its 512 MB not GB.

So does it have 2 speakers (Stereo)?

Just answered my own question. It DOES have 2 speakers!! http://www.ifixit.com/Teardown/iPad+Mini+Teardown/11423/1#s41020

it is a product running 3 year ol hardware for a huge price

2 year old hardware, actually. Still a good point.
Thank you for signing up to iMore. You will receive a verification email shortly.
There was a problem. Please refresh the page and try again.