iPhone 101: How to Reset Your Home Screen Icons to Default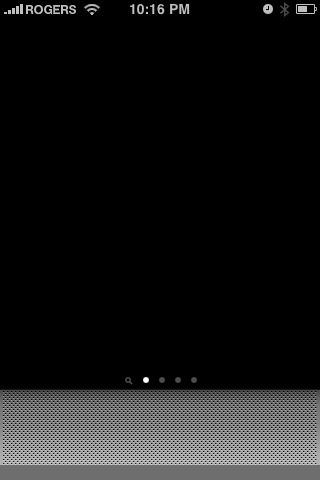 Welcome to iPhone 101, where TiPb helps new iPhone users use their new iPhones -- or just gives you a handy link to send to your new iPhone using friends.
This time we're tackling something near and dear to every child-caring adult's heart: how to resent your iPhone Home Screen to default. Because as we all know, you let your child at your iPhone, and they can switch around your icons -- even blank your Home Screen -- in no time flat (and yes, the above is a real screenshot of an iPhone after a 3 year old spent about 5 minutes on it...)
Luckily, there must be a lot of parents at Apple, because they've made it lickity-split simple to restore.
From the home screen, tap Settings (yeah, if you can find it -- but at least they can't delete that or any built-in application).
From Settings, hit General, then choose Reset.
(opens in new tab)
From the Reset menu, choose Reset Home Screen Layout. When it asks you to confirm, tap the big red Reset Home Screen button.
(opens in new tab)
And you're done. Your iPhone's icons will be back to the way Apple ships them... until your child gets a hold of them again!
(opens in new tab)
Get more iMore in your inbox!
Our news, reviews, opinions, and easy to follow guides can turn any iPhone owner into an Apple aficionado
Rene Ritchie is one of the most respected Apple analysts in the business, reaching a combined audience of over 40 million readers a month. His YouTube channel, Vector, has over 90 thousand subscribers and 14 million views and his podcasts, including Debug, have been downloaded over 20 million times. He also regularly co-hosts MacBreak Weekly for the TWiT network and co-hosted CES Live! and Talk Mobile. Based in Montreal, Rene is a former director of product marketing, web developer, and graphic designer. He's authored several books and appeared on numerous television and radio segments to discuss Apple and the technology industry. When not working, he likes to cook, grapple, and spend time with his friends and family.
Isn't this a feature of 3.0? Maybe I'm wrong but I don't remember it on 2.2.1

@Matt Hall
I noticed that the screenshot they used must be 3.0, because it's got that magnifying glass searcher icon to the left of the first homescreen page, so I'm wondering if you're right.

Matt, Its on 2.2.1, its been on every version since at least 2.0 when I last used it.
Back then, I had no apps other than the default, so I don't remember if this restored apps deleted by pressing the wiggling X. Anybody know?

Ah cool. I don't remember ever going into reset while using 2.0. But as far as with 3.0 I have explored it throughly.

Oh my gosh! My son did this the other day. What a mess!
What happens to your non-default programs?

Yes it is 3.0 probably beta or the crack one but the same except crack is way better u could customize ur iPhone with it

@Joe McG: looks like you have to sync up to get those back! Yeah, keep an eye on those kids when they're messing with your phone my goodness!

Careful: the home screen is restored indeed.
And all the other apps and icons are alphabetically re-sorted.

What about the other apps you may have? Are they deleted after reset?

Hmm. They should work on enhancing how we organize our apps.

@ Roger - Look directly above your own post sir and you will find your answer.

Agreed Omari, they need to have a tool built into iTunes that allows you to reorganize icons which are they moved on the phone during sync. If you ever restore your phone and reload all of your apps again they become alphabetized as Roger said. Even if you have screenshots of your iPhone taken before you restore it is a huge pain moving them all back to your desired locations.

How do you end up with a blank homescreen? Now I feel dumb that a 3 year old can do it in 5 minutes yet I can't figure it out. :(

Apple should build in a home screen locker that locks them in with a pass code. Just saying. this could avoid the blank home screens. and people messing with it.

I have 2.2.1 and have that on reset menu..

Is there a way to reset your calendar? Btw don't make a all day date from 1933 to 2069

yep the reset for home screen works well BUT indeed does reset ALL other icons on ALL other pages alphabeticly ... Al ur spot on man!

i have just updated the new software and all my apps have disappeared, can anybody tell me where they have gone please? thanks

guys.. i don't even have that settings option..what do i do to get it back ive got everything else except settings

none of the apps are showing up on the homescreen of my iphone. i just got it from a friend so he resetted it and now the homescreen in completely blank. is there anything i can do??

My factory icons disappeared, just the custom installed programs visible. Settings, Contacts, Calendar, Calculator, all disappeared.
The re-jailbreak doesn't helped, restore doesn't helped... Any suggestions?

all your apps will stay...i took the risk to just try it and all my apps are still here-just in alphabetical order

all my icons hav disappeared leavn my home screen blank...i restored da home layout screen but it diddnt help....plz tell me wot 2 do??

My phone zoomed in on accident and I didn't know how to zoom back out so I reset the home screen and I have a lot o apps so when it alphabetized them I lost all my icons after m. I still have the apps but I have to search for them to use them. How do I get the icons back?

When that happened to me I tried to put all visible apps in folders (12 per folder), then restart, and the rest will show up. I put those in folders too and do that until you get to the end. Now my home screen only contains of the built-in apps on the first page and from the second page it's all folders. My layout is now completely gone but there's no other way to fix this.

Very good directions, if I hadn't asked someone else about reseting the homescreen layout earlier, I would have learned this even faster. Tons of people must know how to reset homescreen layout to default because of this helpful website. I love it!

i cannot find the settings

Thank you thankyou, this did exactly what you said it would do, I just had th calendar icon missing and did the home page reset and all my icons/apps are still there plus the previously missing calendar one. Thank you again. Oliver

Thank you thankyou, this did exactly what you said it would do, I just had th calendar icon missing and did the home page reset and all my icons/apps are still there plus the previously missing calendar one. Thank you again. Oliver

Thank you thankyou, this did exactly what you said it would do, I just had th calendar icon missing and did the home page reset and all my icons/apps are still there plus the previously missing calendar one. Thank you again. Oliver

thank you, thank you, thank you

thank you, thank you, thank you

So if I reset my home screen, all the apps, including the ones I downloaded, will just be organized alphabetically and not disappear?

I did this and it worked ! 4 of my apps were in a box labeled utilities and all I had to do was get each one out. Thank you so much

Ah, that's better. Now I'm happy. :-)
Thanks for showing me how to un-mess up my homescreen after playing with it.

Does it also delete all of your downloaded apps? Or just push them back? How does it work?

It puts the icons back they way first were, so it might delete apps, but I'm not sure

Terrific paintings! That is the kind of info that should be shared across the web. Disgrace on Google for not positioning this put up upper! Come on over and consult with my site . Thank you =)

yes - worked on my iPhone 4S....many thaxs