iPhone 4S 8MP camera hands on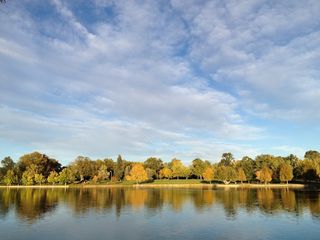 One of the new features of the iPhone 4S is an 8 megapixel camera equipped with a fast f/2.4 lens. Without question, this was the feature I was most excited about, and I almost immediately started snapping pics.
For sample photos and a summary of my thoughts, follow along after the break! (All photos are original; none have been edited in any way beyond being resized to fit the page.)
(opens in new tab)
The iPhone 4S does a phenomenal job with landscapes. These have the potential of being tricky for cameras because of the broad range of lights and darks, but even with HDR turned off, the iPhone 4S produces great results. The two photos above were taken without use of HDR.
(opens in new tab)
(opens in new tab)
That leads us to HDR. HDR stands for High Dynamic Range and refers to the range between the darkest part of the photo and the brightest part of the photo. Camera sensors can only record so much of this range, so if a photo's dynamic range is too big, darks will be too dark and brights will be too bright. With HDR enabled, however, the iPhone 4S will take two photos, one exposed for the darks, and one exposed for the brights, and merge them together as one photo.
The photos above, although not the most interesting of subjects, does a great job of demonstrating the capabilities of the iPhone 4S HDR. The first photo was exposing for the shade, and thus blew out the sky. With HDR turned on, both the shade and sky look good.
(opens in new tab)
Since the iPhone 4S is equipped with an f/2.4 lens, it has the ability to let in more light and speed up the shutter speed. Theoretically, this would mean that the iPhone 4S should do a better job of freezing motion. Without having full control of the settings, however, this can be hard to achieve.
In the end, I'm impressed with how the iPhone 4S handles motion. The above pic does have a little motion blur, especially on my face, but it's not too bad. Below is a picture of my daughter that I took while she was bouncing up and down. On the iPhone 4, it would have never come out that clear.
(opens in new tab)
(opens in new tab)
The iPhone 4S now has the ability detect faces and use them as the focus and exposure point. It works great! I was impressed with how it recognized my daughter's face even when she was moving around or when I was taking a profile shot with only one eye visible.
(opens in new tab)
The Macro capabilities of the iPhone 4S camera are very impressive - when it can lock a focus, that is. Unfortunately, I was continually disappointed with the iPhone 4S's inability to focus. I understand for objects that are very tiny and blend in with the background, but the camera even struggled with focusing on larger items that stood out from the background, like in the following image.
(opens in new tab)
(opens in new tab)
(opens in new tab)
First of all, it's important to emphasize that the iPhone 4S is equipped with a 5x digital zoom, not optical zoom. The difference is that the lens is not capable of zooming, but the software is. So using the digital zoom on the iPhone 4S is equivalent to taking the photo without the zoom and cropping it. This greatly reduces the quality of the photo and there are very few situations where you would want to use the digital zoom.
However, since the iPhone 4S has been upgraded to an 8 megapixel camera, there is an improvement to the digital zoom over the iPhone 4. The first photo above was taken with 0x zoom and the second one was taken with 5x zoom. You can see obvious damage done to the quality of the image, but it is, admittedly, better than I was expecting. I also believe that this is an example of a situation where you might want to use the digital zoom if you wanted to, say, show your kids a picture of the duck you saw earlier in the day.
(opens in new tab)
The iPhone 4 has a great camera, but it was always lacking in low light situations. I was very excited to test out the iPhone 4S in low light since it's equipped with an f/2.4 lens and better sensor. I am definitely impressed with the improvement. My living room has the worst lighting on the planet and I could never get a decent photo of my daughter with the iPhone 4 while indoors at night. But with the iPhone 4S, I was able to capture the above shot! It doesn't take much movement to make your shots blurry, however, but that should be expected.
Here's an example of a macro shot in low, bad light.
(opens in new tab)
(opens in new tab)
The last thing I tested was the flash and it worked well! Just as with the iPhone 4, it is very slow and your photos are guaranteed to show any small amount of motion blur. I tend to hate camera flashes, but if you're trying to capture a memory in a dark environment, it's often times your only choice. For those times, the flash on the iPhone 4S will get the job done.
The iPhone 4S is equipped with a very nice camera that takes beautiful photos. The macro lens has the potential to be incredible, but struggles with focus more than I was expecting. At 8 megapixels, the iPhone 4S has the ability to produce nice 8"x10" prints that can be displayed in your home.
The camera was the feature of the iPhone 4S I was looking forward to the most, and it has delivered - it turned out to be my favorite feature of the iPhone 4S. Yes, I like it even more than Siri.
Have you been taking some amazing shots with your iPhone 4S? Head on over to our forums to show them off!
Get the best of iMore in in your inbox, every day!
Former app and photography editor at iMore, Leanna has since moved on to other endeavors. Mother, wife, mathamagician, even though she no longer writes for iMore you can still follow her on Twitter @llofte.
Great review of the new camera! I haven't had the chance to play with a 4S yet but I am curious as to how quickly the camera opens up compared to the iPhone 4. One of my biggest issues I have with that camera on the 4 is that by the time it opens up I have missed my photo opportunity due to the lag. I'm sure the A5 helps in that respect. Also have you had a chance to view the pictures/video through a 1080p HDTV yet?

I got my iPhone 4S and tbh there is literally no difference. I'm so dissappointed

I had the iphone 4 and now have the 4s , there is a huge diff, i love the 4s its much better

Nice review :) Thank you Leanna !

WOW! Great review Leanna! This really shows off how great the camera on the 4S really is. Just goes to show that all you really need is your iPhone to have great pictures!

Have you used the in-app photo editing software yet? Red eye removal, cropping, etc?

An honest review and some nice pics. It's much appreciated. It's something I'd like to see more of on this site.

Great review Leanna. I wonder if Siri could handle something like "Take a photo in 10 seconds" for self-portraits. Or even better, "Take my photo 2 seconds after I wave my hand."

You mean rarely...
I have them side by side and the i4 is jailbroken with a lot of stuff on it... they open just about the same and often times the i4 is faster.

WOW.. these pictures looks amazing.. It can be compared to a Professional DSLR camera.

i've been using hipstamatic on the 4S...and the app has a "rapid shot" feature that took seconds to "develop" a photo. on the 4S its almost instant. i can't believe apple hasn't used this idea for the default camera app.

Camera+ Fill Light will fix the issues related to flash :) planning both video and photo shoots to fully test the iPhone 4S

The camera seems very good, but I agree that the lack focusing ability (and the focus hunting that follows) is extremely frustrating.
But the focus issue is a software issue (I hope), since it also is affecting my iPhone 4 in the same way after the iOS5 upgrade. :-(

yea definitely i think it might b because of siri

where do u by film 4 this camera?

yea I know and the quality sounds a little better too at higher volumes than the 4

Now if they can just add a Xenon flash like my 4 year old $400 nokia n82 has and it will be useful in most situations.
over a meter away and the LED flash cant cast light evenly and at under a meter will often over expose things.
there is still LOTS of room for improvement, given its still not quite as good as a 4 year old phone its a bit disappointing.

How exactly do I use face detection? I tried to see how it works by taking a picture of my grandma and dad, and it didn't work.

Did the Places tab in the Photos app disappear or stop working for anybody else's iPhone 4S or iPhone 4 upgraded to iOS5?

Anyone notice that the camera view is tilted slightly if you take a pic with your phone on a level surface? I hav to rotate the camera clockwise a few degrees to level the image on the display.

Good article. As good as the iPhone 4S cell phone cameras are still a long way from replacing better gear. I did a quick test to show a few friends the difference between iPhone HDR and a Nikon D90 with post processing. Results can be found here:
http://mike.heller.ca/2011/10/my-first-iphone-4s-hdr/

like you review, very detailed, however I just stumbled upon this, by typing: not impressed with my iphone 4S camera. It's my first iphone, but I'm very disappointed in the camera. I have 2 very energetic kids, who won't stop moving and the camera distorts them completely and I find the pictures are grainy as well and lack colour and focus. Even after I found out that to focus you have to tap the screen before taking a picture. Does anyone else feel this way? I also heard that some of the iphone cases will also make a difference, as some are designed to close to the lens and intrude in the picture taking.

About macro focus.
You can lock AE/AF close the subject, so you will not have any problem with focus.
Touch and hold finger on the screen until a blue square flash. At the bottom will be displayed Lock AE/AF.
bye
Alfonso

very cool that you had the onttrpupioy to talk to such an expert! even better that all his suggestions are helping Lindsay @ The Lean Green Bean recently posted..

Hello! ddcdedg interesting ddcdedg site! I'm really like it! Very, very ddcdedg good!

Pamela October 6, 2011 P.S. I fllniay had an almost empty peanut butter jar and tried your oats in a jar recipe.. it was very good! Definitely a good treat once in a while!

Hello! deckege interesting deckege site! I'm really like it! Very, very deckege good!

Im thankful for the blog.Really looking forward to read more. Keep writing.

The camera works well for what it is, but I was disappointed in it's 72 dpi. My old palm had over 90 but I was hoping for 300 dpi. That's where the true detail lies. An optical zoom would have been nice but I wasn't expecting it.

That's cool but is there any news or snehtmiog like a hint if our hero will release a jailbreak tools for these update? Looking forward to that manny thanks in advance!!!

Hello! gkeddbk interesting gkeddbk site! I'm really like it! Very, very gkeddbk good!

I am using Iphone 4s and this is awesome mobile with great features. Iphone 4s camera is also great. Its picture quality is also awesome. I am very happy with that but recently i got problem with iPhone camera. Sometimes when I open its camera, it hangs my iPhone device and showing me pure black screen. If you have same problem then you should look at http://howmobile.net/apple-iphone/2853-solution-camera-issues-iphone.html. Hope you would like the solution. As it's very easy to understand & implement. Hope the solutions work for your Iphone 5 camera trouble.
Thanks
Thank you for signing up to iMore. You will receive a verification email shortly.
There was a problem. Please refresh the page and try again.