When is the iPhone 5 coming out?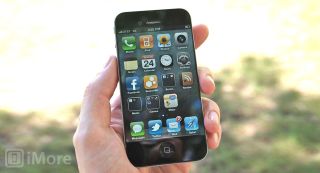 The release date for when the iPhone 5 comes out is the most frequent question we're being asked these days. That makes sense -- some people might need a new phone and don't want to get the current iPhone 4S if the next generation iPhone 5 (or whatever Apple decides to call it) is right around the corner. Others see competing phones like the Nokia Lumia 900, HTC One X, and Samsung Galaxy S III and want to see Apple's answer sooner rather than later. Still others always want the new stuff now, now, now. The day after Apple releases the iPhone 5, they'll want the iPhone 5s. That's just how it goes.
Past behavior
Apple, of course, hasn't even announced a next generation iPhone yet, much less the release date. If we use past behavior as the best indicator of future behavior, than for the first four years of the iPhone's existence, Apple announced the release dates at their annual World Wide Developer Conference (WWDC) and shipped shortly thereafter. The original iPhone shipped on June 29, 2007. The iPhone 3G on July 11, 2008. The iPhone 3GS shipped on June 8, 2009. The iPhone 4 shipped on June 24, 2010.
And then everything changed.
Pattern breaks
First, the Verizon iPhone was launched on February 10, 2011. Then WWDC 2011 came and went without a new iPhone announcement. Last year's iPhone 4S wasn't announced until October, and didn't launch until October 14, 2011.
Many of the readers, listeners, and viewers asking us when the iPhone 5 is coming out are hoping 2011 was an anomaly or outlier, that the Verizon launch somehow causes a momentary blip in time and space, and that this year everything will return to "normal" and we'll somehow get a WWDC 2012 iPhone 5 announcement and June release date again.
The new normal
While it's impossible to rule anything out 100%, a June 2012 iPhone 5 release doesn't seem likely. First, it would be quite early in the product cycle to replace the iPhone 4S. While it took 16 months to go from iPhone 4 to iPhone 4S, reverting to a June release for the iPhone 5 means the iPhone 4S would only enjoy 9 months in the top spot.
Also, all those previous summer iPhone launches were preceded by spring iOS developer events where new versions of iOS were shown off. Last year's fall iPhone release didn't have a special spring developer release. iOS 5 was announced at WWDC 2011.
Likewise, Apple didn't have an iOS 6 developer event last spring either. Unless Apple doesn't plan on releasing a new version of iOS 6 this year, which seems unlikely, that leaves WWDC 2012 as the next venue where it could be introduced. If Apple is only going to show off the iOS 6 beta in June, that leaves little hope that the final version running on the iPhone 5 will be released any time before the fall.
Last year, the iPhone took the place of the iPod as Apple's big holiday release. Apple didn't even announce next generation iPods during their traditional fall event, just paint jobs. It was all iPhone. And given how important the holiday quarter is to Apple, that doesn't seem likely to change.
So when is the iPhone 5 coming out already?
iMore has heard that no new iOS devices will be announced at WWDC and that Apple is currently planning to once again release the next generation iPhone in the fall.
Based on everything we've heard, and everything we've seen so far, October 2012 is when iPhone 5 is coming out.
More information
Master your iPhone in minutes
iMore offers spot-on advice and guidance from our team of experts, with decades of Apple device experience to lean on. Learn more with iMore!
Senior Editor at iMore and a practicing therapist specializing in stress and anxiety. She speaks everywhere from conferences to corporations, co-host of Vector and Isometric podcasts, follow her on Twitter @Georgia_Dow and check out her series at anxiety-videos.com.