When is the iPhone 5 coming out?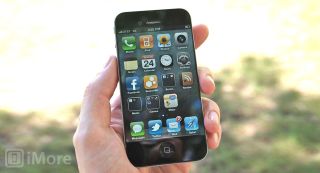 The release date for when the iPhone 5 comes out is the most frequent question we're being asked these days. That makes sense -- some people might need a new phone and don't want to get the current iPhone 4S if the next generation iPhone 5 (or whatever Apple decides to call it) is right around the corner. Others see competing phones like the Nokia Lumia 900, HTC One X, and Samsung Galaxy S III and want to see Apple's answer sooner rather than later. Still others always want the new stuff now, now, now. The day after Apple releases the iPhone 5, they'll want the iPhone 5s. That's just how it goes.
Past behavior
Apple, of course, hasn't even announced a next generation iPhone yet, much less the release date. If we use past behavior as the best indicator of future behavior, than for the first four years of the iPhone's existence, Apple announced the release dates at their annual World Wide Developer Conference (WWDC) and shipped shortly thereafter. The original iPhone shipped on June 29, 2007. The iPhone 3G on July 11, 2008. The iPhone 3GS shipped on June 8, 2009. The iPhone 4 shipped on June 24, 2010.
And then everything changed.
Pattern breaks
First, the Verizon iPhone was launched on February 10, 2011. Then WWDC 2011 came and went without a new iPhone announcement. Last year's iPhone 4S wasn't announced until October, and didn't launch until October 14, 2011.
Many of the readers, listeners, and viewers asking us when the iPhone 5 is coming out are hoping 2011 was an anomaly or outlier, that the Verizon launch somehow causes a momentary blip in time and space, and that this year everything will return to "normal" and we'll somehow get a WWDC 2012 iPhone 5 announcement and June release date again.
The new normal
While it's impossible to rule anything out 100%, a June 2012 iPhone 5 release doesn't seem likely. First, it would be quite early in the product cycle to replace the iPhone 4S. While it took 16 months to go from iPhone 4 to iPhone 4S, reverting to a June release for the iPhone 5 means the iPhone 4S would only enjoy 9 months in the top spot.
Also, all those previous summer iPhone launches were preceded by spring iOS developer events where new versions of iOS were shown off. Last year's fall iPhone release didn't have a special spring developer release. iOS 5 was announced at WWDC 2011.
Likewise, Apple didn't have an iOS 6 developer event last spring either. Unless Apple doesn't plan on releasing a new version of iOS 6 this year, which seems unlikely, that leaves WWDC 2012 as the next venue where it could be introduced. If Apple is only going to show off the iOS 6 beta in June, that leaves little hope that the final version running on the iPhone 5 will be released any time before the fall.
Last year, the iPhone took the place of the iPod as Apple's big holiday release. Apple didn't even announce next generation iPods during their traditional fall event, just paint jobs. It was all iPhone. And given how important the holiday quarter is to Apple, that doesn't seem likely to change.
So when is the iPhone 5 coming out already?
iMore has heard that no new iOS devices will be announced at WWDC and that Apple is currently planning to once again release the next generation iPhone in the fall.
Based on everything we've heard, and everything we've seen so far, October 2012 is when iPhone 5 is coming out.
More information
Get the best of iMore in your inbox, every day!
Senior Editor at iMore and a practicing therapist specializing in stress and anxiety. She speaks everywhere from conferences to corporations, co-host of Vector and Isometric podcasts, follow her on Twitter @Georgia_Dow and check out her series at anxiety-videos.com.
Are we there yet?
Are we there yet?
Are we there yet?
I need a pee!
Are we there yet?
I'm Bored!
Are we there yet?
Are we there yet?
LOL

Dude ? . SHUTUP -_______- Your NOt Cool K Wow 'FUNNY'

I don't get why we are calling it the iPhone 5 still.
The iPhone 4 was the 4th phone to be released hence the 4 moniker at the end of the name. If anything the iPhone 4S should be called the iPhone 5. I can't think of anyways the iPhone 5 name could be justified to fit the slot for the 6th generation iPhone so could we stop calling it the iPhone 5?! If anything call it the iPhone 4G

Nope. The iPhone 4 was the fifth. iPhone, iPhone 2, iPhone 3, iPhone 3GS, iPhone 4, iPhone 4S.
This next one should be 7, or we could stop trying to second guess Cupertino and just call it the next iPhone since that's exactly what it will be.

Lol you're funny. But on a serious note do you understand where I'm going with this? I agree with you on not to speculate but it really gets under my skin that some writers don't take the time to understand logic.

Of course I do. I was elaborating on the sheer insanity of trying to speculate anything from this company. I thought by now Apple have made it clear, we don't know what they're making. :)

Uh, can you show us a picture of an iPhone 2?
lol
iPhone, iPhone 3G, iPhone 3GS, iPhone 4, iPhone 4s.
Yes there have been 5 iPhones (not 6). But the 3GS and 4s were not new generations - they were spec bumps. So really Apple skipped the iPhone 2. Maybe you all should be bitching that the iPhone 3G should have been the 2?
They will either call it the iPhone 5 or just "the new iPhone." 5 does follow 4. You can google it if you want.

Uhh last time I looked the iPhone was the 4th generation (hence the name 4). We had the original iPhone, then the iPhone 3G, then the 3GS, then the 4, and now the 4S. I don't know what this iPhone 2 you speak of is.

S H U T U P S H U T U P NO ONE GIVES A CRAAAAAAAAAAAPPPPP

UMMM, I may not be picking up your sarcasm, if you were being sarcastic but it went iPhone, iPhone 3G to introduce 3G connectivity not related to the generation, iPhone 3GS for the faster processor, iPhone 4, iPhone 4S there was no iPhone 2. so the 3GS was the third iPhone and that stands to reason why the 4 was the 4.. and then 4S so if they stay along those line 5 would be the next number but may lose the numbers as they did with iPad.

My guess is that Apple will follow the same convention as the iPad and just call the next iPhone the "New iPhone". We are just going to start referencing which generation iPhone the new one is which in this case is 7.

http://www.imore.com/2011/11/29/iphone-5-2/

This link is not really helpful as this article contains wrong information. You can reason everything based on wrong assumptions. There never was an iPhone with a number 3 - 3G refers to the support of UMTS. The iPhone 4 was the only iPhone named after its generation. For this Apple counted the iPhone 3G as generation 2 and iPhone 3GS as generation 3. So the iPhone 4S has to be generation 5. Of course Apple could call the next iPhone whatever they like. But the chances they call it "iPhone 5" are as high as the names "iPhone Dave" or "iPhone Steve" - highly unlikely.

Apple just raised a stink over the iphone5 website....winning the rights to the site....
Something I cant imagine them doing if they didnt plan on using the name "iphone 5".....
IMO

Let's not ignore my iCloud account, formerly a MobileMe account, was just mysteriously extended to September 2012 from June I think. I'm leaning toward September or October myself.

I would say announced the last half of September, officially for sale - early October.

Oct 12 is 20 months after the iPhone4 launched on Verizon, and everyone who jumped on it will be eligible to renew contracts again.... justsayin. :D

Maybe I can Pre-order at 3 am again!

So what if it people report is being called iPhone 5. What is the big deal, really? Who cares what generation we are up to, it could also make sense to call it 5 since it comes after 4, right? Does it really matter?

Yes it does. If after 4 we get 5 then why didn't we get 5 bank in October ;)

I do think, like iPad, it will be "iPhone" with marketing material saying new iPhone.
I also suspect that "new" marketing on the iPad ceases in the fall. Get people calling it iPad so next March we have? The new iPad (4th generation)

OK everybody, if Apple doesn't release a new phone by the prediction you made up, don't forget to complain about delays! =]

How about 5th October - as homage to Steve Jobs? That's what I'd do if it were me running the Product Launch, it's already been reported he was heavily involved in the design - so makes sense... Thoughts...

Regarding name.... Flashforward to iPhone 11 etc.... Not a chance.... It will move to just iPhone... It doesn't need anymore, as the references on the back tell you all you need from a tech perspective.....

You know I was obsessed with this prior to October, 2011! Now, that I finally have an iphone 4s (it's my first iphone) I'm so happy with it. I'll look forward to the next Gen. phone with some trepidation though since that stupid Verizon non-unlimited Data situation that happens when you upgrade. That being said, I love new tech and I'm sure the next iphone iteration will be awesome and 4G. Looking forward to it.

The 2011 iPhone schedule was also delayed by the earthquake + tsunami in Japan. Some key components are apparently made by Japanese companies affected by the disaster.
The 2013 iPhone might return to a summer release, since there might not be very many changes to its internal or external design. Apple seems to be on a 2-year "tick tock" development cycle. All-new iPhone every even year, slightly improved iPhone every odd year. Less work to do for odd-year iPhones, so the schedule might be more flexible.
Of course, Apple's product schedule just might need to be adjusted for new products like a TV set...

My quad core one x will keep my happy till the fall.
Apple needs to refresh ios....getting stale.

One thing for apple to think about.. Everybody who bought the iPhone 4 brand new,, Well our contracts are up. Do they let us wait and maybe wander away? or give us something really new to buy? I personally want to wait for an lte iPhone. But cherish my unlimited data. From my understanding AT&T will most likely follow suit of Verizon and not allow un-limited data to transfer to an lte iPhone .. My thinking is buy the iPhone 4s early June. Make sure I get ios 5.1.1 Hopefully get a jailbreak And secure another 2 years of unlimited data With an iPhone 4s. I use a lot of data. Lol 2 yrs of my unlimited data with an iPhone 4s or wait and get an lte iPhone with expensive data caps..
Also AT&T is on a two year cycle with contracts . Apple is just going to have to join the two year cycle,, and learn to cater to the two groups.

iPhone (iPhone 1), iPhone 3G (iPhone 2), iPhone 3GS (iPhone 3), iPhone 4 (iPhone 4), iPhone 4S (iPhone 4.5), iPhone 5 (iPhone 5)

Because verizon iphone 4 customers don't become eligible for promotional pricing on a new phone until October 7 at the eareliest (for those who preordered and activated day of arrival) Verizon would have a problem generating a big initial order if they release before the first wave of iphone 4 customers is eligible. Because of this, I expect the iphone 5 to come out no earlier than October 15.
Of course if Apple releases earlier Verizon can make an exception to its upgrade policies, but as tgat result would ve a big headache forcthem, i doubt its as likely.

June 29th. Mark my words.
Apple has never dver worried about carrier elegibility for two year contracts to be fulfilled .

Apple would never announce a product in June for an October release. Never , ever.
If they don't release it between June 22 - July 13 , then they won't announce it till late September/ early October ! ;)

IMHO it would make most sense for Apple to announce the 6th gen iPhone in mid-September and release it 1-2 weeks later before the end of their financial Q4. Like with the new iPad (released in the last days of FYQ2) this would be beneficial to Apple's quarterly results. IMHO this was Apple's plan for all their iOS devices, it just didn't work out every time and the launch day had to be pushed by up to a few weeks.

It is very true that cheap web hosting is not good as these hosting companies cannot provide us with good round the clock support. You never know when your website may face problems so it's better to go with popular and reputable web hosting companies. I like your list of web hosts... Bluehost and HostGator are especially good.

PLEASE LET THE iPHONE COME OUT IN JUNE.
FOR THE LVE OF GOD. PLEASE.
NEED. IT. NOW.

Woah this blog is excellent i really like reading your posts. Keep up the good paintings! You realize, lots of individuals are looking round for this information, you can aid them greatly.

Let's not forget, none of this info is actually from Apple. Nobody can say they "didn't live up to the product" or "it wasn't right" because they never actually told us this is what they're going to do.

Hey. Very nice website!! Man .. Beautiful .. Wonderful .. I will bookmark your website and take the feeds also...I am satisfied to find numerous useful info right here in the post. Thank you for sharing.

Yes, there are two light sensors, one in the the front and one in the back of these gates. So if you try to pass in wrong direction or pass without having put a token in machine, the gates close. The correct sequence to pass through is token-front sensor-back sensor. I think it's a typical example in many "digital logic" textbooks

Hi,I would just like to say what a great Article by Kim Roach it's the first time i have ever read anything by Kim but i am now a fan of Kim's.Thanks very much Kim for all of the tips you gave us. Air Jordan 2

Thanks for every other excellent article. The place else could anybody get that type of info in such an ideal manner of writing? I've a presentation subsequent week, and I am on the look for such information.