iPhone 6 Plus vs Galaxy Note 4 camera shootout!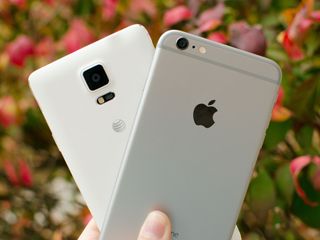 The iPhone 6 Plus is Apple's first "phablet" sized phone. That puts it in direct competition with other super-sized smartphones, particularly the brand new Samsung Galaxy Note 4. On paper, the Galaxy Note 4 has twice the megapixels, but does that translate into photos that are twice as good? If you're basing your next smartphone purchase on camera quality, you're probably more interested in how they actually perform in the real world. How's the color accuracy? What's the low-light performance like? From focus to exposure to white balance to everything else, which camera brings home the best shots?
iPhone 6 Plus vs Galaxy Note 4: Specifications
Swipe to scroll horizontally
| Header Cell - Column 0 | iPhone 6 Plus | Galaxy Note 4 |
| --- | --- | --- |
| Megapixels | 8MP | 16MP |
| Resolution | 2448x3264 | 5312x2988 |
| Pixel Size | 1.5µm | 1.12µm |
| Sensor Size | 1/3" | 1/2.6" |
| Aperture | ƒ/2.2 | ƒ/2.2 |
| Flash | Dual-LED | LED |
| OIS | Yes | Yes |
| Front camera | 1.2MP, ƒ/2.2 | 3.7MP, ƒ/1.9 |
Note: On desktop browsers you can enlarge all the images below. Also, EXIF data is provided for one image in each category.
iPhone 6 Plus vs Galaxy Note 4: General photography
From left to right: iPhone 6 Plus, Galaxy Note 4:
In the above images, I purposely disabled HDR on both phones. Other than that, I shot the way both phones come out of out of the box. The first thing I noticed is that the iPhone 6 Plus favors much warmer tones than the Galaxy Note 4. A great example of this is the 2nd and 3rd images. I personally prefer the Galaxy Note 4 in these samples simply because I prefer cooler tones. I know many folks, however, that prefer warmer tones and would most likely pick the photos from the iPhone 6 Plus. Other than that, both lenses are sharp and with everyday scenes where you have sufficient lighting, you shouldn't have a problem capturing stellar images with either.
They're both great but if you prefer warmer tones, you'll favor the iPhone 6 Plus, and cooler tones, the Galaxy Note 4.
Winner: Tie
EXIF data for red door image:
Swipe to scroll horizontally
| Header Cell - Column 0 | iPhone 6 Plus | Galaxy Note 4 |
| --- | --- | --- |
| Shutter Speed | 1/146 | 1/120 |
| ISO | 32 | 50 |
| Aperture | 2.2 | 2.2 |
| Focal Length | 4.15mm | 4.8mm |
iPhone 6 Plus vs Galaxy Note 4: HDR photography
From left to right: iPhone 6 Plus, Galaxy Note 4:
For HDR samples, I made sure HDR was enabled on both devices. Other than that, everything else was left alone. For most of the samples, I felt as if both the iPhone 6 Plus and the Note 4 ran neck and neck. However, there were a few instances that one out-performed the other. The photo of the bricks is the first example of this. For some reason the Note 4 washed out reds while the 6 Plus did a more accurate job of presenting what was in front of me. The red trees in photo 3 however, they look better in the sample off the Note 4. They just seem to "pop" more. I also noticed that sometimes the iPhone 6 Plus produced images that were slightly darker when HDR was enabled where the Note 4 didn't. The 4th image of the house is a good example of this. It's not a huge difference, but it's noticeable.
While both cameras perform well, the Note 4 seems to be slightly more consistent and balanced, with only a few exceptions.
Winner: Galaxy Note 4
EXIF data for image of bricks:
Swipe to scroll horizontally
| Header Cell - Column 0 | iPhone 6 Plus | Galaxy Note 4 |
| --- | --- | --- |
| Shutter Speed | 1/60 | 1/30 |
| ISO | 32 | 40 |
| Aperture | 2.2 | 2.2 |
| Focal Length | 4.15mm | 4.8mm |
iPhone 6 Plus vs Galaxy Note 4: Macro photography and depth of field
From left to right: iPhone 6 Plus, Galaxy Note 4:
For macro and depth of field photos, I purposely tapped on the same focus point with each camera. For close-up macro shots, I also attempted to get as close as I could to objects and only stopped when I had trouble focusing. Where macro is concerned, the iPhone 6 Plus seems to be able to get in tighter than the Note 4 without losing sharpness. This is the most apparent in the last sample photo of the leaf.
However, when it comes to depth of field and achieving a "bokeh" effect, the Note 4 has a secret punch in the form of a selective focus mode. Since it's easy to access and super simple to use, it's fair game. Just activate it in settings and then tap where you'd like the focus to be. Some behind the scenes software magic takes multiple photos with different focus points. This way you can even change the focus later if you'd like between near, far, and pan. The feature not only works, it works awesomely well.
When it comes to closeup macro shots, the iPhone 6 Plus wins. But where depth of field is concerned, the Note 4 has some awesome trickery up its sleeve.
Winner: iPhone 6 Plus for closeups, Galaxy Note 4 for depth of field shots
EXIF data for photo of leaf:
Swipe to scroll horizontally
| Header Cell - Column 0 | iPhone 6 Plus | Galaxy Note 4 |
| --- | --- | --- |
| Shutter Speed | 1/30 | 1/30 |
| ISO | 32 | 64 |
| Aperture | 2.2 | 2.2 |
| Focal Length | 4.15mm | 4.8mm |
iPhone 6 Plus vs Galaxy Note 4: Low light photography
From left to right: iPhone 6 Plus, Galaxy Note 4:
Low light photography was very intriguing to me in this comparison. In the first sample shot, the Note 4 does a noticeably better job balancing brightness and noise. The iPhone 6 Plus shot is not only darker, it still has more noise, which is odd to me. In the second shot, the iPhone 6 Plus did a better job balancing the scene while the Note 4 produced the darker image. Moving indoors, the iPhone 6 Plus did a decent job balancing low indoor lighting without casting yellow hues, which I see often with many smartphone cameras. The shot with the phone box is brighter in the Note 4 sample but the colors are washed out.
Considering the wide range of differences, it's really hard to declare a single winner so I'm going to judge based on my experience as a whole. Indoor low light shots are consistently better with the iPhone 6 Plus. However, the Galaxy Note 4 seems to perform better in natural and outdoor low lighting scenarios.
Winner: Tie, iPhone 6 Plus is better indoors while the Note 4 does better outdoors
EXIF data for first photo in this set, outdoor scene:
I'm not sure why, but none of my low light samples on the Note 4 show shutter speed or ISO. I've tried to pull data in Lightroom, iPhoto, and Photoshop and all show blanks for both values in every low light sample I took with the Note 4.
Swipe to scroll horizontally
| Header Cell - Column 0 | iPhone 6 Plus | Galaxy Note 4 |
| --- | --- | --- |
| Shutter Speed | 1/4 | ? |
| ISO | 125 | ? |
| Aperture | 2.2 | 2.2 |
| Focal Length | 4.15mm | 4.8mm |
iPhone 6 Plus vs Galaxy Note 4: Flash photography
From left to right: iPhone 6 Plus, Galaxy Note 4:
Flash photography isn't bad in either camera but the difference in tones will matter to some folks. Since the iPhone 6 Plus has what Apple calls a True Tone flash, you can expect warmer images. This is obvious in pretty much every sample. Again, I prefer cooler tones in most situations so to my eyes, I actually prefer the Note 4 samples. But again, it's going to come down to preference. The only other point worth making is that the iPhone 6 Plus flash seems to brighten the entire scene a little better while the Note 4 flash targets the subject. Again, probably a matter of preference and won't be a huge deal for most folks.
Winner: Tie
EXIF data from first photo in this set:
Swipe to scroll horizontally
| Header Cell - Column 0 | iPhone 6 Plus | Galaxy Note 4 |
| --- | --- | --- |
| Shutter Speed | 1/16 | 1/30 |
| ISO | 32 | 50 |
| Aperture | 2.2 | 2.2 |
| Focal Length | 4.15mm | 4.8mm |
iPhone 6 Plus vs Galaxy Note 4: Zoom
From left to right: iPhone 6 Plus, Galaxy Note 4:
I've never been a huge fan of digital zoom and in most cases, I'd rather take a photo and crop later instead of using zoom. However, I was surprisingly pleased with the digital zoom in the Galaxy Note 4. Even at 8x zoom, the images aren't nearly as grainy as I'd expect and in most cases, are actually usable. In each image, I zoomed in to where the image was framed in the same way. If the iPhone 6 Plus zoom reached its maximum zoom and the Note 4 hadn't, I kept zooming on the Note 4. And surprisingly, the Note 4 did a noticeably better job in every instance. Yay for digital zoom that's actually pretty stellar! Hey Apple, make zoom better already!
Winner: Galaxy Note 4
EXIF data from seagull photo:
Zoom seems to be another instance where the Note 4 doesn't allow me to pull shutter speed and ISO. Any insight is welcome as to why this is the case.
Swipe to scroll horizontally
| Header Cell - Column 0 | iPhone 6 Plus | Galaxy Note 4 |
| --- | --- | --- |
| Shutter Speed | 1/514 | ? |
| ISO | 32 | ? |
| Aperture | 2.2 | 2.2 |
| Focal Length | 4.15mm | 4.8mm |
iPhone 6 Plus vs Galaxy Note 4: Selfies!
From left to right: iPhone 6 Plus, Galaxy Note 4:
The Galaxy Note 4 has a better front facing camera than the iPhone 6 Plus in terms of both megapixels and aperture. And for the most part, it shows. Not only is there less grain, you can fit more into a frame. My only complaint is that in low light, the Note 4 seems to soften images, which is apparent in the middle sample. It's not terrible, but to me it looks slightly blurry. I tried to take this photo numerous times but all produced the same softness. Perhaps this can be fixed via software update, but it's not necessarily a desirable affect. My gut tells me it may be an issue when using an aperture as large as 1.9 though. However, overall the Note 4's front facing camera does a better job balancing and reducing noise than the iPhone 6 Plus.
Winner: Galaxy Note 4
EXIF data from middle image in set:
Again, I couldn't pull anything other than aperture from the Note 4 image.
Swipe to scroll horizontally
| Header Cell - Column 0 | iPhone 6 Plus | Galaxy Note 4 |
| --- | --- | --- |
| Shutter Speed | 1/15 | ? |
| ISO | 1000 | ? |
| Aperture | 2.2 | 1.9 |
| Focal Length | 4.15mm | 4.8mm |
iPhone 6 Plus vs Galaxy Note 4: Panoramas
From top to bottom: iPhone 6 Plus, Galaxy Note 4:
Both the iPhone 6 Plus and the Galaxy Note 4 take panoramas in the same way and live stitch using software magic. Both do a good job too. The only difference I consistently noticed was that the iPhone 6 Plus does a better job at producing panos that are slightly brighter and better balanced. For example, the last two panos show fairly well that the iPhone 6 Plus does a better job balancing exposure. The Note 4 samples are more than useable, and are even great images, but it'd be nice if Samsung could issue an update that'd maybe help balance exposure in panos slightly better. The darker is gets outside, the more noticeable the difference becomes.
Winner: iPhone 6 Plus
EXIF data from last photo in set:
Again, I was unable to retrieve any shutter speed and ISO data from the Note 4 on any pano samples.
Swipe to scroll horizontally
| Header Cell - Column 0 | iPhone 6 Plus | Galaxy Note 4 |
| --- | --- | --- |
| Shutter Speed | 1/430 | ? |
| ISO | 125 | ? |
| Aperture | 2.2 | 2.2 |
| Focal Length | 4.15mm | 4.8mm |
iPhone 6 Plus vs Galaxy Note 4: The bottom line
Smartphone cameras are getting so good these days that most differences are negligible. However, there are some subtle differences between the iPhone 6 Plus and Note 4 that may make one or the other a better choice for you. Overall, the iPhone 6 Plus produces much warmer images than the Note 4. This is completely a personal preference for most folks but something you should take into serious consideration if you lean strongly one way or the other. If you like warm tones, you're better off with the 6 Plus. If you lean towards cool tones, you'll most likely favor the Note 4.
Looking past these differences, it really comes down to how you use your camera and how you want to interact with your photos. If you take lots of selfies and find yourself using digital zoom quite often, the Note 4 out-performs the iPhone 6 Plus in terms of hardware. If you like experimenting with your photos and alternative camera apps, there's no denying the App Store has the best collection available, partially thanks to camera and photo extensions in iOS 8.
A camera is only one part of the puzzle when it comes to choosing a smartphone that's best for you. So if you're still undecided on which one you should buy, hit the links below to check out our full reviews of both devices both here on iMore and on our sister site, Android Central.
Regardless which device you ending up choosing, the iPhone 6 Plus and the Galaxy Note 4 are both cameras you can be proud to have in your pocket.
See also:
Samsung Galaxy Note 4 review
Get the best of iMore in your inbox, every day!
iMore senior editor from 2011 to 2015.
Nice to see that iMore can have honest tests.

Not really. One of those cameras whether it will be the warm or the cool will take images that are closer to what you actually see than the other. Surely that is the best camera?
If you want o cool it down or heat it up afterward that's what editing suites are for. "The Note4 outperforms the i6……."
Image processing can be done later.

ha, there had to be one. It isn't realistic to think someone should edit tones in every photo to like them. That's silly talk. We have preferences, and there are choices to suit those preferences, like here.

Yep, but by the same token the best camera is the one that takes the most "objectively" authentic shots - that's what they are for, period. Your mixing it with which one has good software features.
Not the same.

you realize you just made "my" point not your own, right? You: Argue you can fix photos with editing suites Me: No, not everyone wants to do that, it's why we have choice in hardware. You: the best camera is the one that takes the best shots in-camera Me: Yeah, that's pretty much what i just said. If you're speaking on tones, those are completely preference. Canon and Nikon perceive tones differently, but get in that fight and see where it gets you. Again, preference. You may think one is best while I think another is tone wise. Everyone's eyes are different too, at some point, photography becomes subjective. It can't be avoided. Preference can't be objective.

LOL. I see what you're saying and also what you said to start;
How's the color accuracy? What's the low-light performance like? From focus to exposure to white balance to everything else, which camera brings home the best shots? Anyhow, choice is good.

I think the bottom line is which phone do you like more not which camera do you like more. For 99% of the people out there they use the auto setting point and click. If you get into settings more then you'll find out how they perform. I have a GS5 and I like the camera enough. I have to admit that I do hate Apple, even though I think that iOS is locked down too tight for its own good. To me android means freedom to do what I want with my smartphone. The Nikon/Canon battle is almost as heated as the Apple/Samsung one. Again, with really good lenses comes really good pictures. I have a Nikon and my best friend has a Canon (he's fruit company all the way too!) Those cameras are so good that you really cannot tell the difference in what they do. One thing I can say is that Nikon is so much easier to adjust settings on. Canon you need the Manual for that. My opinion is that if you go on vacation and you really want good pictures your smartphone is not the best choice for a camera and neither is the ever popular point and shoot (how annoying is it when you're trying to take a pic and someone steps in front of you with a point and shoot and takes 10 seconds to take a photo after they press the button?)

I would agree with you on pretty much every point. No matter what kind of comparison we do, it's going to have points people don't agree with. But my point was yours, most people pull them out of the box and point and shoot. As for Nikon and Canon, I think software and hardware are getting so good, even those crowds are finding less to argue about. When I got my first DSLR a few years ago, I looked at the best cameras in my price range and what the reviews said at that time. For me, the Nikon fit my budget and had the best reviews at the time. So once I started buying lenses, I stuck with it for obvious reasons. I have friends with Canons and I know Rene prefers Canons. Great cameras that produce great images but I do think Nikon's control system is better laid out and easier to use. However, I may think differently if I had owned a Canon instead. Not sure.

Kitana by Jane-Po
IPhone just 8 megapixel = very bad

It is better to cool it down than to warm it up with editing. This is roughly equivalent to it being better to take away sound with EQ than to add. Adding creates artifacts and taking away or toning down does not. I edit sound and picture files that I actually use for something.

Maybe so, although I disagree. However, your opinion of "which is better" shouldn't be based on your personal preference, because that means the review is only accurate for someone who agrees with your opinion, which, of course, does not make a review.

Which is why I didn't make my decision on which is better on personal preference. I just stated one is warmer and one is cooler, which is fact. Which one looks better to you, is preference. I can't control that factor. Indoors, the iPhone 6 plus seemed to produce images that were more accurate to what was in front of me, outdoors the Note 4 did. I was just simply stating that tones are typically preference. Put the same image in front of a group of people, and they'll all say a different one is best. I try and be as objective as i can but at the end of the day, we all see and perceive things in front of us differently.

then take it to the next lvl, what display will they look best on? we all know the answer to this already lol. Note 4 has the most color accurate display of any smartphone period.

And they has what bearing when you send the photo to someone not using a Note 4? I agree it's a gorgeous display, but that's completely irrelevant here.

Might be worth reading this. Note 4, like everything, has its compromises. http://www.anandtech.com/show/8613/the-samsung-galaxy-note-4-review/4 Sent from the iMore App

the note 4 should get lollipop pretty soon and can save to RAW.I wonder how much better that will look.

Great new features but won't change the screen tech. PenTile will still be unsightly to some. Sent from the iMore App

Scientifically it has the best display in a cellphone http://gizmodo.com/the-galaxy-note-4-has-the-best-display-of-any-smartph... I was however talking about jellybeans feature to save to RAW Format and let G+ photos do the processing. Using that NIC software back end to properly read, correct, and enhance my photos. Then later I can download the album in jpgs. We know generally apple has the best on phone processing and Google has the best cloud processing. Google has had one hand tired behind its back though because it was try to fix jpgs which have been modified and then compressed wiping out valuable data. What your thoughts on this?

IPhone users can save to TIFF format right now, which while not as good as RAW, is better than JPEG. I wouldn't be surprised if Apple adds RAW capture in iOS 9 for iPhone 5S and above, though. I don't see a point in shooting RAW on a smartphone they are still smartphone pictures from a tiny sensor. Apples processing is good so I'm not sure many people would be able to better it. Probably best to just stay away from that mess. One thing that absolutely is poor on Android are 3rd party camera apps. They're terrible compared to iOS camera apps. It makes you base your purchase on the OEM stock camera software because you know nothing from the play store will be as good. Meanwhile Camera+ and ProCamera trump any camera software on Android. OEM or not.

I agree. A camera's sole aim should be to replicate what is in front of its lens as accurately as possible. It shouldn't bias colours in any direction. If people want to warm up a shot later, then that is why Photoshop exists.

I disagree. 99% of people use their phone cameras for snapshots and do not have the time and money to do photo editing after the fact. Unless you are a pro photographer life is just too busy to fiddle around with all you photos - you just want to see them. That applies to me and just about every one I know - we just want a pleasing photo right out of the app.

So how does the camera decide how to mess with your photos? Surely a photo should be an accurate record of what you saw with your own eyes? We don't see in sepia tones, nor should any camera.

Nikon and Canon perceive colors slightly differently as well, which is why some photographers still prefer one brand over another, among many other factors. Lenses are not human eyes. They are all different, as are all of our eyes. Ever have that conversation with a friend who says "That's not red, it's pink" and you disagree? yeah, that's because your eyes are different. As are the people's that make camera lenses and the software behind them. There are always going to be differences. Nowadays, they've come a long way that most of them are negligible, but they're still there. Why do Instagram filters exist if a camera's sole purpose is to show EXACTLY what's there? Or why does Photoshop even offer filters and effects if no one wants them? It's because they do. Because that's not always the most important aspect. Sure post editing can happen, but for folks that have a preference that is strong one way or the other, i felt it was important to point out that they lean in opposite directions.

Since the camera is not a copy of your own eyes "all are different" you will se what the camera lens produce. Than its up to all different individual eyes how they interpret that picture. Maybe the reallity looks different and there is something wrong with your eyes.
Ever watch brain games on national geo, you should.

That's not entirely true.
We're not dealing with raw images here, we're talking about processing jpgs. White balance and color tones are already cooked into a jpg image. Yes, you can still change the white balance and color tones to some degree but not without loosing quality.
The author is correct. You can not get the same look as 6+ by adding warmth to GN4.
It doesn't exactly mean one is better than the other, but it's always best to get the look you want righy out of the camera. Source: years of experience as a professional photographer.

It's interesting to me that in the examples where the iPhone 6 Plus produced darker images than the Note 4, the shutter speed was faster and ISO lower (makes sense), but there has to be some algorithm working in the background to decide these settings. I'd be interested to see how the pictures turn out with the same ISO, speed, and aperture settings.

That's what third party apps are for :) I don't use them in these comparisons because realistically, most people buying these phones will use the stock camera app.

spec on the note 4 are not true in my opinion
iPhone 6 Plus Galaxy Note 4
Megapixels 8MP 16MP not true
Resolution 2448x3264 5312x2988
Pixel Size 1.5µm 1.12µm
Sensor Size 1/3" 1/2.6"
Aperture ƒ/2.2 ƒ/2.2
Flash Dual-LED LED
OIS Yes Yes
Front camera 1.2MP, ƒ/2.2 3.7MP, ƒ/1.9

Those are absolutely correct. The Note 4 has a 16MP camera

It is 16 mp....everything she listed was true.

You highlight an item not mentioned in the review. All other things being the same, the Note is going to use twice the storage space for each picture taken, with no real-world benefit in many cases, a worse image in some cases, and a better image (and not by much), in some cases.

The real world benefit to a larger resolution (larger file size) is the image can be magnified (blown up) with less graininess. Posted via the Android iMore App!

Yep, important to folks that may want something poster size. The Note 4 may be a better option.

If the sensor size is the same in both phones adding more pixels will introduce pixel noise after a certain point negating the advantage of higher resolution.

I wonder what the difference would be if Apple used a 16MP camera and applied their same software to it would there be a clearer winner then?

Not sure. But it IS clear that software plays a huge part in image quality in most smartphones these days.

Any thoughts on the benefits we'll see when we can save to RAW when Samsung upgrades to android lollypop?

Coming from a Note 3 and having used an S1, S2, S3, S4, and tried out a Note 4... Yes. Apples camera software is much better than Samsung's. The iPhones lower light pictures are just too good to bother keeping the Note 4. Also, the camera blurs less (practically not at all) and has way less processing artifacts. The 6 Plus is the best smartphone camera I've ever used. It's a true point and shoot, which is what every smartphone camera should aim to be.

That's why I love the Mobile Nations crew, for the most part they are always honest. I'm an Android user and it's nice to finally see something on par side by side with the IPhone. There have been great cameras on Android but there was usually one big sacrifice or a few little ones. Each camera will have its caveats but both are great cameras. Posted via the iMore App for Android

Great review! It was really interesting to see this side by side comparison. I definitely prefer warmer tones on my pictures, but I wow, that Note 4 camera does get the job done. Sent from the iMore App

Great comparison, Thank you for putting so much time and work into this.
Will push it to my social networks.. A lot of people have been asking us about this as well.

In HDR, the iphone 6+ seemed to have much sharper images. Notice the bricks, notice the waves. The focus for the iphone 6+ seems to be better in those images. I like color, and brightness, but all that can be fixed later. Focus cannot be fixed later. And the iphone 6+ seems to have better focus.

It's unusual that when I take pictures with my iphone 6 plus and compare it to my cousins galaxy note 4, the results are totally different. Could you possibly upload the raw file of a few photos? I'm not sure how you re-sized the photos and what quality settings you chose (I'm assuming save for web, maximum quality JPEG?). My question is why did you combine what should be two separate tests into one test? For example, indoor vs outdoor lighting should have been separate tests. Also the photo with the red brick wall was clearly bolder, and richer in color for the iphone 6 plus. I'm inclined to believe you have some kind of bias.

Did I miss something or is the iPhone now taking raw photos? I thought it was still taking JPEG? I don't know what the Note 4 takes at all, so I won't comment on it. I don't understand the accusation of bias. She took as close to identical photos as she could with each phone setting wise, and then displayed both sets of pictures side-by-side. The final conclusion was that for some things the note is better, and for others the iphone is better. Where is the bias?

Raw photos are unedited. These are obviously resized photos, and when you resize a photo, it becomes compressed and they lose quality. Also, what makes a photo isn't the software enhanced brightness or resolution. Just by reading the specs in the first part of the review, any professional photographer would know the iPhone 6 plus takes the cake just by looking at the sensor size (which allows more optical light; translate into higher quality photos). No two ways about it. Try submitting a full-sized photo from a note 4 into a website like shutterstock alongside a photo taken with an iphone 6 plus. Tell me which one they deny or accept. Edit: P.S, look at the distance which she takes selfies with the iphone, vs the distance with the note 4. I know the front facing camera has a higher megapixel count on the note 4, but it's pretty obvious what she's doing there, since her arms are bent in one photo and they're extended in the other ones. Don't forget focal points. If she clicked on the sky behind her, the iphone would adjust the brightness automatically. Just like any professional camera, you have to tell it where to focus if you want to compare it to another camera, focusing on the same area; don't let the software decide.

You are actually wrong. I framed them exactly the same. You can't see my arms on the iPhone variant because it has a closer crop due to lens differences. I DID try tapping on the sky, and it made the entire half of the photo, including myself, extremely dark. iPhones don't take raw images. Please look up the definition of that term. I explain in the intro how to enlarge images. I did it in a way where differences can be seen but doesn't use an incredible amount of bandwidth (because you know, we have to pay for things like that). And for what it's worth, I'm an avid iOS user, so why the hell would I purposely bias towards samsung? For the most part I don't particularly care for Android, Samsung in specific. I took shots in real world scenarios that are every day situations, because that'd be how people use their cameras. But I call it like I see it. And Samsung did a very decent job with the Note 4 camera. I prefer iOS as a whole and the camera doesn't make up my entire use case. For some people, it's super important, so I present things as honestly as I can so people can make the best purchase decision they can. Sorry you don't agree. You also don't seem to understand resolution considering the comments you made about shutterstock, which is completely irrelevant anyways.

Not to reiterate what she already said defending herself, but she is primarily a writer for iMore. There is no reason she would side with anything android without reason. I honestly started reading this assuming it would be heavily biased toward the iPhone, but was pleasantly surprised when she did a very good job of not showing bias toward either phone and just stating her honest opinion. Also, RAW does not mean unedited. It means all the information from the sensor without any compression into JPEG. And the sensor size is bigger on the note 4 (you may need to learn about fractions again...)

I agree, when I first started reading this I was thinking "how biased is this going to be?". I think she did a very good job of keeping it honest and unbiased. Great job, thank you. Posted via the iMore App for Android from my Note 4

RAW can also mean unedited. Words can have different uses and I feel like you people are idiotically insulting him simply because he used a word differently than the common photographic use of the term. RAW is an unprocessed image. We all know the camera does processing to create the JPEG but the person thought the photos were resized and or cropped which is why they asked for the RAW JPEGs (original, untouched) out of the device.

In Low light photography ; iPhone 6 Plus seem to capture more natural colours and tones. I just felt iPhone 6 Plus was better in both indoor and outdoor shots. But I understand this also comes to individual perception of what's good and what's better. Sent from the iMore App

It'd be awesome if they would include video in these comparisons. Especially the part where you're able to zoom in and out during recording and during video playback with samsung. Why apple has not allowed this is beyond comprehension.

You are able to zoom with video while recording. Just pinch or stretch like a picture. Doing that will envoke the zoom controls on screen. Been doing it with my 5 for a while.

You're right. Well, all that's left is being able to zoom during playback.

Interesting tests. I've been a professional photographer for over 40 years, and disagree with some of the authors conclusions, but he was forthright in telling us what his personal preferences were in some cases. Personally, after trying both phone-cams, I bought the iPhone 6 Plus, since there is SO much more to the camera than displayed here.

hi. i hope you are more perceptive when photographing than when reading...
allyson.... is a she.... it is at the top of the article.... in the selfies..... and at the end of the article.... ;)
i prefer the iphone too.... i choose iphones for the overall user experience and integration with the rest of the ecosystem....

Nice article Allyson! Very objective and balanced.

seems like both do an admirable job.... so... no clear reason to pick one phone over the other for the photographic abilities alone. my untrained eye chose quite a few images that were different than the author's. that's what makes the world go 'round i guess. :)

EPIC FAIL! Just another review that fails to show real life photos.
Afraid to show shutter lag, low light motion, etc?
A car wizzing by, a dog running around a living room, kids at a soccer game?
Life moves, if the camera can't stop action, its USELESS.
Enjoy the blur, hidden from the review!

Translating that to classy: Hey, could you show some shots with motion blur? That'd be super helpful as a point of comparison. Thanks!

I am alone working from home 90% of my work week and have no kids running around to capture motion shots of. My dogs get impatient after about 2 minutes. I do what I can. Next time I will try to get motion shots, which I typically do in most of these comparisons. But here's your answer - if you have good lighting - you will have no issue with motion shots in poor to semi decent lighting - smartphone cameras still are subpar, with or without OIS

I really appreciate the objectivity. Photography is very subjective, eh? It seemed to me the Iphone 6+ images were sharper overall, which seems strange since they are half the resolution (8 vs 16 MB). Both both look really good. I too would like some actions shots. Life is often on the move...
I am excited about getting one after I rob a bank or win the lottery :0

my preference is for the note not for picture taking but for me it does more of what I want on a number of area's on the picture area the IPhone did well on some the Note others

Overall, I liked your assessments on each area. However, I see several photos where the Note has blown-out highlights, yet you preferred that image to the iPhone. If the note is clipping and the iPhone is not, the Note should lose in that case, even if the iPhone is producing a darker image than you prefer.

Ally, thanks for this article! I really like how cameras are getting better every year. I'm glad we have choices.

Based on this test, I would say the Note comes out a clear winner. However, if you take one extra step, and use the auto-enhancement option after shooting, it really makes the image wonderful. Could that be considered similar to the focus effects on the Note, and therefore worth adding to the mix? Either way, that doesn't help things like the digital zoom quality, low light artifacting, or front facing camera. So, while I'm an Apple user, I can clearly see (at least in these tests) that the Note beats 'em on camera results this round.

#1 I will NEVER buy an Android phone. They make absolutely NOTHING that interests me and I prefer iOS as my mobile operating system. #2 I have iPhone 6 Plus 128GB. I LOVE the NAND flash and the amount of storage. Someday we'll all have 4K resolution and storage will be pushed to 512GB and even 1TB, but for now, 128GB is a TREMENDOUS amount of storage and I can shoot as much HD video as I want without worrying about running out of space for 5 hours.or more. #3 Samsung releases like 10 phones a year and every last one of them just doesn't interest me. To each his own. #4 regardless how many megapixels you have, the print quality is based on the DPI and quality of the printer. Most people aren't printing pics anymore and just share them via Facebook or other Social Media. No one really notices image quality on stills below 5MP. It's the VIDEO QUALITY I CARE ABOUT. I shoot 1080p 60FPS videos for my Youtube BIGTRUCKSERIESREVIEW and earn over $600 a month from Google Adsense. My 1080p looks just as good as the 4K on Galaxy cameras - only - NO ONE HAS 4K TV yet and most people have small monitors (smaller than 27") so they don't even benefit from 4K over 1080p. And let's not talk about the download bandwidth required for 4K and how most video loads slow around 720p or higher.

Gfy Posted via the iMore App for Android

You had to tell how much you earn per month?

I prefer the iPhone images in most cases. I do prefer some of the note images, and mostly, even though they are different, I'd be happy with either. I am an avid iPhone user since day 1 of the iPhone... Not a fanboy, but nots witching to a phablet just for sometimes marginally better photos. Btw, my current daily driver is an iPhone 6 64gb. Sent from the iMore App

Accidentally hit "submit" before saying thanks for the review! Sent from the iMore App

Yeah, we're definitely splitting hairs at this point.

Great review. I always look forward to your camera comparisons with other Android devices. After looking through your article the only real benefit(in my own opinion) is the digital zoom on the N4, everything else for the most part i prefer the iP6.
This is a great article that really shows you that megapixels don't always mean better. I was just talking to a guy the other day and he kept saying how the N4 had double the MP's of the iP6 so the pictures would be so much better. And I truly believe when a average Joe walks into a Verizon store they will assume the N4's camera is "double" as good as the iP6 because it has double the MP's..
I'm just going to start sending people a link to this review.
Anyways,Keep up the good work!

Of course Note 4 takes better pictures objectively. Who in there right minds would deny this?

I have both devices and this comparison pretty much confirms how I see it. In regards to the main camera, overall, I like the camera on the Note 4 a little better. The 6 Plus is a bit better in very low lighting, but the rest of the time, I'm seeing better photos from the Note 4. The front facing camera on the Note 4 is kind of disappointing me so far. I do like that it takes wide angle and all that, but the actual picture quality has not been nearly as good as it was on my Note 2, so far. The front camera on the 6 Plus seems a bit better. With either one, the front camera is good enough for what it is normally used for, but neither is going to impress anyone.

Both nice pictures. But I think the other phone really beats the other one :D (I dont want to name it)

Yes, I found the name. It's called "goStrap". I use it on both my e-reader and my phone. It definitely has stopped the dropping problem but probably just as importantly, it has given me back the use of my hand!!! They have a website but you can also get them at The Container Store. Hope this helps and best of luck!

Apple is going to have to step it up. Serious competition and in some cases better images from the Note 4. Hopefully Apple is paying attention. Sent from the iMore App

Thanks for your honest opinion, Ally! Maybe you'll get to talk about it a bit more on the next iMore show? Sent from the iMore App

Rene will quickly change the subject. He always does it when somebody praises an none Apple product or when somebody criticizes Apple.

I'm not convince about your result for those images. Check this out and source from PhoneArena.com http://www.phonearena.com/reviews/Samsung-Galaxy-Note-4-vs-Apple-iPhone-...

Thank you for a very good comparison and an honest test. I am a Videographer for the military and use my phone for taking stills while I'm shooting video. I need to have the best camera I can on my phone. I was on the fence on which to get. I went with the Note 4 because it was the one I could get before my last trip out of the country. The long wait is killer for iPhones. I know how good the iPhone has always been and I'm glad Android has a camera that good. I would like to see a comparison of some of the special modes of the cameras. I have found things like burst mode (a must have for shooting military stuff) to be excellent on the Samsung phones. Another reason I stick with them. A point to be brought up is also aspect ratio. I personally love shooting in 16:9 and can crop down if needed. Thanks again! I love my Note 4 and am waiting for the 128gb iPad to be available for T-Mobile. I want to have all the things! Posted via the iMore App for Android

I liked the review. Both phones have great cameras even though i personally prefer iphone the galaxy does a good job taking photos. If apple would increase the pixels would be great. Sent from the iMore App

http://www.dxomark.com/Phones/Apple-iPhone-6-and-6-Plus-review-Bigger-an... I wonder what the Note 4's score would be ...

I disagree with a few of the choices. I understand that my disagreement is based on my own opinion. I thought the 6 Plus did a better job in the flash and low light. I like that it brings out more details from the background and it doesn't blow out the sky. I prefer warmer pictures so there weren't many shots from the Note that I preferred. Sent from the iMore App

Hi, how about comparison with Lumia 1520? It's a phablet too.

Truth be told, I expected this article to be completely biased. I'm shocked at the level of objectivity and honesty of the comparison. Bravo Ally! Great review!

I prefer iPhone any day for shooting its the best natural camera Sent from the iMore App

your puppies are supercute :O

Really nice comparison Allyson. Quite fair. Although I have to say that on some comparisons (which you gave it to the Note 4) I preferred the iPhone 6 Plus shots and I am speaking as a Galaxy Note 4 owner. I really don't know what the real images look like, but it seemed to me that the iPhone was closer to what the images are supposed to look like. Not to mention the iPhone 6 Plus camera can fit more into the photo. In the panorama shots the iPhone 6 killed it. It's even possible to see a bit of details on the house on the other side while on the Note 4 pic, it's just a black shape. For front facing camera shots I think the Note 4 did a lot better, specially because of its much higher megapixel sensor. For flash shots neither did a great job (my opinion). It's just okay. For low light, both struggled. Although I have to say that I found the phone booth (Note 4) a bit orangish. For close-ups iPhone did a better job except it did not isolate the background very well. While with the Note 4 it was all the other way around. Zoomed in pics came out a lot better on the Note 4, which was expected. Well, I think that's it. Overall I think Apple's approach to the camera interface is a lot better than the one found on the Note 4 which offers an overwhelming amount of features which little to none manual settings. Most of the them I think I'll never use. Anyway, I hope to put my hand on an iPhone 6 Plus pretty soon so as to compare them side by side as daily drivers. Congratulations on the article. You did a hell of great job here. Keep up the great work! Peace out. :) :) :)

Thanks a lot for this review!!! It was really helpful... Great job... Great pics !!! Cheers :)

Referring to 1st picture of stairs and a door can someone explain why iphone takes wider picture than samsung? In iphone picture, on right side we see 2 windows and on left side we see the tree. In samsung it is not there as if we have zoomed the lense. According to me iphone is doing correct job as I am not missing the view. We can see the same thing in all the photos.