iPhone 7 review: One month later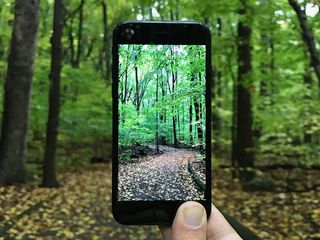 One month ago, people waited in line at the Apple Store or at home for the UPS truck, eager to be among the first to get their hands on iPhone 7. Now, having lived with either the regular sized iPhone 7 or the larger iPhone 7 Plus for four weeks, we've had a real chance to test out the new cameras, see if we could survive without the 3.5 mm headphone jack, experiment with water resistance, get used to the force touch Home button, put the new battery through its paces, and see if the wide gamut screen and A10 Fusion processor really made a difference.
So, how's iPhone 7 worked out?
Read our original iPhone 7 review
Design: Happy it stayed the same or sad it didn't change?
Serenity
I wish the iPhone 7 Plus weren't quite so massive in my hands, but otherwise, I love it. The Jet Black iPhone is the first I've used caseless in years, and it's a little bit exhilarating. Thanks to the stickier finish, I haven't dropped it yet (though I suppose there's still time, knock on wood), and it feels a million times better in my hand than the iPhone 6s Plus.
Also, the secret unsung hero of the new-old design: water resistance. I ended up accidentally walking into a torrential rainstorm over the weekend with my iPhone in hand, and initially let out an expletive — followed by the realization that I didn't have to worry about my electronics shorting. It's a welcome development.
Mikah
Look, the thing is beautiful. Expected, but beautiful. I'm sure Apple has some interesting looks and materials in the works, but I'm happy with my aluminum and glass iPhone. And hey, I went Rose Gold this time, so it's quite a change for me!
Lory
Since I've been solidly on the four-inch screen track leading up to the iPhone 7, to me, the design is a lot different. I am, however, happy with the design of the iPhone 7 Plus, which is the model I've been using for the past month. It looks good, is easy to handle, and other than its large size, is a nearly perfect phone.
Bader
Best. iPhone. Ever. Obviously. But I was more taken aback by the Jet Black iPhone than I thought: Even a month later, it stuns me — when I'm not looking for microabrasions, of which there are more than a few. Still, the iPhone 7 is a great piece of hardware, buoyed by the solid state home button, which I love, and the water resistance, which is essential. And the cameras, which I'll touch on more in a moment, are enormous improvements.
Rene
It's a rounded rectangle. It's been a rounded rectangle since 2007. It's gone to 4-inches, 4.7-inches, and 5.5-inches, it's gone to 7000 series aluminum, and gained water resistance. Maybe one day it'll be edge-to-edge screen and float, but my guess is it still won't become a triangle or go donut shaped.
Like I said in the review, human hands don't change much one year to the next, so the shapes that work best in them, once achieved, shouldn't change much either.
3.5 mm headphone jack: Disaster or non-issue?
Serenity
I put my headphone jack adapter into the wash within a week of owning my iPhone 7 Plus because I'd left it in a pocket so it wouldn't get lost and never used it. Still never had the need to use one. Bluetooth works for me 99% of the time, and the speakers are great for the other 1%.
Mikah
I had my first "Oh no! I don't have my dongle" event a couple days ago. I was riding in a friend's vehicle and I wanted them to listen to an album I was recommending. They had the AUX cord, so I thought I was set … until I remembered what phone I was carrying. The funny part is, my friend was not interested in hearing the album I was trying to play, so it worked out in the end.
For the most part, I'm fine without the jack. I have a dongle in my car, a dongle on my favorite headphones, and use bluetooth headphones or speakers in all other settings and situations.
Lory
So far, I've not had any issues with not having a 3.5 mm headphone jack. I keep my Lightning-to-3.5 mm adapter with me wherever I go, so I've been able to easily adapt to the change without any problems. I'm sure I'll accidentally leave the adapter behind at some point, but hopefully, by then I'll have a set of AirPods and it won't matter anyway.
Bader
It's been annoying on the rare days I've left the house with the adapter plugged into the rough pair of earbuds, or left unceremoniously on the floor of my office, but that's only happened a couple of times. I thoroughly dislike the design of the EarPods, which don't fit in my ears at all, so the adapter has just become a way of life; I have a pair of great B&O earbuds to which the adapter stays semi-permanently connected. I plan to buy a couple more. I dunno, it's mainly been fine.
Rene
What's a 3.5 mm headphone jack?
Kidding. Kinda. I'm sure one day, like when I'm on a plane and go to plug in my noise cancelling headphones, and realize I've forgotten the adapter, it'll bite me in the ass. And then I'll curse the turbulence of transition.
So far, though, I've been using Bluetooth — both AirPods and Bose Q35s — and it's be fine. Great, even. The lack of cords is so liberating any time I have to go back something screams deep inside my freedom soul.
Stereo speakers: Have they made a difference?
Serenity
Absolutely. I find myself using them a lot more than previously, in part to play clips for others where I would have otherwise asked them to hook up headphones. Also of note: calls over speaker sound much better than they used to, and receiving audio from an iPhone 7 on speaker also is significantly improved.
Mikah
Holy crap! Twice now I've been tricked into thinking someone's trying to call me or send me a blast of messages by the super-impressive speakers in my iPhone. They're loud, they're stereo, and they really pack a punch.
That said, they're not going to win any audio awards. They're still tinny (yes, tinny — not tiny [though they are tiny, too]) and flat compared to some really nice bookshelf speakers or even a good pair of headphones. But for what they are, they're pretty damn good.
Lory
Absolutely! Music piping from an iPhone still sounds like it is coming out of a tin can, but having stereo speakers has significantly improved what I hear. Movies and TV shows, for example, are much easier to hear and I don't have to pump the volume up to full. When playing video games on my iPhone 7 Plus, I can hear a lot of the subtle sound effects much clearer than with the iPhone SE. Some things I had never heard before, which makes for a pleasant surprise when playing a game you've played every single day for a year.
Bader
Yeah, I used to have to hook up the phone to a Bluetooth speaker to hear it in the shower (I listen to podcasts in the shower, you wanna fight about it?) and now I don't have to. That the phone is also waterproof, which lets me leave it closer to the shower itself, also doesn't hurt. There have been more than a few times that I shared a video with friends in a loud-ish room and felt the satisfaction of knowing the iPhone 7 Plus in my hand was loud enough for all of them to hear it. Those kinds of situations alone justify the removal of the headphone jack, in my opinion.
Rene
Only a lot. I watch more video and listen to more podcasts on my iPhone speakers than should legally be allowed by audiophile law, so any improvement to me is welcome. A major improvement, like having louder sound coming out of both ends is more than welcome.
Now when I watch Saturday Night Live or John Oliver explain American politics to me, or listen to the latest security discoveries or screenwriting tips, it all comes in loud and clear. And yeah, that includes Arrow and Beats 1. I am, after all, only human.
Cameras: Worth the upgrade?
Serenity
They're the reason to buy an iPhone 7 Plus. No, the telephoto lens doesn't have optical image stabilization and isn't the best in low light, but despite that limitation, it's still an incredible tool for mobile photographers. I've been blown away by early tests of Portrait mode and zoom shots, and the former isn't even out of public beta yet.
Mikah
Yes, yes, yes, yes, yes. My colleague Ren can attest to the NECESSITY of the iPhone 7 Plus camera for pet photography. My dogs have never looked more adorable than they do in Portrait Mode (or Puptrait Mode as Serenity calls it).
There are some who've lambasted Portrait Mode because it doesn't quite live up to the shallow depth of field on a DSLR, but I'm so impressed with it. Oh, and normal photos (i.e. those not using Portrait Mode) will also make your eyes drool … that's a good thing in this case.
Lory
I could honestly suggest that the camera advancements are the singular reason to upgrade to an iPhone 7 Plus from an iPhone SE. I can't believe how much better it is. I love using the 2 X zoom when I'm trying to get a live shot from a little too far away. I can get closer without seeing the grainy mess that happens when using digital zoom.
Bader
Oh yeah. The low-light photography chops alone are enough to warrant an iPhone 7 purchase, but the true master here is the 7 Plus's second lens, which has given me a new outlet for both portrait and landscape photography. I love finding new ways to use the 56mm lens outdoors, and the Portrait mode has really engaged a creative part of my photography brain. I'm excited for people to try it, though the beginning is going to be a crap-show of Instagram experiments.
I also appreciate the fact that the smaller iPhone, despite the lack of a second camera, is no longer hobbled by a lack of optical image stabilization — pound-for-pound both phones can now grab the exact same photos from the main sensor.
Rene
In broad daylight, you can get a great shot from any of the last few generations of iPhone — most modern phones in general as well. But to me, the biggest advantage of iPhone 7 is the shots I couldn't have gotten before. That includes the better low-light, where friends and family now show up at night or in restaurants where all I would have gotten before was a muddy, noisy, mess.
It also includes the 2x optical zoom on iPhone 7 Plus that lets me get closer and more personal, without getting too close or too personal. It allows for a naturalness I could never get before.
Then there's Portrait Mode, coming with iOS 10.1 to iPhone 7 Plus. It's not perfect, but it creates a feeling I've never gotten with anything but a big, expensive DLSR lens before. From the shadows to the grain, it just looks "right". And feeling is ultimately what portrait photography is about.
Wide gamut screen: Do you even notice?
Serenity
Largely when I'm watching video or editing images, but it's much like True Tone: If you don't notice, the screen is doing its job. The difference is starkest when swapping between working on an iPhone 7 and a 6s: When you compare images between the two phones — especially where reds and oranges are concerned — it's a bold improvement.
Mikah
Hmm, if I'm being honest, no — not really. I'm sure the display is far more colorful than any other display I have (save for my baby Pro), but I don't notice it. I mean, I spend most of my time on my iPhone reading walls of text. I don't open my iPhone to look longingly at photos … maybe it'll be more noticeable to me when Instagram rolls out full, wide gamut support.
Lory
The what now? Nah. Just kidding. I notice. Colors look brighter and more vivid than they ever have on any electronic screen I've spent time with. I remember the first week after upgrading to the iPhone 7 Plus, I started seeing the real world more clearly. It was as though I was noticing colors better. I know, it sounds corny, but I really did feel like the world around me became more colorful.
Bader
I have to admit, it hasn't really crossed my mind. Sure, the iPhones' screens are vivid, but because I go between using an iPhone and an Android device, usually with an AMOLED display, I'm used to saturation — just not necessarily accuracy. I appreciate that the iPhone 7 is technically more accurate, but I'm more attuned to notice when colors are off or wrong, which is more often the case on a poorly-calibrated mid-range Android phone — and there are plenty of those in my office.
Rene
Those reds. Those oranges. That magenta! It sounds trite but it's true — once you go experience wide color, you notice when it's not there. What makes iPhone 7 especially great is that it can both capture and display in DCI-P3, and iOS and macOS both manage color from end-to-end.
Dolby showed me a demo comparing 4K in sRGB to 1080p in DCI-P3. It wasn't even close. Where we are today, deep color beats dense pixels, and I can't wait for it to be everywhere.
Battery life and performance: Better, badder, or same?
Serenity
I'm killing my iPhone 7 Plus faster than I ever killed the 6s Plus, but I'm also taking an excessive amount of mobile photography thanks to the 7 Plus's camera. (Camera often takes up 30% — or more — of my battery screen.) So I'm not shocked.
Mikah
Seems to be the same for me. I will always, always, always wish I had more battery life, but my iPhone 7 Plus does a pretty good job of keeping me safe from battery anxiety. If I didn't end up having to plug it in early in the night as often as I do right now, I'd be pleased. That said, I'm just happy we're keeping things relatively the same and not losing battery life!
Lory
I can't answer this question with experience, since I'm coming from the iPhone SE. I can, however, say that I've been happy with the battery life of my iPhone 7 Plus. I've been out-and-about all day, taking pictures, playing Pokemon Go, and using Google Maps to get around and still have about 40 percent of battery power at the end of a user-heavy day. I've even accidentally forgot to charge my iPhone overnight and been able to use it for a decent amount of time the next day before needing to charge it.
Bader
Performance is appreciably snappier on the iPhone 7 Plus than it was on the iPhone 6s Plus, mainly in the areas of app start times and reloading of cached content. The 7 Plus's extra gigabyte of RAM also makes a pretty big difference in the number of tabs Safari can keep in memory. Overall, though, the performance improvements appear to be more substantial on paper than in practice.
I am still figuring out battery life: On the iPhone 7, I get about 13 hours, which is pretty much aligned with my 6s experience; on the 7 Plus, I easily get a full day with around 20% left in the tank by the time I go to sleep, which is also around the same as the 6s Plus. Maybe I'm just using the phone more, or there's an errant app sucking up battery in the background, but I'm not realizing the extra uptime promised at the keynote.
Rene
My views are skewed because the iOS 10 beta was brutal on my iPhone 6s Plus. Well, the iOS 10 beta combined with Pokemon Go and Snapchat. But that, rather than the tamer email and web browsing, is how people use phones these days.
I used to be in Low Power mode all day, every day. So much so, people made fun of me. Now I'm back to running in normal mode without a problem. I do kill Snapchat, like Facebook, the moment I leave it now, but either way I'm doing more and going longer than ever before, and that really matters to me.
Water-resistance: Has it made a splash?
Serenity
Underwater 4K photography is my secret joy when it comes to the iPhone 7's water resistance, even though it's not officially supported. I've taken some incredible water photographs and video, and it makes me long for the days when all cameras are completely waterproof and submersible.
As I mentioned above, though, the true peace of mind is being able to get your iPhone wet in the rain, or wash it off after an accidental cooking mess, and not stress out about hurting your device.
Mikah
I'm way too friggin' careful with my devices to even know whether this lives up to expectations, and I plan to keep it that way. That said, I bring my phone into the bathroom with me when I shower and on the few occasions where I've had to step out and interact with my phone for a few seconds (mom, why do you always call me when I'm showering?), I've been a little less worried about getting drops of water on the screen.
Lory
I haven't even tried to use it near water yet. I honestly don't think I ever will. I've gotten used to going out of my way to avoid bringing my phones near water that I don't know if I could bring myself to just start holding it over the toilet or carrying it in my pocket while playing in the waves at the beach.
Bader
Yes: I took the iPhone 7 Plus on a kayak trip and kept it in my pocket playing music the whole time, and have the lake must have splashed onto without a problem. It was the perfect test case, and a fairly common situation (for a Canadian, anyway).
Rene
To be crystal clear, Apple doesn't cover water damage under the standard warranty. So, iPhone 7 water resistance is meant for accidental exposure, not for steady shark diving.
That said, while testing it out, I've exposed iPhone 7 to splashes, sprays, dunks, and water drops, multiple times and it's just kept on going and going and going and… you get the idea.
I love to walk in the rain, so to be able to do that without a care in the world has been great.
New home button: Improved or wrecked?
Serenity
Long live the new Home button. I understand where the old button folks are coming from, but to me, the 6s's Home button now feels far too squishy — and vulnerable, quite frankly. The new Taptic buzz is a delightful hint of the future, though I do wish it was a little bit more pronounced when the iPhone sits flat on a table.
Mikah
The Home button on my old iPhone 6s is so mushy and gross! It took me a few days to get used to the haptic feedback of the Home button, but now I wouldn't have it any other way!
I have my Home button set to the second setting and it feels great! I think the longer adjustment period has been me trying not to forget how to reset my phone on the rare occasions when that comes up.
Lory
It's one of the features I like to show people the most. I think it is incredible how Apple made a home button that isn't actually a button. It seems kind of like magic! I love putting a piece of cloth across the Home button and asking my friends to press it. They always look at me funny, but I'm super impressed. I can't wait to see what's in store for the future of the Home button. I just know Apple is getting us ready for something big that has to do with getting rid of the Home button entirely, or something just as outrageous.
Bader
It's probably my favorite aspect of the new phones, and it's very clear that the new iOS 10 lock screen behavior was designed with the iPhones 7 in mind. My mind took a day or so to adapt, and now I can't go back; the buttons are responsive, clever and satisfying, and that Taptic engine powering it is put to good use elsewhere in iOS 10. I can't wait for more apps to take advantage of it.
Rene
I don't mind the new Home button at all. It feels crisper to me on iPhone 7 than iPhone 7 Plus, but it works fine and is far more flexible than the old mechanical button ever was. I also love the new Taptic engine, which seems far more accurate and focused at placing haptic feedback into the app interface. I don't just see what's happening now — I feel it.
The only downside for me is that the Taptic Engine still isn't as loud as the old vibration motor, which means I have to remember to switch the ringer back on if I'm away from my iPhone and don't want to miss any calls or messages.
That said, I think the Taptic Engine will end up being the best feature that flew under the radar at launch.
Bottom line: How's iPhone 7, one month later?
Serenity
It's my first iPhone where having the Plus size feels justified. The camera improvements alone would sell me on the device, but the wide color screen, Jet black finish, and Taptic engine round out the package in a magnificent way. The phone isn't perfect: The size is still too big overall for my hands, the battery could definitely last longer, and I miss the iPad's True Tone screen improvements. But it's probably the best iPhone I've ever owned, and a great roadmap for the future of Apple's smartphone.
Mikah
Look, I was going to be upgrading to the iPhone 7 Plus no matter what … I upgrade every year, because I'm a ridiculous tech lover. That said, this phone was totally worth the upgrade for the camera alone. Add to that the speed of the phone, the sound of the speakers, and all the fun new haptic touches, and you've got a damn good iPhone and a superb smartphone. I love this phone — no headphone jack and all!
Lory
I have mixed feelings about how I feel about the iPhone 7 Plus. On the one hand, it is a huge hardware upgrade over the iPhone SE. On the other hand, it's just huge. I'm having a lot of fun playing with the super-duper camera and I love how clear and bright the large screen is, but I'm not sure I'm going to keep it as my main device for much longer.
Bader
It's a fantastic set of phones, and an essential upgrade for someone coming from the iPhone 5s or 6. I don't think it's a huge departure from the still-great iPhone 6s, but the little updates add up to a big, unified improvement. I'm glad the headphone debacle has quieted, and we can look forward to Apple's hardware innovations revealing themselves more thoroughly in software updates, like Portrait Mode on the 7 Plus, and the new Haptics API that developers are surely already experimenting with.
Rene
iPhone 7 and iPhone 7 Plus — I've been alternating between them but favoring the Plus — are phenomenal phones. The camera alone continues to delight me daily, and the Taptic Engine is something I think will be appreciated more and more as clever software that takes advantage of it begins to ship.
The screen resolution remains low, though, and focused on battery life rather than pixel count or density, and some people just won't be able to get over the lack of a 3.5 mm headphone jack.
If you already have an iPhone 6s, I'm still convinced you only need to upgrade if the camera or water resistance are must haves for you. But if you love iPhone, you're really going to love iPhone 7.
Get the best of iMore in your inbox, every day!
Rene Ritchie is one of the most respected Apple analysts in the business, reaching a combined audience of over 40 million readers a month. His YouTube channel, Vector, has over 90 thousand subscribers and 14 million views and his podcasts, including Debug, have been downloaded over 20 million times. He also regularly co-hosts MacBreak Weekly for the TWiT network and co-hosted CES Live! and Talk Mobile. Based in Montreal, Rene is a former director of product marketing, web developer, and graphic designer. He's authored several books and appeared on numerous television and radio segments to discuss Apple and the technology industry. When not working, he likes to cook, grapple, and spend time with his friends and family.
But is the upgrade from a 6s Plus justified (real world use)? That's the question. Sent from the iMore App

Generally, probably not. The iPhone 7 is a great phone and a great upgrade, although it probably doesn't have enough significant changes to warrant replacing a 6S. If you have an iPhone 6, it'll be worth it

I agree 200% Sent from the iMore App

From all the reviews that I have watched on Youtube.com they all say if you have a 6s Plus just stick with that once and do not upgrade. but for people like me who do not have an Iphone it is a grate upgrade.

If you want the dual cameras, yes. Otherwise, probably not, unless you have problems (not enough speed or RAM) with what you do with the 6s Plus. I can't WAIT to get mine, but I'm upgrading from 6 Plus to 7 Plus.

If you are on an AT&T Next type program (Apple upgrade program) and use your iPhone 6s Plus as your primary camera, I would recommend the upgrade. The base camera is better than the my iP6s+, and the 2X lens is amazing in everything but low light. Another note, they are somehow combing pixels in those two cameras when using digital zoom, because i get far better 10X pictures than I ever did from anything but the Lumia 1020.

I would say that it isn't worth the upgrade even coming from an iPhone 6. The reason, I expect next year's phone to be much better than the 7 and wouldn't want to be locked into a 2 year agreement/purchase plan/etc when next years phone comes out. Sure if you're a tech geek there are some nice features but for the majority of iPhone users, meh.

2 year agreement - dude - sim free. Costs less in the end.

I think so. I upgraded from the 6s Plus and I think it's completely worth it!

Loving everything about the upgrade from 6 to 7 plus. I am surprised the the plus is feeling like a normal sized Iphone in my hand now and have gotten used to the screen size. The one thing, that I hope today's IOS update fixes, is the choppy bluetooth (or cell signal?) audio I get when connected to my Motorola speakerphone. I have an older car with no connections, so I use the FM modulator in my speaker phone to listen to music in the car.

I had a lot of problems with bluetooth, but they mostly went away when I installed the 10.1 beta. Still have a few glitches, but I hope they're fixed in 10.1 release.

I listened to 3 songs straight on Spotify last night w/o any hiccups after the update. Maybe its fixed.

1) screen of the iPhone 7 plus is OK nothing more
2) camera ? yeah amazing and would buy it again because of that
3)headphone jack? oh yeah never really used it after i did not have it anymore. i was one person that complaint about the iPhone a lot but since i gave it a fair try i am happy with it. because you guys are fun to talk to and the whole community is just awesome. thanks

Actual reviews and analysis make it clear that the screen on the iPhone 7 (or 7 plus) are more than just "ok". Perhaps you're the type that thinks all screens look the same or that things like color accuracy doesn't matter. Maybe you're impressed with the over saturated screens that you may be accustomed to?

well spend some time with the galaxy s7 edge and the screen is way better and not only movies or pictures. even games and apps looks better. before people now come and say the iPhone has a better battery life ... no galaxy battery life is also very solid. not sure why apple did not change it. is about time to step up or they will keep all good features for next years model

I agree with jayzero76 on the screen score. I had the Galaxy Note 7 for two weeks before they snatched it from my hands, and that 5.7" Super AMOLED screen is to die for. Can't wait to see what Apple does with one in the iPhone 8 Pro next year - how about a 5.7" ALL SCREEN device with no bezels - come on Ive and Schiller, you can do it!

If super saturated was to die for, yes.. Haha jk

I believe the iPhone 7 is just not enough and that's why nobody buys them however the plus is the iPhone to go for. Do not tell me you can not go in an Apple Store and grab a iPhone 7. They are not sold out anywhere. Sent from the iMore App

One problem with the screens in the plus models is that they have to downscale a lot of what they display. For example icons for the larger phones are required to be at 3x resolution, which assumes a screen resolution of 1242x2208 pixels. However the physical screen is 1080x1920 so the iPhone needs to downscale them slightly (by about 13%) for display. So not only is the resolution lower than the competition but a lot of the images that it shows are very slightly blurry because they have been downscaled. As a developer it is annoying when you spend ages drawing an icon and then it doesn't look quite as good on the physical screen. Admittedly the screen is high enough resolution that it still looks good, but it isn't a perfect copy of the icon like it is on the smaller phones. I assume Apple have done it so that 1080p movies are shown on a 1080 screen, but apps lose out as a result. It's not a big issue but may explain why some people don't rate the screen.

I still see some games they are so bad and made for the iPhone 6s. Sent from the iMore App

I know that next year iPhone is rumored to switch to AMOLED, but it's something I'm looking forward to with some trepidation. On one hand, there's greater saturation and more contrast (and some energy savings), but on the other AMOLED is subject to screen burn-in and finite life (the blue sub-pixels tend to burn out after some time). It's like the transition from rotational spinning hard disks to SSDs; more performance, but limited lifespan. I'm not sure how much I'm looking forward to this especially with individually calibrated IPS LCD screens with much wider fields of visibility. In my household we've traditionally kept smartphones and passed them down over time. Maybe my decision to go with Apple's upgrade program will make this point moot.

I agree the camera on the 7+ have been impressed with pictures from it over and over. upgraded from the 6+ to 7+ and it was well worth it the smoothness & operation Sent from the iMore App

I came from Android where I was using the LG G4 handset, a device with a well-regarded screen... 1) I've noticed the iPhone screen is outrageously bright in comparison, and the white balance is completely different. Overall, I'd say the colours are more accurate than the LG, but not quite spot on. 2) The camera leaves me with mixed feelings. Colour reproduction is very good, and low light images are not too noisy, but there is a LOT of compression. Close ups of the pelt of my creatures reveal a lot less detail than images taken with the LG G4. Using a 3rd party camera app produces much sharper images. I undertook a quick test - same subject and scene
photo taken with stock iPhone camera app: 870kB
photo taken with 3rd party app: 8MB (set to high quality)
photo taken with LG G4 stock camera app: 5MB (set to 95% quality) [this is a 16MP 16:9 image] I uploaded the 3rd party app image to Google Photos to see by how much it would be compressed; it shrunk to 1.5MB. So, I've been somewhat disappointed with the camera. I'd like an option to change the amount of compression. 3) The lack of headphone jack doesn't bother me. I don't use the phone for listening to audio. Even if I did, the adapter would do the job.

My biggest gripe is the lack of headphone jack. Everything else looks inviting... What am I supposed to do when I'm traveling, watching or listening to something on the plane and have to charge? I used to just plug in my power pack and keep on going. Now I get to plug in the power pack, then chill until it charges. That, or drop another $300+ to replace my (year old) Bose QC20's

There's a ($40) dongle for that. Posted via the iMore App

Same concerns here plus many others having to do with the Headphone jack removal. I have decided to stick with the 6S Plus. I don't need to start having to carry a case full of adapters. If we have to carry adopters and dongles then the phone is no longer an all in one device like it used to be.

The adapter is only there until headphone manufacturers start developing Lightning/USB-C headphones. Of course I'm not saying you have to upgrade when they come out, but that's just how hardware moving forward works. Adapters are for using old stuff with new stuff, eventually when you're using all new devices there are no adapters

That will be great when nobody uses the 3.5mm jack anymore and there are working alternatives but that day is in the future and I have to use my devices now.

The floppy drive was removed from Macs when people were still using it, it had to be done to push things forward. This is no different

Actually as this thread is discussing there is no way to charge the phone and use wired headphones at the same time since there is only one lightening jack. So a Dongle is necessary and might always be necessary to use the iPhone 7 .

Unless you're using a portable battery pack, chances are that while you're charging you're tethered to a desk anyway. If that's the case, buy a dock and use the headphone jack on that. It make syncing easier and more convenient too.

Agree /s. In fact buy several docks. One for the car, the office, school, etc. Lol Posted via the iMore App for Android

When I said get the new headphones it wasn't for compatibility but to let me listen to music (via Bluetooth) while the lightning jack is tied up charging the phone. These adapters that everyone's talking about, we're referring to regular lightning to 3.5mm right? They haven't come out with something that lets me use corded headphones AND charge the phone at the same time, have they?

Ok, 99% of this "review" is biased. No comparison to other phones and the way they talk about the improvements it's like they never noticed the iPhone 6 and 6S had almost the same features. And before anyone says anything about Samsung, I'm an iPhone user. Sent from the iMore App

"And before anyone says anything about Samsung, I'm an iPhone user." Which apparently validates your comment regardless of what you say. This article isn't about comparisons to other phones, you're on the wrong article for that. Also, there are a lot of new features, what are you talking about?

This machine is top notch, if I had the 6s Plus I will not get the 7 Plus.
Upgrading from 6 to the 7 will be the better idea.
More Rams, much better camera specially the F-stop, 3D Touch can be handy sometimes, water resistant, the new home button, getting cheaper more storage for the same price...
Typing this on my Matte black 7 Plus 128 GB Sent from the iMore App

My black, 128Gb, iPhone 7 Plus will be delivered this week. Got the tracking number the other day.

Not getting mine until November 18th. That 60% yield rate for the Jet Black is keeping me in the dark about what all the fuss is about. 5 more WEEKS to go! Ugh!!!

So the culling of the 3.5mm jack isn't a problem because you all remember to carry an adaptor around with you? For me that is a massive black mark on the 7. I've "inherited" a 7 from my wife as she cannot use it due to poor circulation to her hands (she suffers with Reynaud's) and being forced to carry an adaptor is a pain in the proverbials. Bluetooth headphones are not an option for me as any with decent quality do not have enough battery life to see me through my near four hour commute and use at work. Plus if I want to charge the phone on the way home (which I frequently do, the battery life on the 7 is mediocre at best) I'll either need to unplug the headphones or buy an adaptor. Posted via the iMore App

Yeah, most people remember to carry the adapter because they plug it into the headphones or leave it with their headphones so they remember to pick it up. Are you trying to blame the phone for your forgetfulness?

No, I'm trying to blame Apple for making me carry an adaptor.

I agree. Why should we need adapters?

Well you don't need adapters if all the technology you use is from the same generation. Using headphones via Lightning/USB-C is the next step forward, adapters are for using tech from the previous generation with the current generation, you should be glad they exist, and also that Apple gave you one for free with the phone. Soon headphone manufacturers will make Lightning/USB-C headphones, and then when people start inevitably buying them they won't need adapters anymore

How do you charge the phone and use wired audio out at the same time? There is only one Lightning port. A Dongle will always be necessary until they implement wireless charging which I doubt will work on the iPhone 7.

I don't think they see what we're saying...

If Apple used USB C on the iPhone then at least they'd be a bit of continuity across their product portfolio. As it stands I need one adaptor for my MacBook and one for my iPhone. And if I go down the Bluetooth headphones route, a micro USB cable to charge the **** things.

When Apple invented lightning, there was no such thing as USB-C. Theirs was the only reversible connector out there. Are you saying they should've removed the headphone jack *and* replaced lightning with USB-C all at the same time? So they could upset not only the analog audio guys, but the ones with the foresight to go digital as well?

Ok so you're trying to blame Apple for your forgetfulness, same thing…

For my new iPhone 7, I immediately went looking for a compact, over the ears, affordable wireless headset. After a lot of research, I bought a 66 Audio BTS+ Over the ears sport headset for $49.99 from Amazon. They connect around the back of your neck, are very compact (fold up nicely), have terrific sound with quite decent bass, and have 25-hour in-use battery life. So I happily don't need to worry about the adapter.

Mr. Jedi, Move near your job your polluting the planet, unless you drive a TESLA.
Buy some good noise canceling SONY headphones and an extra adaptor.
You drive 960 hours a year! Do you think this makes sense? By selling your home
and not driving you will have more time to help your wife. You have Options If only you had a brain your life would be much better. I was a commuter Zombie for a very short time and thought how stupid it was to burn out a New Honda Accord and Camry in a few years. Look around at the other Zombies driving like circle jerks in their painted ponies. You needed a wake up call and I am here to help. Take Care my Zombie Brother. P.S. Don't blame your dumb decisions on my favorite iPhone 7+ Blame your Zombie Brain

Hm. I'm as much an all-in Apple guy as anyone (5 macs, 4 iPhones in my house), but I'm underwhelmed by the upgrade from 6S+ to 7+. Battery life sucks, and it takes forever to charge (and I know how to optimize usage). The headphone jack is a complete and total unrelenting nuisance. To get charge, GPS and audio in my car, had to wait for the 1st gen of multi-adapters, and the one I have will play audio and turn on the charge indicator, but can't keep up even with a power cable and high amp car charger that otherwise charges quickly. If you use a lot of music apps, these don't work well with Bluetooth, so find another dongle. The home button drives me nuts, and I'm constantly activating Siri when I don't want and doing other odd activation things that add keystrokes to opening the phone. Camera, screen and performance are great, but for me, well, I'm not used to being so annoyed by a new version of an Apple product. If Apple does end up removing USB and 3.5mm jack on the new Mac, I'll be keeping the current mac's as long as I possibly can. Already I have to carry a suitcase full of dongles and adapters on business trips. Euch.

You can charge the iPhone quicker with an iPad cable if the charging speed isn't good enough for you. In my car I use Bluetooth to play audio, so I can still charge my phone. I've not had any problems with Bluetooth and music apps but I can't speak for everyone, if you are having issues then it will be fixed in an update and is probably something that broke with iOS 10. Again, not had problems with the home button myself, and if many people are having issues with it it will get fixed in an update. The new home "button" means that they won't break nearly as easily anymore, which is incredibly welcome, I'm sure they will tweak it to work well if people are having issues. It's inevitable that Apple will remove the 3.5mm jack on the Mac, why would they remove it from the iPhone and not from the rest of their products? I think it's a silly attitude to have that you're just going to "hold on" to your Mac, because you're going to be holding onto it until it breaks and then you will have to buy a non-Apple laptop if you want a headphone jack, providing that other manufacturers haven't already removed the headphone jack by this point. I don't know what adapters you're carrying, but the only adapter I'm using with the iPhone 7 is the one that came with the phone, nothing else, not a big deal for me

Go into Settings>General>Accessibility>Home Button and turn on Rest Finger to Open. That'll make it so you can raise to wake and just lay your finger on the home button to unlock it. For battery, I've gone through General>Background App Refresh and turned off anything I don't want running in the background, but that's about as far as I'm willing to go to preserve battery. I find features like Raise to Wake too valuable to cut it out of my life. Oh, any while you're at it - if you're eyesight isn't what it used to be (like me), go into Accessibility and turn on the magnifier. A triple tap on the home button will bring up an electronic magnifying glass :-).

"human hands don't change much one year to the next, so the shapes that work best in them, once achieved, shouldn't change much either." The only common sense rene have said in a while Sent from the iMore App

Rene has plenty of common sense, I don't see what you're getting at?

The iPhone 7 is the most expensive update and least loved iPhone I have ever owned. So far I am out about $27,100 and have still lost functionality over my 6 Plus. First, it didn't work with my old car so I had to buy a new car. If you listen to audio books while you drive with GPS, the only way that worked right was AUX audio, and the iPhone 7 can't have audio and power at the same time so with GPS on the battery wouldn't last a whole trip. If you use Bluetooth, when the directions pause the audio it mutes the sound so you don't hear the directions. If your CAR has built-in bluetooth, the phone refuses to open apps with voice commands when paired to a car. Siri just says "I am sorry, I can't do that when you are in your car." So you need a car with CarPlay. The only problem is that the only nav that works is Apple Maps, which pretty much doesn't work after 5pm because it changes to "Night Mode". What ignoramus thought that when you are driving at night you want a dim, low-contrast, unreadable map display? Because of the fake home button, the iPhone 7 will not work in any of my waterproof underwater cases. No more underwater photography. Also, no more listening to audiobooks in the hot tub because there is no way to unlock the phone in the waterproof case. Or in any sport band. At night I like to play a card game to relax or listen to a book until I fall asleep. But you can't charge and listen to earpods, unless you use the dock. The dock is a real pain to use while playing a game, and almost every night I pull the phone off of the nightstand because it is so unstable. I had to buy a new car with CarPlay.: $25,500 (although I do love my Chevy Cruze). iPhone dock: $60. New case: $40. Oh yes... and the iPhone itself $1500. I hope the camera is worth it.

So that's the price of "courage".

Love these posts with the different opinions. Plenty of personality and some really great takes. Thanks all!

My biggest complaint about the Lightning earbuds (about the iPhone 7 at all) is that I can't unplug the earbuds and plug them into my iPad or my Mac as I have often done with my old earbuds.
I don't like having to change earbuds when I change devices.
Hope this will be fixed soon. Sent from the iMore App

It'll be fixed when you give Apple your pound of flesh and buy a pair of Lightning enabled Beats cans (or for superior fidelity, two actual cans and a length of twine).

If you're suggesting that Beats pump out well balanced music then you've taken fanboyism to new heights or are a cloth-eared nincompoomp.

No, I agree with you on Beats. But Apple don't want a pound of your flesh. There will be other companies selling Lightning headphones too

The trouble with Lightning is that it only works with iPhone and iPad. If Apple plonked a Lightning port on their Mac range at least headphones with this connector would be more useful. The ideal solution would be USB C on iPhones but that's wishful thinking on my part.

Wishful, but certainly not impossible considering that the MacBook (the fan-less one) has a USB-C port. I agree with you that Apple should be using USB-C on all their devices

How does the new Home Button work when you wear gloves? Sent from the iMore App

http://www.imore.com/iphone-7-home-button-works-fine-capacitive-gloves

It works with some capacitive gloves, not all. The pair I own work fine with the screen but not the home button. If you just want to access the locks reel to check on notifications and such, then the power button allows you to do this.

Don't have one. Just believing that one will drop from the sky with 128GB storage. Isaiah Heart.

Day1 - Battery life sucks! 80-to 40% in 4 hours, no confidence in battery as primary phone at huge cost almost 1000$ over $760. I expect more from battery.
Day 2 - using only phone for "telephone" and 12 hours later almost 30% on slow day off from work minimal use of phone - less than normal. Shame on apple!! Can't believe this market of racketeers- I'm not liking it?!

What's the purpose of all those gb if battery sucks! iPhone 7 could've kept the 4s

The battery problems are more likely due to the recent release of iOS 10. I'd see how the battery handles when the next update comes out

I'm really impressed with the picture quality on this iPhone. I would love to have the opportunity to put it to the test myself. I really can't wait to get one for myself.