iPhone 8 vs iPhone X: Which should you buy?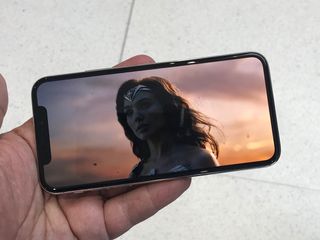 (Image credit: Rene Ritchie / iMore)
The third iPhone in Apple's lineup this year is about to arrive. Pre-orders for the iPhone X start on October 27 at midnight PST, with the first devices shipping on November 3.
If you've been waiting for an iPhone X, congrats: The wait is almost over. But what if you're still conflicted? After all, Apple has two other perfectly good new iPhone models on sale right now in the form of the iPhone 8 and 8 Plus. Are there reasons to go 8 instead of X, or X instead of 8? Let's take a look.
Why you should pre-order an iPhone X over an iPhone 8 or 8 Plus
Leaning toward the iPhone X over an iPhone 8 or 8 Plus? Let us help push you over the edge.
Even with the notch, the iPhone X Super Retina display is, well… super
OLED screens are easier to read in sunlight, crisper, and provide an even nicer reading and watching experience than LED. They do have their problems, but Apple appears to have worked out most of those kinks with its Super Retina display. The iPhone X's display supports True Tone, wide color, 3D Touch, and HDR at 458 PPI (pixels per inch) — it's the densest iPhone screen out there, and movies look incredible. You can check out our comparison chart below:
For more information on the iPhone X's screen, I recommend reading checking out PixelCut's master chart on all things iPhone resolution.
The TrueDepth front-facing camera will change how you use front-facing photography
Forget how cool Face ID is for a moment: The TrueDepth camera rig behind it is much cooler. Not only will it be a huge boon to AR experiences like Animoji and Snapchat's face filters, but the potential for what third-party developers can do with the sensors is super-exciting.
The camera also creates amazing selfies thanks to TrueDepth making both Portrait mode and Portrait Lighting available; if anything, Portrait mode looks better on front-facing snaps than it does on rear ones, because the scanned depth map from the TrueDepth's sensors is better than the depth map created by the two iPhone rear camera lenses.
Face ID is pretty cool, too
Face ID may feel a little too far out even for Apple's iPhone of the future, but its implementation is solid. The company has built the system to recognize you no matter how you change — hats, glasses, sunglasses, scarves, beards, burqas, caps, wet hair — or what time of day it is. (And while it wasn't outwardly stated during Apple's presentation, it's worth noting that most Face ID examples shown were for people of color; Apple is clearly aware of the failings other face recognition systems have had in the past.)
Your face data is also kept entirely locally on-device in the Secure Enclave, so you don't have to worry about Apple's iCloud servers saving copies of your facial recognition data for hackers to snatch away. And on that note, apps that use the Face ID camera system only get depth data, rather than a full facial scan, for further privacy.
There are several smart touches built into Face ID: Contextual notifications allow for privacy on your lock screen, but expand fully when you look at the display (taking a page from the Apple Watch's raise to expand notifications option). Face ID is also built with multiple accessibility settings to allow users with disabilities to properly use the feature even if they have issues with motor control or gaze tracking.
If you're worried about someone forcing you to open your iPhone, Face ID is also built to quickly fall back to passcode-unlock only. You only have to quickly squeeze the side button and volume up in the event that you're asked to hand over your phone, and your device will automatically lock.
If you like the iPad Pro's gesture-based navigation, the iPhone X's swipes and flicks will make you feel right at home. Even with limited time testing the iPhone X, using it felt eerily natural after a few minutes; double-pressing the home button to multitask instantly felt archaic after using the iPhone X's bottom swipe up gesture.
The iPhone X has better low-light options for portrait photos
While both the iPhones 8 and iPhone X get Apple's new and improved image signal processor (ISP) and Slow Sync flash, and the iPhone 8 Plus and iPhone X both get Portrait Lighting on the rear-facing camera, only the iPhone X gets a better telephoto lens.
The iPhone X's lens for portraits now sports an f/2.4 aperture in comparison to the 8 Plus's f/2.8 — a significant boost in letting light hit the sensor — and it's now optically stabilized, too. (On the iPhone 8, only the wide-angle lens is optically stabilized.)
This is a huge deal when it comes to shooting nicer low-light portraits and images with the telephoto lens, especially when paired with the new software improvements Apple has made.
Steel is nicer than aluminum
The iPhone X has anodized/DLC steel sidings in comparison to the iPhone 8's aluminum edges. Not only does it give the X a classic iPhone look, it also gives the smartphone an edge of security — I feel a lot less scared to drop my phone with a steel edge redirecting force.
Why you should buy an iPhone 8 or 8 Plus over an iPhone X
If you're considering one of these three devices, what makes the iPhone 8 or 8 Plus more appealing than pre-ordering an X on Friday?
You can get an iPhone 8 sooner
If you're suffering through a lagging iPhone 5s, broken screen, or other painful day-to-day relationship with your iPhone, you may not have the patience or inclination to wait until early November — or later! — to get a new device. Though the iPhone X goes on sale November 3, rumors peg it as being extremely supply-constrained (AirPods-style — or worse). If you don't place an order at exactly midnight on the 27th, chances are you might be waiting quite a while for an iPhone X of your choice.
You can get an iPhone 8 more cheaply
The iPhone X starts at $999 unlocked for the 64GB model; in comparison, you can pick up the iPhone 8 in the same storage configuration for just $699, or $799 for the iPhone 8 Plus.
That's a lot of money. Money you can do a lot with…
PSA: The new iPhone costs $999.

The entire Cracker Barrel menu costs $887.71

...make smart choices.PSA: The new iPhone costs $999.

The entire Cracker Barrel menu costs $887.71

...make smart choices.— Lo (@laurenelizlane) September 13, 2017September 13, 2017
In seriousness, most users aren't going to pay for an unlocked device; they'll instead pay a monthly fee through their carrier or upgrade program, and that's likely to increase $5-$15/month depending on what phone they purchased previously. But even the price of a fancy coffee or lunch can cut into people's budgets, and if you don't need the iPhone X's features, you may not want to spend the extra clams.
The iPhone X's new biometric security system, Face ID, has gotten a lot of press over how it works, but also a lot of worry. While most of this is understandable but unnecessary anxiety, it's understandable if you'd prefer to stick with Touch ID while Apple works the kinks out of its newer system.
You need a great camera, but don't need the fanciest model
The iPhone 8 and 8 Plus take incredible photos thanks in part to Apple's new image signal processor, which uses machine learning and sensor data to pre-track potential movement and provide crisp, clear photos of motion scenes like sports, pets, and more. That same ISP also offers less noise in low-light scenarios and helps power the 8 Plus's Portrait Lighting feature.
The iPhone X has a better implementation of Portrait Lighting thanks to its improved telephoto camera, and its Face ID camera rig also offers users a superior selfie experience. But you might not need all that extra tech — you might just want great photos. And great photos is what the iPhone 8 and 8 Plus will take.
The iPhone X is only coming in silver and black this year, while the iPhones 8 come in silver, gray, and a new copper-style gold. That gold is one of Apple's best anodization options yet — a pale rosy two-tone look that glows in the light. If you'd prefer the gold look to a full-size iPhone X OLED screen, you're going to want an iPhone 8 or 8 Plus.
Which iPhone are you getting?
Let us know below.
Master your iPhone in minutes
iMore offers spot-on advice and guidance from our team of experts, with decades of Apple device experience to lean on. Learn more with iMore!
Serenity was formerly the Managing Editor at iMore, and now works for Apple. She's been talking, writing about, and tinkering with Apple products since she was old enough to double-click. In her spare time, she sketches, sings, and in her secret superhero life, plays roller derby. Follow her on Twitter @settern.