iPhone + Antarctica = A photographer's match made in heaven ❤️📷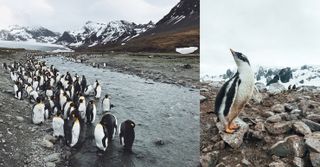 When photographer John Bozinov first learned that he would be spending two months in Antarctica on the Antarctic Peninsula at the end of 2016, he knew it was an incredible opportunity to take some pictures.
The problem was that the big fancy camera he would normally shoot with probably wouldn't fare all that well in the sub-freezing temperatures.
Now you'd think that without a DSLR camera, a nature photographer is SOL, right? You've probably heard the phrase, "the best camera is the one you have with you", and so Bozinov starting to shoot with his iPhone 7 Plus.
What do you think?
Are you a big fan of iPhone photography? Or do you prefer a DSLR? Let us know what you think in the comments below!
Get the best of iMore in your inbox, every day!
Cella writes for iMore on social and photography. She's a true crime enthusiast, bestselling horror author, lipstick collector, buzzkill, and Sicilian. Follow her on Twitter and Instagram: @hellorousseau
My only comment is how awesome those photos are. I'd love to have one of my voyages take me to Antarctica one day. A truely amazing place.

Talking about photos, Lumia 950 XL still my favorite.

Nokia put fantastic cameras on their phones, it's just a shame they get ignored because of Windows Phone. It'll be interesting to see what happens when Nokia start releasing Android devices

Great article! I definitely loved the photos.