The iPhone Blog Week in Review for January 12, 2009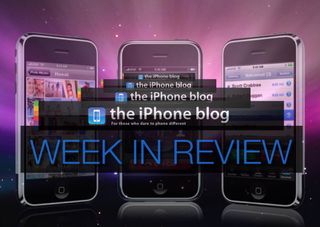 Every week I will be bringing you what I think are the week's biggest stories and articles. Let's get started, after the break!TiPb at Macworld!
There is a LOT of content from Macworld this year! From photos to news, there is just too much to post here for a round-up. Instead, check our our tag for Macworld 2009 here. In the meantime, checkout our liveblog of the event!
iTunes goes DRM free!
Ah, the moment many of us have been waiting for; DRM free songs and music videos on iTunes. Of course, for me this is a little too late. When I had a PSP, this would have been really useful. But now, with the iPhone and iPod Touch, it doesn't really matter to me anymore. What do you guys think? Are you putting your music and videos on other devices outside of the Apple ecosystem? Look forward to a post very soon about upgrading your library to iTunes+!
Finally, I can download songs over Wi-Fi, 3G and EDGE!
There have been time, albeit not many, but times none-the-less where I wanted to download a song into my iTunes library over the air (OTA). Now, I can with Macworld's recent announcement of OTA downloads. My biggest issue with this now is that I would prefer to keep my 128kps encoding, 256kps makes the files just too big! Apple, give me an option! So, instead I am working on an Automator workflow to auto-convert my songs when they are synced over.
iPhoto '09 "Video" slideshows come to iPhone
That is right! Now those killer slideshows you create in iPhone '09 now can sync over to iPhone. That is cool! These slideshows are cool!
iPhone 101: adding an appointment
What is that you say? You don't use the calendar on the iPhone? Well have no fear, here is the latest in our iPhone 101 series: Add a Calendar Appointment.
Review: Smartphone Experts Screen Protectors
Brian tells us what he things of Smartphone Experts iPhone screen protectors. Read on to see what he thinks!
Palm announces "Palm Pre", yess, like "tree"
I love Palm almost as much as I love Apple. But I have to admit, I am a bit disappointed of the blatant rip offs the iPhone Slider, err, I mean Palm Pre makes. Multi-touch, GPS, 8GB, proximity sensor, accelerometer, hmm, sound familiar?
Next gen of iPhones to be super-duper fast?
Well, that is what the Internets are a' sayin'! iPhone 3.0 will support Quad-Core Processors are on their way! What does this mean? Well, it means wicked fast HD capable iPhones! Not to mention what it will mean for iPhone gaming...
Ever want to send that killer pic you just took? Well look no further than our recent how to. Looking for more iPhone 101? Click here for more articles!
Review: Case-Mate Hipster
Looking for a new hip case for your iPhone 3G? Take a look at the hipster from case-Mate! I liked it, you might too!
Confrimed: iPhone life-cycle is June-ish?
Well, Phil Schiller let the cat out of the preverbal bag by telling David Pogue that the iPhone timeline is in June for any announcements. Wow, didn't know that...
iPhone 101: Email as MMS!
Well it is not MMS, but you can send it as MMS. Jeremy tells us here, very clever! Read more iPhone 101 articles here!
Rumor: AT&T considering $10 tethering plan?
Oh man, I really hope this is true! If it is, sign me up! This is much more agreeable compared to the rumored price os $30 a month! This will be so helpful for me when I am not near Wi-Fi (which believe it or not, is quite often! Not all of us live in San Francisco or New York City!).
Get more iMore in your inbox!
Our news, reviews, opinions, and easy to follow guides can turn any iPhone owner into an Apple aficionado
Software trainer, blogger and mobile technology enthusiast living in the suburban Midwest.