Why won't my iPhone or iPad case work with this cable?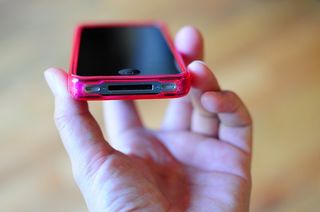 Why won't my iPhone or iPad case work with this cable? is one of the questions we're being asked a lot lately. A naked iPhone can pretty much fit any sync, charge, or media cable you connect it with at home, at work, or on the go. When you start introducing some types of cases, however, and add in different kinds of cables -- all bets are off.
The USB to Dock cable Apple includes with every iPhone and iPad box is typically razor thin. It just has an incredibly small profile and will generally fit almost any case you throw at it. [Cheap plug: the Apple USB cable with AC adapter is 50% off right now at the iMore Store]
Other cables, especially when you get into things like car or video connectors can be broader, thicker and fatter. Maybe it's a lack of forethought, maybe it's a matter of shielding, maybe it's both.
If your iPhone or iPad has a skin shield, it's basically the same as being naked and not a problem. With cases, your mileage will certainly vary.
Many of the very light, thin cases, especially where they have very large cutouts around the dock, aren't usually a problem either. It's when you start getting into the thicker, more protective cases that are cut tighter around the dock that there starts to be a problem. Namely, the thicker cables don't fit.
In an ideal world all cables would be as thin as possible and all cases would have the ports cut as wide as protection allows. In the real world, here are your options:
If you want to use one of the cases that offers better protection try to get as thin a cable as possible.
If you want to use thicker car, media, or other cables, get case that's cut as wide around the dock as possible.
The same rules can apply to some cases when matched with some headsets as well. It's a mix-and-match game that accessory makers have forced onto iPhone and iPad users.
In an ideal world, case makers would pay attention and provide ample room around the ports and cable and other accessory makers would pay attention and keep their profiles as slim as possible.
If you've come up with any particularly good matches, let us know in the comments!
Get the best of iMore in your inbox, every day!
Rene Ritchie is one of the most respected Apple analysts in the business, reaching a combined audience of over 40 million readers a month. His YouTube channel, Vector, has over 90 thousand subscribers and 14 million views and his podcasts, including Debug, have been downloaded over 20 million times. He also regularly co-hosts MacBreak Weekly for the TWiT network and co-hosted CES Live! and Talk Mobile. Based in Montreal, Rene is a former director of product marketing, web developer, and graphic designer. He's authored several books and appeared on numerous television and radio segments to discuss Apple and the technology industry. When not working, he likes to cook, grapple, and spend time with his friends and family.
The Bumper is a joke. Not only does it not fit most of the iPod cables I've bought over the years, but it also won't fit with the BMW/iPod integration cable I spent hundreds of dollars on. Seriously I wish Apple hadn't put a glass back on this thing--then I wouldn't feel the need for a case at all. Never needed a case for my 3GS.

I took a dremel tool to my car charger to thin it down. Ugly at first, but once I proved out that it worked, I shaped it better & used the buffer tool to make it "shiny" again and now you can't tell unless you're really looking.

iPhone 4 Bumper does not fit any of my aftermarket cables!
Does anyone know of a black cable that fits the Bumper?

Some os Apple's own cables don't even fit the bumper THEY designed. My AV out cable doesn't fit and it's really annoying.

http://www.amazon.com/gp/product/B003QP423M/ref=oss_product
Amzer Luxe Argyle High Gloss TPU Soft Gel Skin Case for iPhone 4
I got that for my girlfriend's iPhone 4 and all different cables fit in it. Obviously you don't have to pick the same design, just wanted to point out the brand and style.

Excuse me? Every apple iPhone case comes with the USB to dock adapter? No it does not! I bought a bumper and it did not come with this. Had it, I would not have felt the need to sell it and get a case compatible with some basic cables, much less any docks.

Putting aside the merits of the article itself, has anyone received the free bumpers that were offered here several weeks ago?

Some articles are for geeks, some for pros, some for beginners, and some for very first time users.
We've gotten this question over and over again since iPhone 4 started shipping, probably because Apple's bumper doesn't work with a lot of 3rd party cables.
If that's not interesting to you, please skip to the next article.If it is, please contribute productively to the discussion so it benefits other readers as well.
If you're just here to be rude, please understand your comment will get spammed and you may have a harder time posting again in the future.

@Tom
Hundreds of people, according to Twitter:
http://twitter.com/#search?q=20bumper

@Adrian -- apologies, I meant the box it came in on. Edited to avoid confusion.

Many thanks to everyone who helps out spotting typos. It's almost impossible to avoid them. I spot them all the time in everything from major newspapers to books that have been out for decades. It's a fact of life.
That all of you take the time to help us and point them out is highly appreciated.
However, please don't let it hijack the discussion.
Thread cleaned.

I have an element vapor case on the way and I have a strong suspicion that it wont fit my car's DICE ipod car adapter. I was looking into a dock extender as a possible solution. Does anyone have any recommendations?

@TOM
I received my bumper Aug 10th.

Considering that Apple believes using volume buttons for camera functions in a camera app is too difficult, or the very existence of a gmail app with it's own icon would be hopelessly confused with the mail app, this sort of contempt for user's intelligence seems perfectly inline with the target demographic.

@Charles, I have an early Vapor case prototype and it doesn't fit my car adapter dock connector. The dock connector is way too thick. Apple cable fits fine though :-/

What case is that in the picture?

@jimbo
I couldn't agree more. I was thoroughly offended by the utter lack of faith apple has in it's consumer's intelligence. I love apple products..... But that was a huge f**k you moment.

Extremly annoying. It doesn't fit any of my old cables (car iPod, car chargers) I just spent money on like 6 cables before I had to buy replica cables of apples oem cable. Bought a bunch on eBay and many don't fit. One seller finally fit, than had to buy USB car charger adapters. Cheap on eBay but a total hassle. Have apple's bumper. The opening should be wider. I tried to grind down ana adapter but messed it up

I have the bumper case used a file to make my aftermarket charger fit, took a lil effort but works fine..

Take the too-big cable out to the garage, file it down to fit, do a quick sanding and polishing and there you go. Had to do that to make my Kensington car charger fit the bumper. It's far from perfect, but it only took ten minutes of work to make it fit and look presentable. Now, fitting the bumper to car docks is a different story...

My otter box defender case has none of these problems and is serious protection.

@Mattshall, really? I love my Otterbox Defender, but I have rarely found a connector other than OEM that would fit without modification...

I received the bumper case that does not fit the Griffin car chargers (2) or Magellan GPS car mount I have and called apple To see if they would exchange for a case that would work but they just kissed me off and said they do not guarantee third party items even though they sell the Griffin chargers on their web site.
thanks Apple

For an iPod touch, and a palm T2 I bought leather cases from prima cases. So far no problems. The old T2 even fit in the charger while in the case. The price is not to bad. By the way Rene, keyboards made in China for some reason have spelling errors. So do not fret too much. Your articles have great information. This forum is very educational, and at times funny. You all do a great job.

I have a belkin grip case from best buy. Stock sync cable fits it perfect, haven't had any other cable to try. I however have to pull the top of the case back to use a radio shack aux cable when at home. Aux in my car fits fine(forgot brand but might be belkin)

"Cheap plug: the Apple USB cable with AC adapter is 50% off right now at the TiPb Store]"
...unless you're outside the US, in which case the shipping costs will eliminate any savings you get :(

I am not sure if this will work with new awesome, gorgeous, and rad iPhone4, but perhaps someone would know.... It worked with the the 3G iPhone and Otterbox, so I wouldn't believe that it would be problem for the new 4.
http://www.amazon.com/gp/product/B0032I7PUK?ie=UTF8&tag=searchbistro-20&...

"Note: Comments must be civil, respectful, and on-topic. If a comment does not add to the conversation, if it contains spam advertising, or inappropriate language or content, it will be removed. Comments containing links may be held for moderation. Relax, enjoy, and share in the discussion."
This is new... lol

I got the Apple bumper free the other week and while it is more than just a rubber band as some call it (the button extensions are very nice) I agree Apple should not have designed the dock cut out so specifically for their own USB cable.
In particular the Apple bumper is not compatible with my Belkin TuneBase Direct car dock which is specifically designed to work with cases (even works with my wife's 3GS in its Otterbox Commuter).
So currently I am using the free bumper that the TiPB Store gave away a few weeks ago ( thanks guys!). My only complaint with that is it makes it hard to press the sleep button.
Does anyone know of a thin bumper style case (need antenna death touch fix more than anything and don't want to add bulk) that has a large dock cut out and also makes it easy to press the side buttons?

This dockxtender cable from cable jive claims to work with all cases (except the bumper) and transfers all dock functions through the cable (sync, charge, line-out, etc).
http://www.cablejive.com/products/dockXtender.html

I had the same problem when i gor my bumper, the cable on my car stereo didn't fit. I bought the iextend slim so i cld still use my iphone in the car. Not pretty to look at but it works:
http://www.amazon.com/gp/aw/d.html/ref=redirmdpmobile/181-9530220-6523559?a=B003LICQQE

the philips gel cases work perfect. I bought mine at Target for $20 and love it.

Thank you for publishing about this. There?s a mass of crucial tech info on the internet. You?ve bought a great deal of that information right here on your internet site. I?m impressed ? I try to hold a couple blogs pretty on-going, but it is a battle occasionally. You have carried out a great career with this a single. How do you do it?

I finally got my Element Vapor 2 weeks ago but couldn't dock with some of my accessories with it on. I found a solution, finally with this http://www.gadgetboost.com/products/DockExtender-Boost-iPhone-iPad-iPod-... DockExtender for the Element Vapor or with the iPhone 4 bumper - definitely a life saver for this gadget geek :)

I don't accept as true with this blog post. Nonetheless, I did researched with Google and I've found out that you're right and I had been thinking in the improper way. Keep on publishing high quality content like this.

We keep you informed throughout. Our Sydney plumbing professional plumbers are friendly and cheerful.In Fact over 65% of all our work comes from repeat and referral business.