iPhone SE review: One month later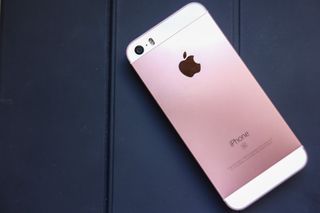 (Image credit: iMore)
Do you really need to be told that an iPhone SE is the right phone for you? That one of the only devices with both a 4-inch screen and a current-generation spec sheet is worth your money?
Of course not.
But what I can help you with is how it feels to go from an iPhone 6s Plus or an iPhone 6s back to the iPhone 5s form factor, and how it impacts your life in meaningful, often unexpected ways.
iPhone SE is a wonderful, almost-perfect iPhone. But its imperfections may gall some potential buyers, because it lacks much of what makes the latest, albeit far more expensive, iPhones what they are.
What you lose
Obviously, by going from an iPhone 6s or 6s Plus you lose quite a bit of what makes the latest-generation Apple products so good: 3D Touch; a second-generation Touch ID sensor; and perhaps most important (to me), a Haptic Engine, which replaced the vibrator motor in the iPhone 5s.
And, of course, the iPhone SE has a 4-inch display, which is both smaller and lower resolution than either the iPhone 6s or 6s Plus. Not only are objects slightly smaller than they are on the larger devices, making reading longer documents less comfortable, but the screen itself doesn't show as much information.
What you gain
Here's the thing about a smaller phone: it pushes you to do the right things on the right medium. As my colleague, Serenity Caldwell attests, moving from the iPhone 6s Plus to the iPhone 6s allowed her to defer many tasks she would have undertaken on the phone to the iPad or Mac.
Since moving to the iPhone SE, I've found myself doing the same. For almost a year, the Plus form factor became the catch-all for nearly everything I would have otherwise attempted to do on an iPad, and a good chunk of what I would have kept for a Mac. Perhaps at first I felt constrained by sticking to a phone, but then I felt empowered; here I was taking three potential devices and distilling them into one.
But here's the thing: I know, and have since proven, that undertaking these tasks on a larger phone lulls you into a sense of false productivity, that it is actually faster to get stuff done on that single, all-encompassing device.
Since getting my iPhone SE, I have naturally limited my usage to what feels right on the four-inch screen, which is considerably less than feels "right" on a 5.5-inch one. I'm no longer reading (of half-reading) pieces from the Atlantic, linked through the Twitter app; I have stopped pecking out, and feeling frustrated by, long emails. I can't compel myself to undertake the kinds of tasks that can, but often shouldn't, get done on a smartphone.
Instead, I'm turning to my iPad Pro, or my Mac. And even including the time of transition, I'm getting stuff done in half the time.
The comfort of palming
I had almost forgotten the confidence instilled by a phone that can be subsumed by a human palm, that isn't just thin and light but compact.
Whether I feel more comfortable using the iPhone SE than the 6 and 6s series — it's not as slippery, and I can easily pinch it between two fingers without concern it will slither out and fall — or the reassurance that I will, with one hand, be able to do nearly everything I need, the iPhone SE just feels like the right choice most of the time.
The price factor
The iPhone SE is not only Apple's cheapest iPhone ever, but it's a relatively inexpensive smartphone, period.
Some may balk at the unaltered design, or rage against some aspects of the spec sheet, like the underwhelming 1.2MP selfie camera. But at $399, it's able to reach a portion of the market that wouldn't have even considered an iPhone before, giving Apple not only the opportunity to bring more people into its ecosystem, but to ensure that those upgrading get to use the latest silicon and experience, for a little while, the best of Apple.
The security factor
Then there's the security factor. As we've seen with the various court orders issued to Apple over the past few months, including that of the San Bernardino shooter's iPhone 5c, older iPhones are vulnerable to exploits in ways that newer ones are presumably not.
Much of that extra security comes in the form of Apple's Secure Enclave, which has been built into every on of the company's 64-bit chip since 2013's A7. Making that architecture available at an even lower price means those with older phones, and aging architectures, will have an even easier time upgrading.
A more compact camera
I love street photography. I love quiet moments, hovering on the shutter, trying to eke the perfect moment from the chaos of a city.
With the iPhone SE, I've found the perfect combination of size and capability. With the same 12MP sensor and f/2.2 lens as its iPhone 6s sibling, the SE focuses quickly and intelligently, exposing the right parts of a scene, capturing real-life colors and plentiful detail.
That it lacks optical image stabilization is only an issue in low-light situations — and sure, I wish it was there, just like on the iPhone 6s — but I love being able to take the phone out of my pocket, use my right thumb to access the camera app from the lock screen, turn it horizontal and snap a photo with the volume button in one fluid motion.
A typing revolution
Incredibly, I really like typing on the iPhone SE. Not with the main keyboard, mind you, which I find too cramped in portrait mode, but with one of the many third-party keyboards available on the App Store.
SwiftKey, which I find frustrating to use on the 6s and 6s Plus, supports swipe-to-type that, because my thumb can reach across the entire screen of the iPhone SE, lets me input text more quickly and accurately than I do pecking out long paragraphs on the larger iPhone 6s Plus. And when, inevitably, SwiftKey gets buggy, I switch the SE to landscape mode and use the built-in keyboard.
No-worry battery life
Chalk it up to the iPhone SE's relatively low-resolution screen and power-efficient A9 processor, but I'm finding battery life to be better than on the more capacious iPhone 6s.
While it doesn't hang on for two days like the iPhone 6s Plus often does, I've yet to need to top up the iPhone SE during the day to keep it from dying in the evening. Yes, iPhone SE delivers in the battery department.
It's just a feeling
It's not a nostalgia thing. It's not even a screen size thing. There's just something about the iPhone SE that I keep returning to, a bond that I've made with its design that I can't quite quantify. I acknowledge its shortcomings, and they just don't matter as much as I thought they would.
There's something magic about that.
Master your iPhone in minutes
iMore offers spot-on advice and guidance from our team of experts, with decades of Apple device experience to lean on. Learn more with iMore!
Daniel Bader is a Senior Editor at iMore, offering his Canadian analysis on Apple and its awesome products. In addition to writing and producing, Daniel regularly appears on Canadian networks CBC and CTV as a technology analyst.