iPhone at Work: Photography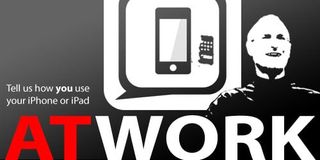 How does a photographer use his iPhone to get the job done and what iPhone apps help get him through his day? TiPb's iPhone at work contest aims to bring you just such slices of the iPhone life. Here's JustinHammondPhoto's answer and as a small token of thanks we're sending him a $20 iTunes gift certificate. If you want to see your name up on the TiPb home page and get a gift certificate all your own, head on over to the TiPb iPhone Forum and share your story now!
I'm a professional photographer from Massachusetts. I have the wonderful job of photographing some of the most beautiful women in the world in the coolest locations all over the country. Models, celebrities, NFL Cheerleaders, it goes on and on. My work has been in magazines, advertisements, Maxim, websites... the works! I love my job!
I honestly realized for the first time when reading this contest how much I actually use my iPhone on a day to day basis for what I do. It's a lot! Especially now that I have my iPhone 4, it's been even more. Here's when:
I own a studio, but I'm very often on location shooting, which means no wifi (on the beaches, bars, outdoors, etc). So having a 3G connection is great. I often pull up Safari in the middle of a photoshoot to come up with a pose idea, or sometimes girls want to show me a picture of a shot they really love so it's easy to Google image search some ideas! It helps out a lot during a shoot!
Also, because I do travel to photoshoot, I'm always using Maps! Maps is so crucial to getting around because I barely know areas well. It's definitely got me out of so many jams or has even helped find shooting locations! I remember this one time I was doing outdoor shooting and I pulled up my map and noticed a large pond nearby so we walked toward where it was and got some really beautiful shots by the water at a place I would have had no idea about if it didnt show up on the gps.
It works great in times of urgency! Even last night, the "model light" on my strobe died (lights the model so you can auto-focus on her when there's low light/lights off). Well, I pulled out my iPhone, opened the new trusty video camera, turned on the new amazing light from the iPhone, and my assistant held it to the model! It was perfect! I was so happy about having the new iPhone 4 last night.
Also with the new video feature, being HD, I have decided to do some "behind the scenes" videos that I will be posting in the near future of my photo shoots. This is really great for my website and facebook page as a lot of models/fans follow my work, and it's real fun at photoshoots. I am beyond excited about that. I may even start video blogging and doing tips/pointer videos for photography.
I also use it for networking with models and clients or even friends with my photography. I save all of my edited photos to my iPhone so when I am out and about, when someone asks what I do, I just open up Photos and show them my work right from my phone - they look amazing on the new retina display! It really allows me to have a portfolio with me at all times. Such a perk in the industry! It's like carrying my book with me in my pocket!
Then obviously the basics! Calendar for booking shoots/remembering what I have to do that day, and Email for keeping up with everything going on in my life in and outside of photography.
iPhone tip: Always keep it charged/charge every night! I use my iPhone so much, so my battery tends to go fast. I do have multiple chargers to make sure I am never without it. The iPhone really is my personal assistant. If it could only bring me coffee and water and move around lights, I wouldn't need to hire my real assistant anymore!
Favorite apps: Safari, Calendar, Mail, Photos, Maps. These are my most important and all Apple created! Thank you Apple!
You can see some of my work at Justin Hammond Photography. Are you a photographer? If so, what apps do you use to help you with your job?
Get more iMore in your inbox!
Our news, reviews, opinions, and easy to follow guides can turn any iPhone owner into an Apple aficionado
Former app and photography editor at iMore, Leanna has since moved on to other endeavors. Mother, wife, mathamagician, even though she no longer writes for iMore you can still follow her on Twitter @llofte.
Check out my photos with iPhone 4.http://www.facebook.com/album.php?aid=187368&id=581395727&l=912fa2ddd8
I use iPhone to post images and video live during events. I use it when shooting products to show clients how things look before moving forward.
Rich

That's cool...damn handy device for all professionals. I'm a photographer in Seattle and I've really come to depend on "Easy Release" for the iPhone.
I also customized the built in model and property releases to include non-commercial versions, for images that I'll be using for my blog, website, Facebook, etc. that will never be licensed out to 3rd parties (stock, etc.).

What about giving back the price to a kid who need to Download some games ??
Aren't you rich enough ???

Great work!! I also use my iPhone for photograhy, I do "iPhoneography" Check out my site.
iphonephotostyle.blogspot.com

I use my droid's free wifi tethering to connect my iPad to browse my site and photo's for clients while on the road.
True story, check it! iMigzPhotography.com

I agree, give the prizes to some kids rather than six figure earning professionals lol.
I mean cool story otherwise

Stop spamming in the comments!!!

Thanks for posting my story!! As far as other people posting.. you apparently don't know the life of a struggling artist! LOL I def don't earn 6 figures, not yet at least! I can def use the $20 gift card! :) thanks again, i love this website!

I checked out your work. Good stuff, Justin. And I just wanted to mention, it's actually called a "modeling light". And the main purpose of modeling lights is to get a preview of where the highlights and shadows will fall on your subject. Very handy. And handy as a focusing light as well, as you mentioned.

I'm not excellent with internet items nevertheless... could you give me your e-mail? I'd like to spot advertisment of my store on your internet site.

I think Gamefly is the bomb. They have the best selection, prices, delivery speed.

Great post. I was checking continuously this weblog and I'm inspired! Extremely helpful info particularly the ultimate section :) I take care of such info a lot. I used to be looking for this certain info for a long time. Thank you and good luck.