The iPhone XS, XS Max, and XR all deserve MAX Protection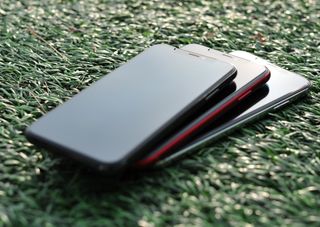 The next generation 'X' is here for all of you iPhone aficionados. The XS, XS Max, and XR have not only been released, but they have landed with great success. Bringing users enhanced performance and a superior camera for better picture quality, it has many reviewers touting it as the best iPhone yet. Now, with cell phones being so important to us in our daily lives, it only makes the most basic sense to protect them as we would anything else we love. Well, enter WHITESTONE DOME GLASS!
Whitestone provides a true "Full-screen adhesive" tempered glass screen protector for the new models of iPhone X as well as the new Apple Watch 4 – 44mm and as such, they are the premier specialized brand for the high-end market of cellular and wearable devices. Thankfully, they have also just released some of the most important accessories to keep your devices looking just like they did when they first came out of the box.
The available options for screen protection have gone through some important changes. For a long time, plastic or urethane protector have been the main option as screen protectors, but the truth is they don't really give your phone true protection. They are vulnerable to scratches and even can reduce transparency, not to mention the greasy smudges or air bubbles that can happen when just putting them on. Then tempered glass protectors came about and allowed your screen to stay crystal clear. The Whitestone Dome Glass uses several patented technologies to make it the best of those options with the ultimate security like no other screen protector you've ever seen before.
It is precisely because of Whitestone's patented technologies that put them in a tier of their own. One such technique used is their patented LOCA technology which stands for 'Liquid Optical Clear Adhesive'. LOCA is a revolutionary liquid glass adhesive that evenly disperses over the entire screen, forming a single, solid layer of anti-shatter glass.
This technology provides you with their "Dome Fix" ability because the liquid can repair existing scratches and scuffs as well. By filling in any cracks and then firmly setting, the Dome Glass creates a watertight, edge to edge protection. This can provide a new lease on life for your iPhone if you are unfortunate enough to damage it before getting any protection in place. This means there is now no need to go out and spend the money for a whole new replacement screen due to just a scratch or two. Be a smarter consumer and let the Whitestone Dome Glass come to the rescue.
Along with their LOCA technology, Whitestone also utilizes a unique curing process that harnesses the power of UV light to securely attach the glass to your phone. This gives you flawless protection from a much quicker process as opposed to the other liquid glass options which can take 24 – 48 hours to naturally cure, because let's be honest, how many of us can go that long without using our phone?
To prevent installation errors from happening, each Dome Glass includes everything you need: two adhesive bottles, a UV curing light, a newly designed install frame, and alcohol wipes/dry towels. The only thing not included in the package is the power adaptor for the UV light. But since it is micro USB compatible, you can use any USB wall adapter to power it. The new and improved installation process uses a new sliding method to help ensure effectiveness.
So, because Installation has many steps, make sure you give yourself ample time to follow the step by step guide included (It's also recommended to watch their installation video) and don't just try to slap it on in a few seconds. For help with the installation, you can follow this link to see some of the Whitestone Dome Glass reviews and installation tutorial videos.
Available in a full kit (with UV light) or as a replacement (NO UV light), the Whitestone Dome Glass is already a top seller on Amazon Worldwide. It is also touted as one of the best-tempered glass protectors by NTT Docomo (the largest cellular provider in Japan). Moreover, Whitestone Dome Glass offers a Limited Lifetime Warranty through their webpage. These are only a few of the reasons why as a brand Whitestone is the best tempered glass screen protector for your iPhone. Also, for a limited time, our very own iMore readers can use the code IMORWS20 to save 20% off the Whitestone Dome Glass for the iPhone XS, the XS Max, or the XR.
At a price point between $750 and $1500 the new line of iPhones is no small investment, they are the top of the line. So, if you're not going to settle for a second-rate phone, why would you settle for a second-rate screen protector? You wouldn't! Get your own Dome Glass today!
Master your iPhone in minutes
iMore offers spot-on advice and guidance from our team of experts, with decades of Apple device experience to lean on. Learn more with iMore!