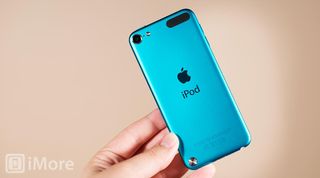 If you thought the iPhone 5 set a new bar for thin and light, wait until you see the iPod touch 5. Thanks to the miniaturized Lightning connector and the single layer in-cell display, the iPod touch 5 really is entering the realm of ludicrously, turn-it-sideways-and-it-almost-disappears thin.
Unlike previous years, stainless steel on the back of the iPod touch has given way to aluminum. Anodized aluminum to be precise. We've seen that with the iPods nano and shuffle before, and it's nice to see it on the touch now as well. For the first time, you can also choose between black, white & silver, blue, yellow, pink and, at Apple Stores only, (product) RED. We've got blue and silver so far, with more on the way. So sit back, relax, and take a look at the new iPod touch... if you can see it.
All photos taken with a Nikon D800 and a Sigma 50mm f/1.4 lens, macros taken with a Canon 5D Mark III and a EF 100mm f/2.8 L IS USM lens by Rene Ritchie, embedded at HiDPI for iPhones, iPad 3, and Retina MacBook Pro.
Get the best of iMore in in your inbox, every day!
Former app and photography editor at iMore, Leanna has since moved on to other endeavors. Mother, wife, mathamagician, even though she no longer writes for iMore you can still follow her on Twitter @llofte.
What is the black thing on the back right-hand-side? (3rd pic from the bottom)

Probably where the wifi antenna is, it goes through plastic better than metals afterall. But that's just a guess.

This thing is incredibly thin! It almost feels too thin! It feels like its going to slip out of my hand, it feels like I'm going to break it in half! Don't get me wrong! I love it, I just need to go get a case for it since apple didn't have any in stock last night!!

It makes my iPhone 5 seem clunky :(

I haven't seen one in person yet, but judging from the pictures, it appears that the rear camera protrudes up ever so slightly from the enclosure. If so, it probably means they couldn't get a camera thin enough to fit the aluminum body. Have we ever seen the camera not sit flush with the body before on an iOS device?

Nope. First time and I don't expect it to be the last. Must be why they added the Loop.

Really like the rounded edges. Maybe some future iPhone will return to a smoother-edged design like the touch. (And maybe some future iPhone will get a lanyard post too...)

It's a very strange choice to take all these pictures with the lanyard thingie hanging out instead of flush like it would normally be for most users. It mars an otherwise good set of photos.

Only the last photo shows the lanyard thing up... I think you're confusing the lanyard thing with the lens? The lens is not flush with the back of the iPod touch.

They look great. But what I want to know is when are they available for purchase? I keep seeing people posting videos of their Ipod Touchs on line, but Apple tells me there's no official release date yet. How do so many people have them then? I'm in Canada and I was led to believe the release date was the same for Canada and the U.S.

Inventory arrived at applestores on wed- they are not scheduled to be processed for display units until fri (apple said -true story!- that the reason for the two-day delay in presenting the display units was a secret they couldn't share lol) In any case, I happened to ask for one just hours after they had been shipped in on wed & was sold the first unit in canada ;) … even tho they weren't officially on the floor yet! (yes, the apple Call Centre / webstore would not know about apple retail: they are different business units with "silo" data systems that can't talk to each other). Anyways: the new Gen5 itouches are def here in canadaian apple stores (can't say about apple resellers cuz I haven't been in person). Btw; they are astonishing! - get one: u will love it! … with obky one major caveat:.the absence of the hdmi port as compared to the iPhone: It simply is just plain unfair to de-feature the touch since the ipod is perforce a media player first & foremost! — so it should have a video port built in. As it stands Im guessing I have to spend some ridiculous extra sum on a lightening-port video-out cable for the touch … (just as I'm also gonna get dinged to buy an exta headset for the touch since apple also de-featured the mic in the new ultra buds! :( … boo!)

Excellent. Thanks for the info. I'm getting one tomorrow. I've been waiting a year for this one..

I picked mine up at my local Apple Store. They don't have them displayed, yet, but when I called, they told me which ones they had in stock.

I got mine today based on your info. Thanks.

Why do I want one sooooo bad? I have no need. :-/

I sure hope the iPad Mini will have sweet colours like this. And be this thin.

What is the enhacement concerning the CPU A5?
Thank you for signing up to iMore. You will receive a verification email shortly.
There was a problem. Please refresh the page and try again.