New iPod touch brings A8 processor, 8mp camera, 128 GB option, new colors!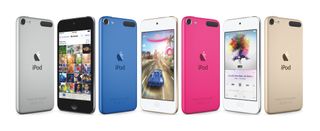 Along with the new iPod nano and iPod shuffle, Apple has refreshed their iPod touch lineup, bringing new colors, along with the touch's first spec bump since 2012. The new iPod touch has colors to match the new iPod nano and iPod shuffle, with new shades of blue, space gray, silver, red, and pink, along with a new gold color option.
When it comes to new internals, Apple has done away with the A5 processor that previously powered the touch, opting instead for a 64-bit A8 processor, which made its debut in last year's iPhone 6 and iPhone 6 Plus. The iSight camera has been upgraded from 5MP to 8MP, and the iPod touch now sports a 128GB storage option.
In addition to this new storage option, there are still 16GB, 32GB, and 64GB options, mirroring the iPhone lineup. The 16GB model will run you $199, with the 32GB model available for $249, the 64GB option for $299 and the 128GB iPod touch costing $399.
Get the new iPod touch from Apple (opens in new tab)
Press release:
Apple Introduces The Best iPod touch Yet
Featuring New Colors, A8 Chip, 8 Megapixel iSight Camera & Apple Music
CUPERTINO, California — July 15, 2015 — Apple® today introduced the best iPod touch® yet and unveiled a new lineup of colors for all iPod® models, including space gray, silver, gold, pink and blue. The ultra-portable iPod touch features a new 8 megapixel iSight® camera for beautiful photos, an improved FaceTime® HD camera for even better selfies, the Apple-designed A8 chip with 10 times faster graphics performance for a more immersive gaming experience, and even better fitness tracking with the M8 motion coprocessor. With the newly launched Apple Music™ service, members can enjoy playlists curated by the most talented music experts from around the world, stay in-the-know on music culture with a global 24/7 broadcast on Beats 1℠ radio, and comment on or like backstage photos and videos shared directly by their favorite artists on Connect.
"iPod touch gives customers around the world access to Apple Music, the App Store and iOS, the world's most advanced mobile operating system, starting at just $199," said Greg Joswiak, Apple's vice president of iPhone, iPod and iOS Product Marketing. "With big advancements like the A8 chip and the 8 megapixel iSight camera, customers can experience next-level gameplay, take even more beautiful photos and enjoy their favorite music, TV shows and movies."
With the A8 chip, the same used in the revolutionary iPhone® 6, users can play even more immersive games for hours at a time, all the while with great battery life. iPod touch has become one of the world's most loved mobile gaming experiences — its 4-inch Retina® display and rich collection of gaming titles are further enhanced with incredible graphics performance and thousands of Metal-optimized games. With the advanced iSight and FaceTime HD cameras, iPod touch owners, for the first time, can have fun with popular features including slo-mo and burst mode, while capturing memories and everyday moments with gorgeous photos and videos. Three times faster Wi-Fi lets customers stay in touch with friends and family through FaceTime calls, and download movies and TV shows with ease.
The App Store℠ on iPod touch, available in 155 countries, gives users access to 1.5 million apps across 24 categories. iPod touch is also the perfect way to carry your music collection in your pocket. iTunes® boasts the world's largest music catalog, and with Apple Music, customers have access to the revolutionary streaming music service, Beats 1, Apple's first ever live radio station, and Connect, where artists can communicate directly to fans. Apple Music is available on iPod touch through the Music app — users are invited to a 3-month trial, after which a $9.99/month membership fee will apply. There is a family plan providing service for up to six family members available for just $14.99/month.
iPod touch comes with iOS 8 and a collection of powerful built-in apps. Send unlimited voice and video text messages through iMessage® over Wi-Fi, quickly make edits to your photos with the Photos app and keep track of your fitness and wellness with the Health app. With Family Sharing, up to six family members can share purchases from iTunes, iBooks® and the App Store, along with photos and calendars. Parents can also create Apple IDs for children which includes Ask to Buy where parental permission is required for all purchases.
Pricing & Availability The new iPod touch starts at $199 (US) for the 16GB model, $249 (US) for 32GB and $299 (US) for 64GB, and the entire iPod family in its five new colors is available starting today through the Apple Online Store (www.apple.com), Apple's retail stores and select Apple Authorized Resellers. For the first time, iPod touch is available in a 128GB model for $399 (US) through Apple Retail Stores and the Apple Online Store, along with the (PRODUCT)RED lineup. iPod touch requires a Wi-Fi connection or a Mac® or PC; USB 2.0 port; Mac OS® X v10.7.5 or later; Windows 7, Windows 8 or later; and iTunes 12.2 or later. An Apple ID is required for some iPod touch features.
Joseph Keller is the former Editor in Chief of iMore. An Apple user for almost 20 years, he spends his time learning the ins and outs of iOS and macOS, always finding ways of getting the most out of his iPhone, iPad, Apple Watch, and Mac.
Price went up $50. : ( Lately that seems to always happen. I liked before when they could bring stuff out and keep the same price. Happened to iPad, Mac Mini, now the Touch. Quite a speed jump though. Sad I bought a iPad Mini 1st gen this year and its already struggling with its A5. Glad it runs iOS9 ok though so far. Sorry to be a bit grumpy. Its mainly due to how I miss the Classic iPod still. Glad these have been updated. Has me thinking I might pass on the iPad Mini 1gen I have now to a family member and get the new Touch possibly. Very sad it has no Touch ID though. : (

On the other hand, the touch had received a (two?) price drop before, so I guess that returns it to its original price? What surprises me is the inclusion of A8, which is still current (not for long, granted). So now the iPod touch has a more powerful CPU than the iPad mini. That probably means no update for another few years once again, and perhaps they wanted to avoid the criticism that the mini received.

No Touch ID on the new iPod Touch is odd to me. They gave it great specs but left that out? Maybe to keep the price down I guess. I have a iPad Mini 1, so kind of looking for something faster. I was going to get a touch but with no Touch ID, has me looking at the iPad Mini 2 now. I think the screen on the touch would be hard also. Maybe they will come out with a lower priced iPhone soon to replace the C since its a S year. Hum, I just clicked on Apple's site to buy the iPhone C but it brought me to a page not found. I wonder if that is being removed from their site now.

The Mini 2 doesn't have touchID either. You want the Mini 3 for that. I'm curious though -the Mini is a 7.9" device, this is much smaller. Does one really compete with the other for you?

Maybe you're not in the U.S., but the Touch has been these prices for over a year now. The only thing new is the 128GB, and that fits in line with the $100 jump in all their other devices. Sent from the iMore App

In Canada. Feeling calmer now. Good update. Still cheapest entry into iOS. I will likely order one of the new Touch's now. Just needed time to sort the options and prices in my head.

No bigger screen? Sent from the iMore App

Wild guess here... But maybe an iPad Nano is in the works and to be unveiled in the autumn!

No they wouldn't make a mini and a nano. They'd rather make a iPod plus. Sent from the iMore App

Since it wasn't mentioned, my guess is they still kept it at 512MB RAM and no GPS chip.

Apple never talks about RAM for their iOS devices. We won't know till someone tears it apart. I'd be surprised if it had less than the 1GB of the other devices. Sent from the iMore App

Ars Technica claims it's got 1GB. How/where they got that info, I do not know.

We have to wait for a teardown to confirm it but if it is 512MB, it would mean a custom A8 chip design rather than reusing the ones from iPhone 6. This usually cost a bit more to design and release a new custom chip instead of a mature line that is already discounted over time. GPS I believe is bundled with the cellular chipset, which means it's not going to happen ever as it would eat into the iPhone lineup.

Hmmm...makes sense I suppose. I think I'll just wait it out. Have a do it all device instead. Hopefully they update the internals of the next iPhone, which seems very likely. Two months to go.

So this is basically the 4" iPhone 6 some people wanted, minus cellular connectivity and TouchID.

1) It's not "some people" 4" devices are actually a huge portion of Apple's business.
2) If it doesn't have cellular connectivity, then it's ridiculous to even talk about it being a phone. That's like saying "Well I guess this is like a car, except for the wheels and the motor."

Yes, yes. Nice to know you wake up on the same side of your bed every morning, Gazoobee.

Well, you post something rude and/or stupid, you get people replying. Same as always.

An iPod Touch on WiFi with Skype and a cheap BT Headset is basically an iPhone without GPS and a few other sensors, and worse hardware internals. That's basically the fact of the matter. You don't get any special media playback features that aren't on the iPhone (aptX, etc.). You don't get any special connectivity to peripherals that aren't on the iPhone. You don't even get any expanded CODEC Support. It's largely the same software and largely the same device, barring differences in hardware quality and sensors/radios/etc., just without cellular capabilities. Oh, and TouchID.

The kicker is the price difference between the two. Crazy huh?

Just because no one so far is even reporting it ... they dropped the lanyard connector as well it seems. To me this seems like a very necessary sort of "F-You" to everyone in Japan and anyone else who liked the feature. I'm sure I will be piled on by lots of folks with the "It's useless!" or "it's gay!" comments, but whether you personally like it isn't really the point. I guess we can't have stuff that Americans don't like anymore.

If Apple removed it they did so for a reason. Most likely had data that showed it wasn't a big deal for most people.

Well, yeah but that was my point. They sell worldwide. In some areas this was a main feature that drove an enormous amount of sales (Japan in particular). They removed it because overall it most likely didn't add much, but it didn't take anything away either. They should have just left it in for those that want it which is a very sizeable group of people, despite being a minority world-wide.

You're quite certain that an enormous amount of iPod Touch buyers chose it because of the little strap. Brilliant. Sent from the iMore App

Sorry, but I live in Japan and I am pretty sure people didn't pick this up over the competition in order to add a strap to it. Maybe ten years ago that might have meant something, but they have gone out of style of sorts. For those who do still prefer that feature, there are plenty of cases you can buy which allow them.

Yes, I'm sure they were focused on saying 'F-You Japan!" - and sure.. it's all those jerk American's fault. lets just lump whole groups together and start doing anti-semitic chants together while were at it! Err.. wait.. I'll just down-vote you.. thats easier. :p

Its been a long time since I had a iPod Touch so I forget what its like to have that small screen. I will wait until tomorrow to decide on ordering one to give me some time for this excitement to cool down on the new updates. Lots of power in the new models. Especially compared to my iPad Mini 1. I actually find the Mini a bit big for my needs so might work out in the end with the new Touch. Very glad Apple didn't give up on iPod.

Hell... I might replace my creaky old iPad 3 with one of these.

They needed to do this otherwise the currently sold iPod Touch would not have been supported by the newest iOS. Sent from the iMore App

Why should Apple add Touch ID to these? iPod Touch and iPhone users are two different user bases.

For all of the same reasons the iPhone and more particularly the iPad have it.
Faster, more secure locking
One touch music purchases.
All of the apps that now support touchID
The only thing it won't do is Apple pay. Sent from the iMore App

if there were a 256GB version I'd buy it in less than a second.

Not a fan... because I have an iPhone and iPad.... but I have to say like the new Blue color.
Could be nice for iPhone :)

Nice upgrade IMO. I have an iPod Touch running 8.4 and it is really sluggish. I deleted every app off, restored and only loaded Overcast. It needs the A8. Would like to upgrade to the newer version but I only use it to play podcasts with Overcast while in the car and it serves its purpose for me so not really worth the $200 at this point. But if it quit working, I'd buy one of these new ones.

Hah ! I wasn't expecting it would be better than the iPad Mini 3.

(posted this in the nano/shuffle post by accident…oops) YES!!! Finally! I just ordered an engraved 128GB iPodTouch in Blue. No more crappy 3rd Gen. Pink (was my wife's) 8gb nano with an iffy pause button. *doing my happy Snoopy dance*

The iPod 5 and 6 are identical. It would be utter idiocy to buy an iPod 6 when you have a 5. Who cares about some stupid iSight and 8 MP camera. Where's the Touch ID or the mute button? Waste Sent from the iMore App

This is just wrong. Yes there's a better 8MP camera now with slo-mo and stabilization, but if you don't care about that - there's the A9 processor for far faster graphics and better gaming, as well as the motion sensor that lets you track exercise. Touch ID would have been nice, but not a deal breaker for a music and a current tech hand held game machine. Oh and you can opt for the huge 128GB.

Have an iphone6, Apple watch, iPad air. I love to listen to music when I work out, should I consider getting one? Sent from the iMore App

Apple watch and iPad air not particularly relevant for workout music unless you do it in a small room and add speakers. I am fine using an iPhone 6 plus for music at the gym, but not so much when it comes to running or biking. Too big. The iPod touch is just small enough to work for that either in an arm band or pocket. And I don't mind loading it up with a bunch of music from my library or apple music - something I tend not to want to do with the phone. Depends on your workout and pocket book.

I don't see why people would buy an ipod of $400 when u have an iphone. If u just spend $200 more when u buy an iphone, then u have 128gb of storage too...
Thank you for signing up to iMore. You will receive a verification email shortly.
There was a problem. Please refresh the page and try again.