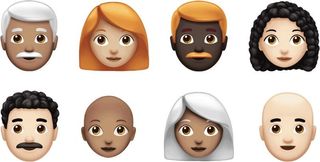 National Cheese Day is June 8th. Friendship Day is July 30th. World Chocolate Day is July 7th.
And today is World Emoji Day!
Apple will be unveiling new Emoji options like red hair, superheroes, lobsters, cupcakes, and so much more to commemorate the occasion, but how can you celebrate World Emoji Day from the comfort of your own iPhone?
Here are a couple of different ways to celebrate all things 'Moji today!
Dawn we now our Emoji apparel (falalalalaaaaalalalaaaaa)
Whether you're someone who's been crazy about Emojis from the beginning, or someone who's recently discovered the greatness that is the Emoji, having a piece of Emoji apparel or an Emoji-themed accessory is always an awesome way to #celebrate!
There are adorable Emoji necklaces to check out, some funky Emoji shirts, and so much more!
That being said, as much as Emoji gear is fun, it's pretty ridiculous to assume every single person has one Emoji-themed article of clothing or accessory, and we would never expect you to spend money you don't have on things you'll only wear one day a year.
So what else can you do with your outfit to show off your Emoji pride? Simple: dress up like your favorite Emoji! You can wear a longer red dress and your hair down in curls if you want to emulate the salsa dancer Emoji, or you and your BFF at work could both wear black tops, white pants, and black bows in your hair to match the twin Emoji.
Your outfit doesn't need to be spot on, just inspired by the look and feel of the Emoji. Get creative: that's what 'moji's are all about, afterall!
Communicate through only Emoji
Your Instagram caption today? All Emoji.
Your Snapchat Story today? All Emoji.
Responding to your significant other today? All Emoji.
Your life today? All. Emoji.
Sometimes it's really easy to add the right Emoji into your everyday life, and other times there just isn't quite the right symbol to express how you're feeling. Challenge yourself today aka World Emoji Day, to communicate mainly through 'moji!
This could mean pinning Emoji to your face on your Instagram Story instead of just posting a regular ol' selfie, or telling a story through certain colored Emojis for your Instagram caption (I do this all the time: they're a lot more fun to look at than a big ol' wall of text).
Getting creative with how you use Emojis in your day-to-day life can really put a smile on your face and get some laughs out of others, so text your mom all the poop Emojis in the world, or tell your life story on your Facebook status with nothing but Emojis. It'll be a great conversation starter and an even better way to celebrate World Emoji Day!
E-meal-ji
Okay, have you ever sat down to watch a Hayao Miyazaki film only to find yourself distracted and drooling over the food? I mean I know it's animated, but seriously, have you ever seen how incredible everything looks in his movies?
Well a few months ago a Japanese woman decided to take it upon herself and recreate the food from his films and other anime in real life, and the results were pretty stunning. But that got me thinking: why couldn't you do the same with Emojis?!
While Emojis are far less appetizing than Miyazaki's beautiful on-screen grub, think of all the fun it would be to create a 3-course E-meal-ji for you and your friends?! It's even a good excuse for some alone time in the kitchen with your significant other.
You could start out with some popcorn shrimp as an appetizer (🍤) and then some rice and a bento box (🍱+🍚), pair it with two flutes of champagne (🥂) and then finish off with some homemade cake and ice cream (🍰+🍦).
If you do decide to follow through and have a full E-meal-ji, be sure to tag us in your social media pictures so we can drool over your delicious creations! Bonus points if they look exactly like the Emoji you're trying to eat.
📺👀🍺
So a little while back, there was this small, independant film that hit theatres called The Emoji Movie and it was the greatest thing ever and it totally didn't suck and people 100% loved everything about it forever the end.
… While The Emoji Movie wasn't the technical marvel that people thought it would be, and while it subsequently bombed while making The Angry Birds Movie look like Citizen fricken Kane, it does have its place in society: as a drinking game.
If you're looking to get a little wild on World Emoji Day, then it's worth it to play a drinking game ala The Emoji Movie.
Drink everytime there's a poop joke
Drink every time there's a blatant product placement
Drink everytime a character says something like 'fleek' or 'hashtag'
Drink everytime you see your favorite Emoji on screen
These are just a few suggestions to get you going, but getting together with a group of friends and laughing non-stop will probably be the most fun you've had in a while. Cheers!
Spread the #Love
At the end of the day, Emojis are designed to make us smile and help us communicate without words. Sending your mom, best friend, or boyfriend a couple of hearts today is bound to cheer them up in one way or another.
Spread the Emoji love and comment some hearts on someone's IG post. Use your Emoji powers to make someone smile with a silly tongue-out Emoji. Invite someone out for pizza and a beer with some Emojis if you know they've been having a tough time lately.
Get creative with how to use your Emoji and never underestimate how much a smiley face can turn someone's day around.
How do you celebrate the almighty Emoji?
Is there a particular tradition you have on World Emoji day? If not, then just let me know what your favorite Emoji is in the comments below: or better yet, let me know which Emojis you wish existed!
Happy World Emoji Day, folks!
Get more iMore in your inbox!
Our news, reviews, opinions, and easy to follow guides can turn any iPhone owner into an Apple aficionado
Cella writes for iMore on social and photography. She's a true crime enthusiast, bestselling horror author, lipstick collector, buzzkill, and Sicilian. Follow her on Twitter and Instagram: @hellorousseau