Old school alert: Do you still rock an iPod?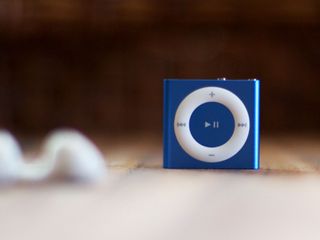 The iPod Nano and Shuffle had a great run, and they'll always have a special place in our hearts.
While it's true that we still love the iPod, some people have been quick to abandon it in the tremendous, multi-tasking shadow that is the iPhone, but we have to ask: do you still love your iPod?
It's no surprise that some people have said bye-bye to their iPods long before Apple discontinued the iPod Shuffle and Nano...
While others are keen to keep on using their iPod, whatever version, as long as it's still working properly and pumpin' out killer tunes...
Shuffle on into the iMore forums today and join the iPod discussion! We're always chatting about all things Apple, iPhone, iPod, and much, much more!
Get the best of iMore in in your inbox, every day!
Cella writes for iMore on social and photography. She's a true crime enthusiast, bestselling horror author, lipstick collector, buzzkill, and Sicilian. Follow her on Twitter and Instagram: @hellorousseau
I have been using my shuffle at the gym for the last 7 years and will continue to do so. When it dies I'll have to do a little research and see what my next gym player is going to be.

Yes. The music in my car is still sourced from two iPod Classics which I rotate. I'm tired of syncing but I haven't really found a better alternative for the car and I'd rather not stream music from my phone. I'm constantly worried that the iPod Classics will stop working but somehow they keep chugging along.

My iPod classic froze, and restarted itself. All my music was erased as a result. It appears to work fine, however when I try to sync it an error pops up. So I need to take it in and see what they say. Sent from the iMore App

I use a 32g iPod Touch for podcast downloads and a 160g iPod classic for all of my music. I only use my iPhone as a personal device.
Thank you for signing up to iMore. You will receive a verification email shortly.
There was a problem. Please refresh the page and try again.