Design photobooks from your iPad with ease using Kodak Moments HD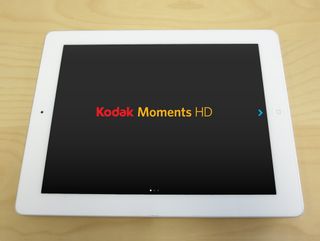 iOS offers a variety of photo printing apps like Free Prints and PostalPix. But until now, none of them bore the illustrious Kodak name. That changes today with the release of Kodak Moments HD for iPad. With Kodak Moments HD, users can easily create high quality photo books and prints using photographs from their iPad or social media sharing sites. And unlike competing apps, Kodak allows users to choose from both ship-to-home and same-day in-store pickup options.
One of Kodak Alaris's goals in creating Kodak Moments HD was to make the app extremely easy to use. First-time users can follow a video tutorial, but the creation process is so simple that most of us could figure it out on our own.
Making the perfect photo book
Kodak Moments HD allows users to buy individual prints or create attractive photo books. Let's look at the process of designing a photo book from start to finish.
The first step in creating a photo book is to choose between designing the book "anytime, anywhere" or doing it in-store via Kodak Kiosk. Next you select the size and delivery method. Kodak offers several different sizes of books, each with a specific number of pages included in the price. The books are surprisingly affordable too – they range from $5.99 all the way up to $29.99.
After choosing the kind of book you want, the fun part begins: choosing pictures! You can select images from Facebook, Flickr, Instagram, or your iPad's photo stream. The Kodak Moments HD's Smartfit Technology preserves the content of pictures regardless of their size, optimizing them for the book size you've chosen. Users can apply effects and enlargements directly from the app as well.
Although you can get by with one photo per page, Kodak Moments HD also allows for multiple photos on a page. As you select photos, the app will tell you whether you've chosen too many or not enough.
Having chosen all of your photographs, it's time to select a background for your pages. The app offers 60 backgrounds in a variety of themes. Kodak Alaris will add more backgrounds over time as well.
Finally, you can name the book and its author and then save the project.
If you've chosen in-store pickup for your book, you'll also need to find a kiosk from which to pick it up. Kodak Photo kiosks can be found within a number of retailers and drug stores, including Target, CVS, and Bartell Drugs. I found numerous kiosks using the Kodak Kiosk Store Locator on the web.
More Kodak printing to come
Kodak Moments HD is a great way to design photo books in the comfort of your home. It has been designed to take advantage of the iPad's large size and drag-and-drop functionality. The ability to get your photobook shipped to you or simply pick it up in-store is especially convenient.
The only complaint I can see about Kodak Moments HD is that it doesn't offer a very wide range of photo products at present. You can choose between photo books and individual prints, but that's it. Luckily, Kodak Alaris plans to add additional products in the future, such as customized greeting cards, photo collages and calendars. Those extra options should make Kodak Moments HD a must-have for digital photography enthusiasts.
Kodak Moments HD is compatible with iPad 2 and later devices running iOS 7.0.1 or later.
Master your iPhone in minutes
iMore offers spot-on advice and guidance from our team of experts, with decades of Apple device experience to lean on. Learn more with iMore!
Paul started writing about games in 2003 with his first strategy guide (Bomberman Land 2) for GameFAQs. He continued writing guides while earning his B.A. in Literature. When Windows Phone launched in late 2010, the Xbox integration lead our hero to jump on board the platform. He joined Windows Phone Central as Games Editor at the beginning of 2011, going on to review over 125 mobile Xbox titles over the years. He now leads Windows Central's Xbox One coverage, personally specializing in developer interviews, indie games, controllers and accessories, and Twitch broadcasts. Paul loves games on all platforms; he goes where the games are. Although very busy with console coverage, he sometimes contributes gaming articles to iMore and Android Central.