LaCie rolls out hard drives for iOS devices, custom spherical external drives, more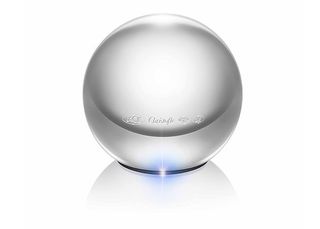 Storage peripheral maker La Cie is showing off new hard drive designs at this week's CES in Las Vegas. Among them is Fuel, an external hard drive aimed at iOS devices, the Little Big Disk Thunderbolt 2, and Sphèro, a designer external hard drive clad in silver.
Fuel is a 1 TB external hard drive that connects with iOS devices over Wi-Fi. It features up to 10 hours of battery life per charge, and communicates with the iOS device using a free downloadable app from Seagate called Seagate Media App. As a Wi-Fi device it'll work with other Wi-Fi-compatible systems like the Mac. It will create its own Wi-Fi network, for use anywhere, and it can also connect to another Wi-Fi hotspot, providing up to four connected devices with internet access. Fuel is priced at $199.99.
If you've invested in a new Retina MacBook Pro with Thunderbolt 2, or if you're looking for a small external drive for you new Mac Pro, you might be interested in the Little Big Disk Thunderbolt 2. It's a 1 terabyte Thunderbolt 2-equipped system that encloses two Solid State Drive (SSD) mechanisms configured in a RAID. La Cie claims that it can read at 1,375 MB/s and write at 1,180 MB/s. On the back is two Thunderbolt 2 ports, so it can be part of a daisy chain. The best part is the size - this drive measures 5.5 inches long by 3.3 inches high by 1.6 inches wide and weighs about a pound and a half - very easy to slip into a backpack and take with you on the road with your Retina MacBook Pro. Price wasn't announced, but LaCie says to expect it in the first calendar quarter of 2014.
LaCie has long been known to invest a lot in the design of their products, and nowhere is that more evident than in Sphère, an odd new external hard drive cum desktop sculpture created in coordination with French flatware maker Christofle. Sphère is, as the name implies, spherical, and hand-clad in polished silver. It's a bus-powered USB drive with a 1 TB mechanism inside and a blue activity light on its base. It's priced at a staggering $490 and is expected to ship this month.
Look, I say this as someone who owns a LaCie Porsche Design P'9220 external drive - there's a finite limit on what you can reasonably charge someone for design. No 1 TB USB drive is worth $490. All putting a Sphère on your desk says is that you have a lot more money than sense. I just find Sphère to be a bunch of overwrought, pretentious, artsy nonsense.
Having said that, Fuel is a really nifty idea - it'll be interesting to see if it works as well in practice as it's described by LaCie. And the Little Big Disk Thunderbolt 2 is an object of technology lust - a fast-as-hell external SSD RAID with a blazing fast interface on it.
But that's my opinion - what's yours? Is LaCie's new kit worth the dough? Which drive has your interest? Sound off in the forums.
Mobile Nations has plenty of boots on the ground in Vegas this week. Check out everything we're reporting from CES this week by bookmarking our #CESlive page.
Get more iMore in your inbox!
Our news, reviews, opinions, and easy to follow guides can turn any iPhone owner into an Apple aficionado
I was initially excited when they announced the Fuel wireless drive...then I remembered Lacie had been bought by Seagate. Am in the process of returning a Seagate Wireless plus drive which frankly just refused to work with any iOS device I own. Oh well, maybe CES 2015.

I recently purchased the Kingston MobileLite Wireless. Love it. I have a 64gb class 10 card in it and also takes memory sticks at the same time. I have about 40 great movies, videos and all kinds of pictures downloaded, It's great, Up to 3 people can stream from it at same time, you can charge your phone from it and the best part, costs about $45.00. My 5S has 64gb of storage but why put movies on it when you might not watch them for a long time. Thought I'd throw the info out there for anyone looking for cheap memory that works fantastic. Watch movies without any buffering. Sent from the iMore App

That is a very nice design. I really like Lacie external hard drives. Really Nice! Sent from the iMore App

I thought they made the design spherical because it has other benefits aside from looking really savvy and unique. I guess I was wrong. And it's really expensive for a 1 tb drive.

The Fuel Drive sounds extremely promising. I know some people how have iPhones & iPads but no computer and they are always wanting to off load their photos & videos... This sounds like it could something worth finally looking into! [thumbs up] Sent from the iMore App

I like that sphere, that is a nice sphere. Sent from the iMore App

The camera doesn't show in the reflection!