Latest MacBook Pro, MacBook Air models drop Boot Camp support for Windows 7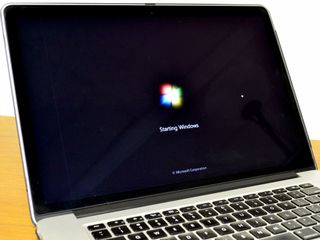 Boot Camp allows Mac users to install Windows on a hard drive partition. On Apple's latest 13-inch MacBook Pro with Retina display, as well as the most recent models of the MacBook Air, only the 64-bit release of Windows 8 is supported in Boot Camp. All three of the new laptops were announced earlier this month at Apple's "Spring Forward" event.
If you own one of these machines, and need to run Windows 7 on them, you'll need to turn to another solution, such as VMWare Fusion or Parallels. You can find the full list of Boot Camp-capable computers and which versions of Windows they support on Apple's Support site (opens in new tab).
Source: Apple (opens in new tab)
Joseph Keller is the former Editor in Chief of iMore. An Apple user for almost 20 years, he spends his time learning the ins and outs of iOS and macOS, always finding ways of getting the most out of his iPhone, iPad, Apple Watch, and Mac.
Interesting. Does anyone know of if its just a choice apple made or if there is actually something that makes it so it doesn't run 32 bit software anymore. Sent from the iMore App

I don't think dropping 32 bit software would be the problem since there's a 64 bit version of Windows 7.

Windows 7 comes in 64 bit so Apple is making a conscious decision with this change. It kinda sucks too because no Mac is touch screen. I found that the only way I truly liked windows 8 was on a touch screen device. Fortunately there are programs that add back the start button and the next version of windows should be out this year. Sent from the iMore App

If you use a mouse with a scroll wheel it's not terrible at all, and you have a clean screen :) "I'm da Blur boys!" - Me with 1200 ping. Fiber in Nashville? Save me based Google.

To each their own I guess. I just used a program called start 8 and skipped metro entirely. The next version of windows is looking good. I think Microsoft may have a product to push apple to do better on their next OS X version. Sent from the iMore App

Love Parallels ...that's how run windows on Mac. Not a fan of using bootcamp.

You should try running something that works your processor a bit harder. When you do, you'll want Boot Camp to do so. VMs and a full dual boot both have their place. You're clearly only working with the use cases where VMs are an equal, or better, choice. That doesn't mean you should assume that's the only way that makes sense.

That's too bad. that was a major reason i went to mac, to be able to run windows 7. I hated windows 8. though windows 10 is around the corner.

You can always run windows 7 on a windows computer. Then again, windows should-be-nine is indeed around the corner, and so far I like it. Sent from the iMore App

The point of getting a mac was because i didn't have to buy a separate windows computer. That was my point. I want both devices in one. As for windows 10 i haven't even paid attention. I don't know what it's like. Do we get a start button back? And it seems a 64 bit version may of windows 7 may work which would be cool.

Apple is changing the rules according to its wish. They are not closing all doors for users as we have option for windows 7 64-bit but you can just realize that they've made the 32-bit irrelevant for Mcc users unless they opt for VMware or FUsions. Although Windows 10 is around the corner, Apple is playing the game hard.

I feel this is a non issue for most. Win7 is already a 6 year OS, and will be even older by the time most people upgrade their machines. The other part of this is that Win10 is out in the summer and the start menu returns. The start menu being one of the big reasons people don't update past Windows 7 currently. Sent from the iMore App

Probably has something to do with UEFI

I think there is always a workaround. For a MacBook Late 2008 they stated to not support Windows 64bit but finally i was able to install it with bootcamp. Sent from the iMore App

I've never had an issue installing an "unsupported" Windows on a Mac. I just boot from a disc/USB, and ignore that Bootcamp says not compatible. I've tried a few of the installers, but it works. Got Win 8 on a Mini that Apple said didn't support it.

If you think about it for more than a moment, it would appear that Apple did not build a Windows 7 driver for the new Force Touch trackpad. After all, that is the primary change in the updated models. I would assume Windows 7 still works on the 15" MBPros.
Get the best of iMore in in your inbox, every day!
Thank you for signing up to iMore. You will receive a verification email shortly.
There was a problem. Please refresh the page and try again.