Lego Harry Potter Years 1-4 Now Available for iPhone, iPad!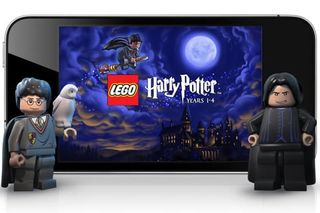 Lego Harry Potter Years 1-4 is now available in the App Store for $4.99. It's a universal binary but they do warn that iPad owners will need to wait for iOS 4.2.
The game features most of the scenes from the first four installments of the epic series including the Triwizard Tournament, the Quidditch World Cup, the basilisk in the Chamber of Secrets and much more. Aside from that you can also play as over 100 different characters while completing tasks and flying around on brooms! The game also takes advantage of the iPhone 4's retina display for an even better gaming experience.
It's been an exciting few days for Harry Potter fans everywhere. First was the release of Deathly Hallows Part 1, and today Harry Potter fans everywhere can rejoice and download the Lego Harry right to their iPhones and iPads.
If you've picked this up, let us know what you think in the comments!
[iTunes Link (opens in new tab)]
iMore senior editor from 2011 to 2015.
How does this compare to the Wii version of the game in terms of content?

Also, I'm searching the App Store for this game, but i can't find it.

Totally awesome. That's really a steal, bet it'll be a smash hit w/little kids. Thanks for the heads up!!!

i'm not a big harry potter fan, and i'm a grown adult :/, but i really liked the lego star wars games! i thought they were fun. just sayin'

Looks like it has been taken down. I am running 4.2.1 GM on my iPad, so was looking forward to checking this out, but no direct links or searching will bring it up on AppStore.

Having said that, it appears on the AppStore of my iPhone, just not my iPad. Looks like the powers that be have stopped the iPad AppStore from seeing it.

Same here, I cannot find it on the AppStore

I've been playing this for a while and it's so fun, the graphics on my iPad are amazing and I'll soon try it on my iPhone 4 when it comes.

Im downloading it now on my 3GS. Looks like its going to be great!

@Jasonm @dale @Carlos if you guys are using the UK AppStore (outrageously) it isn't on the uk AppStore so that might be why to which I say BRING IT TO THE UK APPSTORE ?!?!?

I just downloaded from my iPhone and it says that for iPad users the game will not be able to work until the release of OS 4.2. So maybe that is the reason that some people can't either find it or it's not working correctly.

It's this kind of game that really lets you appreciate the iPhone as a great gaming device. A great game to play (btw, definitely available on the UK appstore)

FYI
A lot of people on iTunes are saying that it DOES NOT WORK on their iPod Touch - any generation. Maybe it is a bug but lots of reviews say don't buy if you have a touch.
Just FYI

Just downloaded it an hour ago and the kids (4 and 8) can't put it down! (Playing on 3GS and 4)

Didn't know 8 + )= 8) until now!

I have a 4th gen ipod touch and bought this game.
It works great. had no issues.

Wow I can't believe that you all didn't know you can download this on your PC or Mac and then sync to a 4.x iPad. I did and have been playing it all weekend. The control system makes this better suited to a large screen.

Anyone else have a problem when trying to download on a iTouch "This app is incompatible with this ipod touch-This app requires OpenGL ES2.0 graphics capability"?

So far it seems like an Exact copy of the nintendo DS version but the graphics looks cleaner and a bit better on the iphone. Also at 4.99 instead of 39.99 it's a fantastic game for iphone giving us alot more playability and length which has been missing from almost every game out for the platform so far!

It's actually pretty cool on the iPhone.. Check out my review :) http://bit.ly/9CI0z6

I tried playing the game and its simply great.... it works well with my iOS 4 but doesnt work properly on iOS 3.0
iphone developer london

I have a jailbroken iphone 3g. I have downloaded harry potter. And it runs until i start a new game then it crashes. Help please?

The sound effects for year 2 doesn't work on my iPhone 3GS. :C
Help?

Great work! That is the type of information that are meant to be shared around the web. Shame on Google for now not positioning this put up upper! Come on over and visit my website . Thanks =)
Thank you for signing up to iMore. You will receive a verification email shortly.
There was a problem. Please refresh the page and try again.