Lemon Wallet for iPhone review: Create Passbook cards for your entire wallet and much more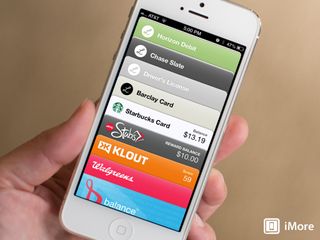 Lemon Wallet for iPhone is basically a virtual wallet similar to Passbook but picks up where it lacks. For instance, you can easily create Passbook cards with Lemon Wallet for any credit card, identification card, or rewards card regardless of whether or not that actual merchant supports Passbook. Lemon Wallet also has add-on paid features that allow you to track transactions and report a lost or stolen wallet for easy card replacement options.
Upon launching Lemon Wallet, you'll be asked to sign up for a Lemon account. The process is quick and easy and relatively painless. You can pop into the settings portion of Lemon Wallet to fill out the rest of your information whenever you'd like but to create an account, you're really only required to enter your email address and verify it. Simple enough.
To add cards, simply tap the camera icon and select the type of card you'd like to add. The camera app will populate and then ask you to snap a photo of the front and back of your card (or receipt). From there you'll be asked to enter some information including the name as it is on the card, expiration, and to confirm the card number.
Lemon Wallet will automatically pull in numbers on credit cards but ask you to verify the image scan worked. For things such as driver's licenses, while you can store them and create digital copies for Passbook import, you'll need to manually enter them in since the format varies from state to state and country to country. You can also take photos of receipts and store them within Lemon Wallet as well which makes for an easy way to track business expenses on the go. Just snap a picture and enter the date and amount.
To add any card already in your Lemon Wallet to Passbook, just tap into the card and then tap on the menu option button in the upper right hand corner. This is where you'll have the option to add Lemon Wallet to your Passbook app.
The interesting part of Lemon Wallet is actually its add-on service, Lemon Wallet PLUS. For either $4.99/month or $39.99/year you'll get premium services that include active account monitoring, enhanced security with an additional passcode lock, card expiration alerts, and lost wallet services. If you ever lose your physical wallet, Lemon Wallet says you can cancel and replace your cards with basically a button tap. I haven't personally utilized this service as my wallet isn't lost, but I'd be interested to hear if anyone has, and how the experience was.
As far as viewing transactions with a premium plan, Lemon Wallet PLUS has the ability to tie in with BillGuard, one of our favorite Passbook compatible services in order to monitor transactions and alert you of any fraudulent activity that may be happening on any of the accounts you have linked.
If you aren't sure about picking up Lemon Wallet PLUS right off the bat, you can try it for free for 15 days.
The good
Better interface and design than most third party wallet apps available
Turn any card you own into a digital Passbook card
Lost Wallet service makes it less of a hassle to replace stolen and lost credit cards and ID cards
No credit card needed to try premium services before you decide to buy
The bad
You'll have to have the premium version to add a secure access code to the app, which is a downer considering the app contains highly sensitive information. This should be an option for everyone, not only premium users
The bottom line
While Passbook does a good job of storing cards for merchants that have supported the service, it's still lacking. Lemon Wallet can somewhat bridge that gap and allow you to finally track all your cards and information in one place. Whether you use Lemon Wallet exclusively or use it as a middleman to Passbook, it does what it says it does, and it does it well.
Get the best of iMore in your inbox, every day!
iMore senior editor from 2011 to 2015.
I think i see a pattern in your comment history: 2 hours ago first
6 days ago Sweet
6 months ago Cool First!
6 months ago Ha Ha! first
6 months ago first
6 months ago first
6 months ago FIRST! And all of them
6 months ago first
6 months ago FIRST
6 months ago hello # 1
6 months ago hello # 1
6 months ago FIRST
6 months ago First and thx>>
6 months ago Dam it!
7 months ago yeah lets see what happens

And these comments are not even relevant. Please keep comments on topic or at least on topic other than "first"

What is your point in being a douchebag?

If these features were built into Passbook I would be crazy about them. But I don't want to sign up for another account with another company and entrust them with extremely sensitive data. It's bad enough that I have to entrust all my passwords to a third-party password manager app because Apple doesn't provide an adequate solution. I'm not knocking that third-party app, either; it was recommended on this site! But I learned a lot about it before I was willing to trust it with my data. I'm just not that eager to bring yet ANOTHER outside party into the mix with all my confidential stuff. It's too bad because Passbook is still largely unrealized potential, and this is the kind of addition that could really make it essential.

I totally agree with Michelle. Passbook would be great with more features, especially use of personal credit cards without having to carry plastic. But it's enough to share personal data with Apple, much less multiple 3rd party developers who have no reputation regarding security.

Downloaded this app 1-2 weeks ago and I have a passcode, didn't pay for it either.

No, a passcode to get into the actual app, not just to view individual cards.

Lemon is a great wallet app. Many of our customers love using it. Great piece, Ally!

Allyson,
My first time on your site and I enjoyed your concise review. I recently downloaded Lemon Wallet and like the card features, but was disappointed that they are dropping their receipt scanning service. You can still scan and manually enter, but no auto processing. I was wondering if you have done any surveys of the receipt scanning programs out there and would recommend one or more options. Thanks,
Ron

Ron, what do you mean with auto processing? I downloaded it a few days ago and it lets me take the pic of the receipt and store it. Did it automatically tally your account before?

Can it create bar codes for those cards that use them.....sometimes it's hard to get a clear pic of a bar code.....

Jlb21, I just bought lemon wallet a few days ago and to answer your question- yes it does make barcodes for cards that require it. I have a lot of gift cards in my wallet that I never remember to use. With lemon wallet I was able to install every one of them, barcode and all.

I think it's interesting that Lemon Wallet is charging monthly/yearly for their service. Apple announced on iOS7 that Passbook will have a scanning feature that makes it even easier for users to receive Passes. I found these two websites to be most helpful in staying up to date with what is happening with Passbook and the digital wallet: news.passkit or passbookready I also know that there are a handful of 3rd party developers who offer a number of different payment plans for creating passes depending on your personal or company needs. I found this article that compares the top developers on a number of different criteria. squidoo .com/comparison-of-passbook-pass-services#module162621190

Lemon Wallet is properly named because it is a real LEMON! I was a paid member in the past and downgraded to free subscription. Now out of the blue, I receive a charge on my Paypal credit card (which was stored in my Lemon Wallet) without my request. Remedy suggestion from Lemon is to just downgrade which is what I did in the past. When I went to downgrade, I noticed multiple Credit Cards listed as my payment options that I didn't put there. Apparently they add them from the Lemon Wallet automatically. I can't have random charges come out of my accounts and am concerned for my security.