Lemon Wallet for iPhone review: Create Passbook cards for your entire wallet and much more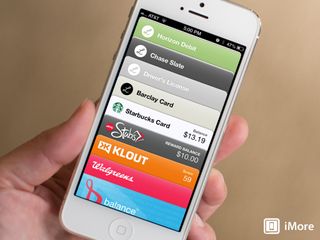 Lemon Wallet for iPhone is basically a virtual wallet similar to Passbook but picks up where it lacks. For instance, you can easily create Passbook cards with Lemon Wallet for any credit card, identification card, or rewards card regardless of whether or not that actual merchant supports Passbook. Lemon Wallet also has add-on paid features that allow you to track transactions and report a lost or stolen wallet for easy card replacement options.
Upon launching Lemon Wallet, you'll be asked to sign up for a Lemon account. The process is quick and easy and relatively painless. You can pop into the settings portion of Lemon Wallet to fill out the rest of your information whenever you'd like but to create an account, you're really only required to enter your email address and verify it. Simple enough.
To add cards, simply tap the camera icon and select the type of card you'd like to add. The camera app will populate and then ask you to snap a photo of the front and back of your card (or receipt). From there you'll be asked to enter some information including the name as it is on the card, expiration, and to confirm the card number.
Lemon Wallet will automatically pull in numbers on credit cards but ask you to verify the image scan worked. For things such as driver's licenses, while you can store them and create digital copies for Passbook import, you'll need to manually enter them in since the format varies from state to state and country to country. You can also take photos of receipts and store them within Lemon Wallet as well which makes for an easy way to track business expenses on the go. Just snap a picture and enter the date and amount.
To add any card already in your Lemon Wallet to Passbook, just tap into the card and then tap on the menu option button in the upper right hand corner. This is where you'll have the option to add Lemon Wallet to your Passbook app.
The interesting part of Lemon Wallet is actually its add-on service, Lemon Wallet PLUS. For either $4.99/month or $39.99/year you'll get premium services that include active account monitoring, enhanced security with an additional passcode lock, card expiration alerts, and lost wallet services. If you ever lose your physical wallet, Lemon Wallet says you can cancel and replace your cards with basically a button tap. I haven't personally utilized this service as my wallet isn't lost, but I'd be interested to hear if anyone has, and how the experience was.
As far as viewing transactions with a premium plan, Lemon Wallet PLUS has the ability to tie in with BillGuard, one of our favorite Passbook compatible services in order to monitor transactions and alert you of any fraudulent activity that may be happening on any of the accounts you have linked.
If you aren't sure about picking up Lemon Wallet PLUS right off the bat, you can try it for free for 15 days.
The good
Better interface and design than most third party wallet apps available
Turn any card you own into a digital Passbook card
Lost Wallet service makes it less of a hassle to replace stolen and lost credit cards and ID cards
No credit card needed to try premium services before you decide to buy
The bad
You'll have to have the premium version to add a secure access code to the app, which is a downer considering the app contains highly sensitive information. This should be an option for everyone, not only premium users
The bottom line
While Passbook does a good job of storing cards for merchants that have supported the service, it's still lacking. Lemon Wallet can somewhat bridge that gap and allow you to finally track all your cards and information in one place. Whether you use Lemon Wallet exclusively or use it as a middleman to Passbook, it does what it says it does, and it does it well.
Master your iPhone in minutes
iMore offers spot-on advice and guidance from our team of experts, with decades of Apple device experience to lean on. Learn more with iMore!
iMore senior editor from 2011 to 2015.